Advanced Staking, Compliance & more! Recap from Panther's 26/08 AMA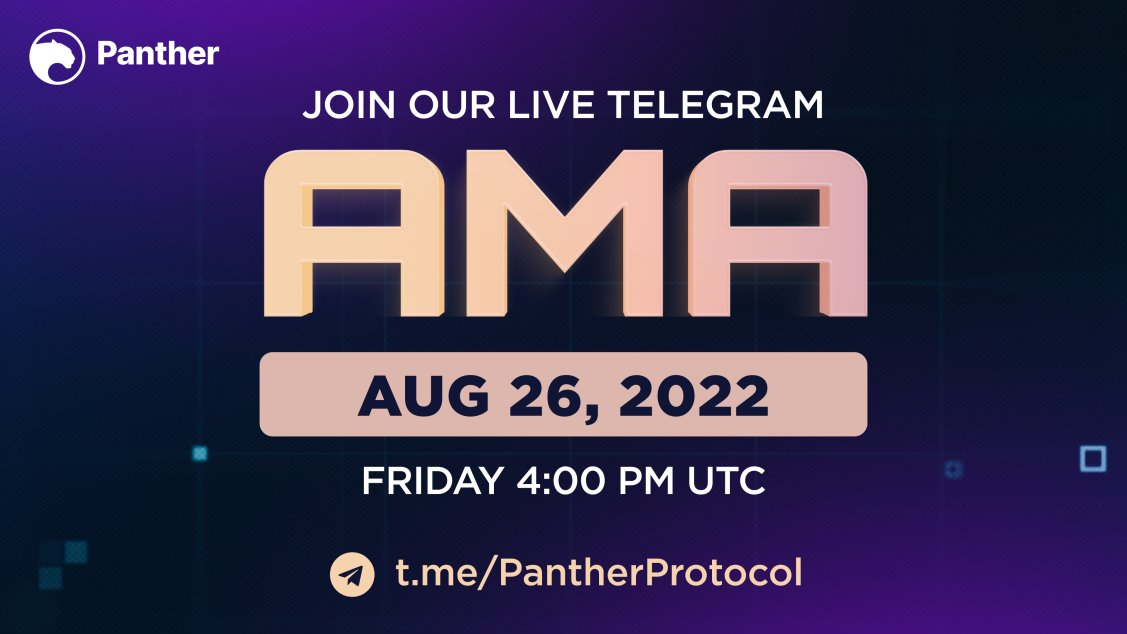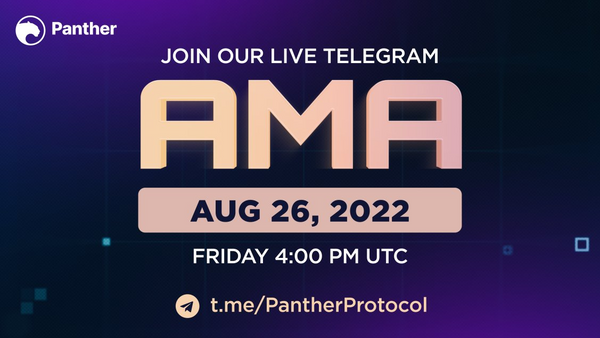 Table of Contents:
On August 26th, we hosted an exciting AMA session at Panther Protocol's Telegram group chat. This AMA featured Mike Chan (Head of Marketing), DeFinci, and Andrew Zaichenko (both Product Managers), answering live and pre-submitted questions from Panther's followers.  

Below you can read our transcript for the event. Also note that, although they share the same title, DeFinci is mostly focused on Interchain work, while Andrew is primarily dedicated to Advanced Staking.

The transcript starts here:

What is the status of Advanced Staking, and how did the testing rounds go?

Andrew:
We have a 100% functional product, which passed multiple internal test cycles. The latest updates were about implementing a mutable staking time and NFT-functionalities (with no UI yet).

There have been three separate workflows within Advanced Staking development:

Addressing audit recommendations: The team received the results of the audit, addressed its recommendations, and provided feedback during the current week. As with every audit taking itself seriously, this process entails multiple feedback and change rounds before arriving at a final version.

Resolving final tasks from the backend/contracts side: Numerous items informed by testing and internal work.

Updating the UI's design to look beautiful while remaining functional. These products are a gateway into Panther's v1, so we want to make the UX feel as much as possible as the first version of the protocol.

The team's current key focus in terms of Advanced Staking is auditing. Implementation of audit results will enhance the product and unblock further iterations.

What's the status of your progress when it comes to interchain features? This kind of feature is core to the protocol, so it'd be great to know what's going on there.

DeFinci:
I would say that MASPs are the core feature of the Panther Protocol. The Interchain Mechanism is a horizontal scaling architecture that would, in time, be the backbone of the Panther Ecosystem and drive the private communication between blockchains and dApps.

To emphasize how serious we take Interchain for anyone who just joined the ranks of Panther Protocol, here's what I can say. The world of blockchains is architecturally transparent, and there is a need for a solution that preserves the privacy of token transfers between different ecosystems. With private interchain transfers, we aim to solve the default transparency of blockchains, giving users a right to privacy through zero-knowledge proofs.

So far, we've identified the most appropriate liquidity approach to reduce the latency of token delivery from one blockchain to another, guaranteeing a higher rate of anonymity. Liquidity is the backbone of each successful interchain mechanism, and we take it very seriously. By design, everyone participating in MASPs will be appropriately rewarded depending on the demand and supply between multiple blockchains.

Panther takes compliance very seriously, unlike other players on the field. Do you see this as a competitive advantage or a drawback?

Mike:
We've been serious about compliance from the very beginning, and in light of recent events, we've been proven to be correct. So we definitely see this as a competitive advantage.

We believe in the tenets of decentralization and permissionlessness that DeFi provides and, of course, the freedoms that privacy provides. But we also understand the regulatory environment and that DeFi won't be left alone to run wild.

Regulators are here. They mean well, more are coming, and DeFi protocols must address that. And the tools we are building will help them do so and allow institutions to have a path towards compliance in DeFi and crypto.

Is Panther fast-tracking any compliance features in light of recent events?

DeFinci:
We had multiple brainstorming sessions to design features that would solve various mass market problems. As it stands now, we will prioritize our approach toward disclosures and compliance with each new feature released within the Panther ecosystem.

We have been focusing on disclosures of token ownership and shielded transfers within Multi-Asset Shielded Pools and, later on, an audit trail with the release of Interchain Transfers. There are a lot more things that we are designing behind the scenes and consulting with lawyers closely following recent events that we can't yet talk about.

Does the Panther Protocol have enough resources to sustain itself during a bear market?

Mike:
Definitely. Every project's token Treasury took a hit during this bear market. But we raised a good chunk of money through our Private and Public Sales and received a few grants from Layer-1s to integrate with their networks. So we're in a good spot.

We're still recruiting developers and engineers, as you may see in posts on social networks because we've got a lot to build. We're also being smart with our budgets, cutting costs where we can, and spending on things we believe will give us a good return.

The bottom line is we are in an excellent position to weather the bear market and come out stronger on the other side.

Can you share what Panther is building with Flare? Any information about the partnership? Anything to do with the Flare/Songbird network?

DeFinci:
We've done one round of deployment and testing so far with the Songbird network. There is further testing in progress, and once that's concluded, we will share it with the community in a formal report.

In the meantime, we would like to mention that we are thankful for the grant from Flare, and we are looking forward to their network being a part of the Panther Ecosystem. Both our projects are aligned in more than one way in our ideals.

Andrew:

We find Flare as a great project to cooperate with. Our team has been investigating the current state of the network and its technical possibilities. As of now, we've clarified that:      

Cryptographic contracts exist on the chain, and we have deployed Panther's contracts there.
Subgraph itself does not support the network. Therefore, we need to host the subgraph node on our server.
A Gnosis Safe instance does not exist on the network,
Flare does not have a bridge to move messages from ETH to Flare.

We are in touch with an excellent Flare team and looking forward to developing our cooperation!

What are your next steps toward decentralization?

Mike:
The first thing I'll say is that decentralization is an ongoing process that we're constantly thinking about. We're starting small and then iterating on that.
Some of the things we have in the works include:

Creating a forum that allows all of us as a community to bring up, discuss, and debate topics about the protocol and its development. This could include technical, community, or marketing topics. This protocol was launched in a fully decentralized way, and we want everything we do to be as decentralized as possible.
Using this forum as a tool, we're creating a process for community members to be able to pitch Panther Improvement Proposals or PIPs. In the past, PIPs were put up on Snapshot with voting as the only way for the community to express their opinions. This will definitely change, and the community will have a much greater voice in the direction of the protocol.
Down the road, we're talking grants so community members can help build and grow the protocol, changing our corporate structure to ensure we're sufficiently decentralized, and much more.

Andrew:

I would add that the product team has been analyzing a decentralized way of voting function realization. Snapshot (which we have been using) is a good tool and has brought a lot of value to the crypto world and Panther. However, it is still representative of off-chain voting. This has specific risks, which can be mitigated using an on-chain voting attitude only. Any other intermediary actor/system is a potential point of failure. The target is to reach more independence and develop a self-sustainable ecosystem for the users and the community.  

What are the main challenges when it comes to building a MASP?

Andrew:

The accuracy one needs to craft real privacy. Here's how accurate the MASP's development must be to protect your privacy:

Digital activity produces digital footprints. E.g., any of your transactions (both of crypto and non-crypto nature) creates a footprint. In the case of decentralized tech, this footprint is immutable and publicly accessible. Now, guess: what data can potentially damage privacy? In-protocol rewards are a non-obvious yet easily-exploitable case. This is not intuitive, but we realized it within our work and have taken measures against it.

Why are rewards problematic? Well, because they need to be appropriately rounded. A number with no rounding produces a unique digital footprint - a decimal footprint. But even after cutting the decimal footprint, there still is a binary footprint, which must be addressed.

There are only two levels of privacy - 0% and 100%. This needs a lot of mastery, a ton of attention to detail, and patience while crafting it brick by brick carefully to be able to hunt the threats mentioned above/vulnerabilities.

What is the vital difference between the Panther protocol and Aleph Zero?

Mike:
Let's start with the similarities. We are both privacy-focused and use zero-knowledge proofs to maintain this privacy.

The biggest difference is that AZERO is a Layer 1, and we are not. This creates a completely different use case and market for each of us. Aleph will try to create an Ethereum-like ecosystem that's based on their private contracts, we aim to interconnect different chains privately so that DeFi can happen privately and with interoperability. Overall, we're pretty different.

About Panther
Panther is a decentralized protocol that enables interoperable privacy in DeFi using zero-knowledge proofs.
Users can mint fully-collateralized, composable tokens called zAssets, which can be used to execute private, trusted DeFi transactions across multiple blockchains.
Panther helps investors protect their personal financial data and trading strategies, and provides financial institutions with a clear path to compliantly participate in DeFi.
Stay connected: Telegram | Twitter | LinkedIn | Website
Share this article on: