Introducing the Panther Ambassador Program
Are you a leader looking to ensure that there's privacy in DeFi? Then Panther needs you as an Ambassador!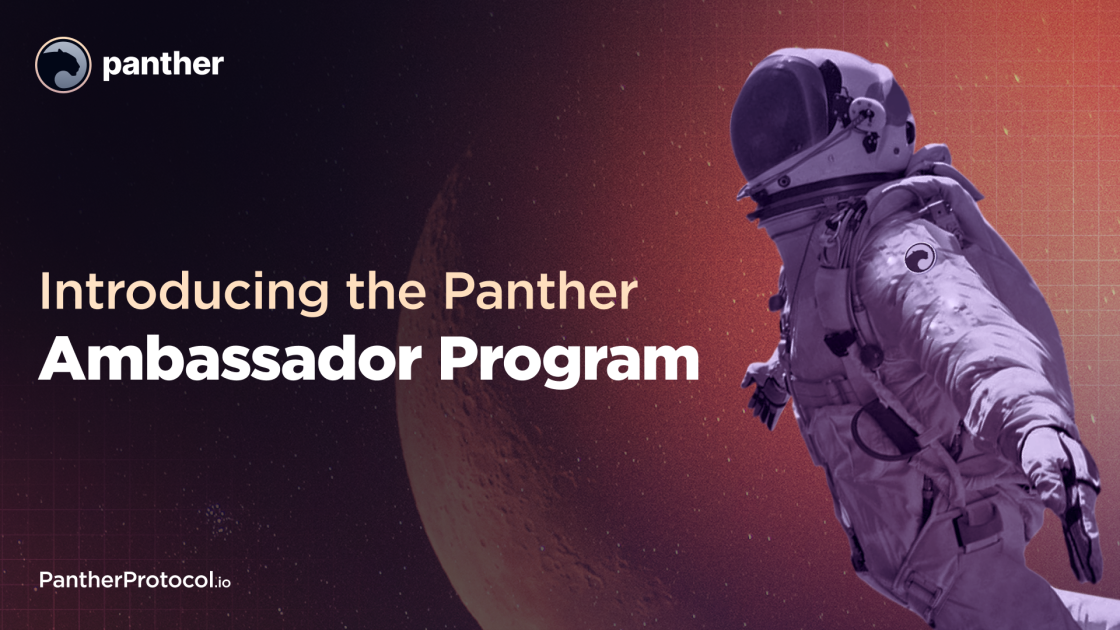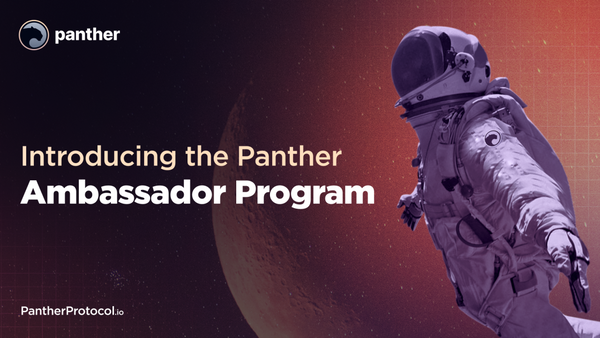 Table of Contents:
Panther is on a mission to provide users with privacy when interacting with DeFi, preserving competitive advantages and individual freedom.
The only way we'll achieve this mission is by building a passionate, worldwide community to help raise awareness and educate users across the globe. And so, we need your help.
Welcome to the Panther Ambassador Program!
The program aims to identify and bring together technical and non-technical leaders worldwide to help grow the Panther ecosystem.
If you want to be one of these leaders, we're eager to hear from you. Please click on this link to submit your application! We're interested in recruiting all kinds of leaders who can help us spread our message through different social networks, languages, and communities.
What are the Benefits of Being a Panther Ambassador?
There are plenty of benefits to being a Panther Ambassador.
First of all, you'll play a critical role in achieving Panther's mission. We're building a decentralized protocol that enables end-to-end privacy for DeFi using zero-knowledge proofs and allows users to execute private, trusted decentralized finance transactions across multiple blockchains. You'll play an important part in spreading the word, growing our community, and improving our systems and processes.
You'll also have early access to exclusive events, product previews, and other news before the general public hears about them. You'll have direct lines of communication and work directly with the Panther team to provide feedback on products, services, ways to grow Panther, and more. And while you'll work independently, you'll have the full support from the Panther team to help achieve our shared goals.
All of this, of course, while accessing exclusive Panther swag both for yourself and to distribute in local events and to your friends and family! You'll also get to build valuable experience working in the crypto industry and get compensated for your efforts.
Monetary Compensation for Panther Ambassadors
We are still working out the monetary compensation plan. We value hard work but want to make sure that Ambassadors are here to support the project, and are not just in it for the compensation.
Compensation will be in the form of $ZKP tokens and will be based on how much you contribute — the more you contribute, the more you will be compensated. The likely compensation range will be between $50 and $300 per month, depending on your performance, cost of living, and other factors.
We'll also reimburse you for out-of-pocket, pre-approved costs (e.g., transportation to go represent Panther at a local event, shipping for Panther swag, etc.) you incur when representing Panther.
How Can You Contribute?
Here are just a few of the ways that you can contribute as a Panther Ambassador:
Build online communities in your local language or region.
Organize Meetups, workshops, and events in your area.
Create content such as blog posts, videos, podcasts, and more.
Create memes, graphic designs, and other visual content.
Promote Panther on social media and help moderate our social accounts.
Improve Panther's documentation, tutorials, or other technical literature.
Translate content into your native language.
Pursue potential collaboration opportunities that could benefit the Panther ecosystem.
Provide input into strategic decisions via conversations with the Panther team.
Of course, the sky's the limit and we want you to be as creative as possible. If you think of other ways you can contribute, we encourage you to let us know about them!
What are the Qualifications to Become a Panther Ambassador?
We welcome leaders with different backgrounds to join the program. All we're really looking for are a few common traits:
A passion for Panther, privacy, DeFi, and self-sovereignty.
Experience building communities, on- or off-line.
Ability and desire to learn and grow.
If you fit these requirements, please let us know using the official sign-up form.
What is the Time Commitment for an Ambassador?
We expect a commitment of about five (5) hours per month at the start of your tenure as a Panther Ambassador.
This time may include any work that you perform independently, as well as conference calls and video chats with the Panther team.
How Do I Become a Panther Ambassador?
The first step to becoming a Panther Ambassador is to fill out this application. After reviewing it, we will reach out to you if we think you're a good fit.
If you are selected, a member of the Panther team will schedule a video call with you to get to know you better. And, if all goes well, we'll start working together to help grow Panther across the world.
Have any questions? Feel free to reach out to us on our Telegram group or Discord server.
We look forward to working with you in the future to grow the Panther ecosystem!
About Panther
Panther is a decentralized protocol that enables interoperable privacy in DeFi using zero-knowledge proofs.
Users can mint fully-collateralized, composable tokens called zAssets, which can be used to execute private, trusted DeFi transactions across multiple blockchains.
Panther helps investors protect their personal financial data and trading strategies, and provides financial institutions with a clear path to compliantly participate in DeFi.
Stay connected: Telegram | Twitter | LinkedIn | Website
Share this article on: