Cryptodiffer and Panther's AMA transcript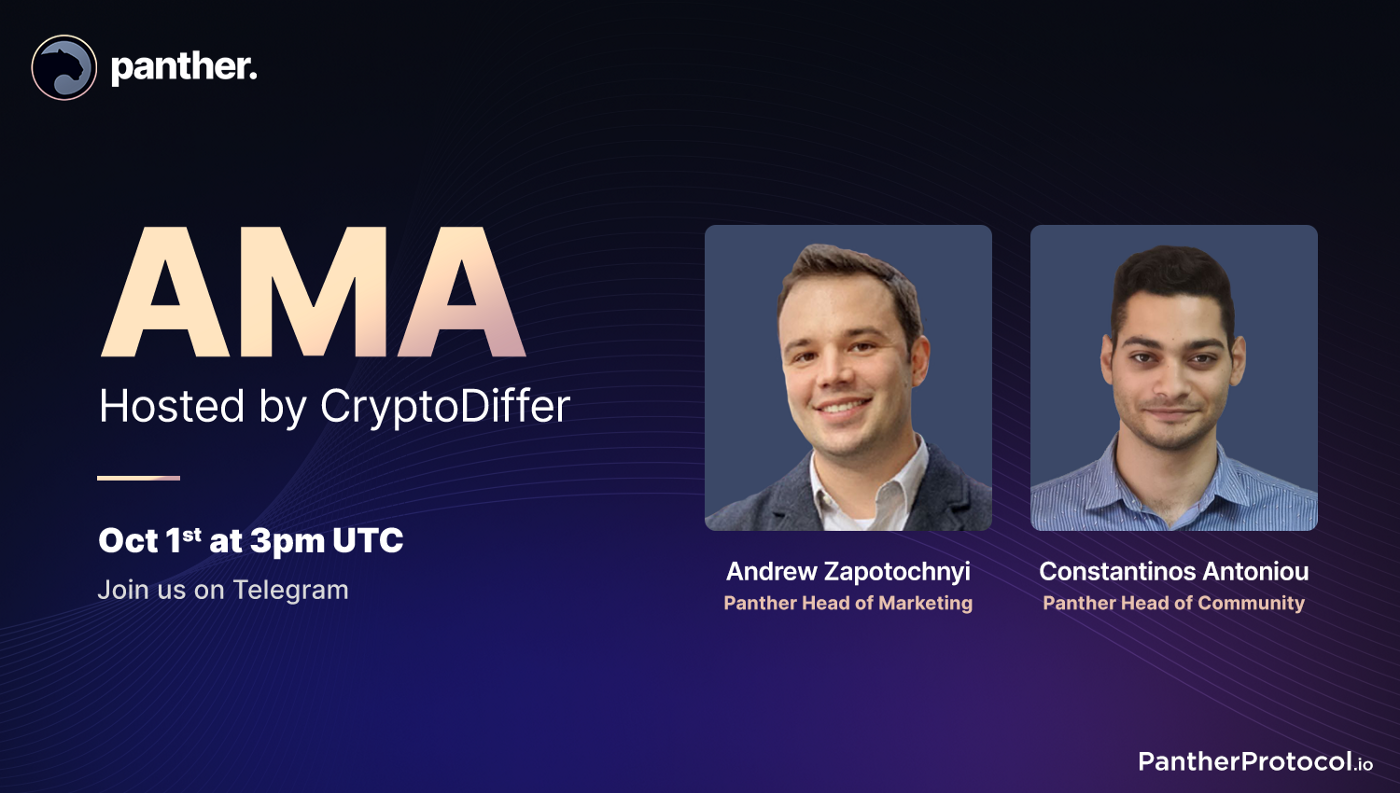 Table of Contents:
Greetings crypto community! Last week we had an AMA session with CryptoDiffer. We enjoyed the first AMA so much that we decided to go for a second one!
The AMA took place in CryptoDiffer's telegram group 'CryptoDiffer Secret Chat #2 (Public) ENG' on the 1st of October at 3pm UTC .
If you missed it, don't worry! We have transcribed the whole AMA with CryptoDiffer's Myko, for you to read on your own time. The transcript has been slightly edited for clarity.
Check it out below!
///Transcript begins here///
Myko: Hello, everyone!😁
We are glad to meet here:
Andrew Zapotochnyi, Head of Marketing — @andrewzap
Constantinos Antoniou, Head of Community — @Consanto
Constantinos: Hi everyone! Thank you for having us again, a pleasure to be here ;p
Myko: Welcome Andrew and Constantinos, thank you for taking your time today!
Andrew: Hi and thank you for bringing us here!
Myko: Thank you too! Let's start our introductory part.
Q1: Can you introduce yourself to our community?
Constantinos: Hi CryptoDiffer, my name is Constantinos Antoniou, and I am handling all of the community aspects of Panther. I've been involved and Co-founded local communities in my country Cyprus. Organized a few conferences and I've been advising projects in terms of marketing and community. I was also the head of research at D-CORE, a crowdsourcing platform where we research and analyze Blockchain projects.
Andrew: I'm the head of marketing at Panther Protocol. I've been in the blockchain space full time for the last five years and headed marketing at Ambisafe back in 2017, headed marketing at Propy.com, bootstrapped a couple of my own marketing blockchain-specific ventures.
I came up with the Digital Independence Declaration idea (digindec.com) that brought me to Panther Protocol.
Myko: Thanks for the answers!
Q2: Can you introduce Panther to us?
Andrew: Panther is an end-to-end privacy protocol connecting blockchains to restore privacy in Web3 and DeFi while providing financial institutions with a clear path to compliantly participate in digital asset markets.
Panther provides DeFi users with fully collateralized privacy-enhancing digital assets, leveraging crypto-economic incentives and zkSNARKs technology.
Users can mint zero-knowledge zAssets by depositing digital assets from any blockchain into Panther vaults. zAssets flow across blockchains via a privacy-first interchain DEX and a private metastrate.
Panther envisions that zAssets will become an ever-expanding asset class for users who want their transactions and strategies the way they should always have been: private.
Myko: Superb!
Q3: Let`s now talk about the milestones you have achieved so far and about your upcoming plans?
Constantinos: I'm glad you asked!
Currently, we are super focused on the Public Sale of our token $ZKP in a few weeks and subsequently the release of our MVP on Polygon and later on Ethereum.
If you are interested to participate in our Public sale please fill out the interest form https://share.hsforms.com/1NEKpcC84SFmK0fpd4sFoZQ8mifv
We recently announced our partnership with Polygon (formerly known as Matic). Besides providing technical support, Polygon will help Panther collaborate with projects within its ecosystem in the development efforts of privacy features that empower end-users. It will also aid our mission in giving institutions and fintechs a clear path into private and compliant DeFi.
We have also released the scope of the MVP.
We believe that, as a standalone product, the MVP will provide immediate value to all DeFi users wishing to take advantage of interoperable, fully collateralized privacy.
Just yesterday we announced our partnership with NEAR Protocol. Panther has received a grant from NEAR to explore the development of open-source privacy infrastructure (Rust libraries, APIs and tooling) needed for a native Panther deployment on NEAR. This includes the deployment of Panther's privacy solutions on NEAR's EVM, Aurora.
Myko: 🙏
Now let's transfer to some of panther news
Q4: Panther is introducing a new asset class called zAssets. Please explain what zAssets are and their use case.
Constantinos: We've created Panther Protocol to allow users to access DeFi privately, utilizing their tokens within a system that gives them control over who and how they give access to their data.
To do this, we're introducing zAssets: 1-to-1 representations of a given token in a private system.
The process of obtaining zAssets is not opposed to wrapping a token in the traditional way, although it has a few key distinctions. These differences are mostly related to providing privacy since only zAssets can be deposited into Panther Pools.
Myko: Q5: Tell us a bit about your roadmap.
Andrew: We have a long roadmap ahead of us not only for the rest of the year. We know that Panther is going to be a foundational project, not a fad, so we, as a team and community, are ready to roll up our sleeves and build.
Our beliefs are aligned with the work we are doing and we are aware that building the infrastructure for privacy is going to take time and effort.
As mentioned above we are gearing up for the Public Sale and release of our MVP which will be built on Polygon and will serve as the proof of concept for Panther Protocol.
It will feature many of the technology components such as Minting & Burning of zAssets, zAsset mixing, Privacy relayers, $ZKP token, voluntary disclosure of transactions and the initial Panther DAO setup.
In Q4 2021, we will continue by improving upon existing features of the Protocol and launch the Panther on another peerchain. In Q1 2022 we will introduce our first iteration of Panthers' Private Interchain DEX, building the protocol's first bridge towards complete interoperability. With $ZKP's max supply of $ZKP in circulation, our market cap will be worth around $22 million.
You can find out more about our future-looking roadmap as well as past achievements and history of Panther here: https://blog.pantherprotocol.io/heres-the-panther-roadmap-our-quest-for-private-defi-88db93dacd4f
Myko: let's take a look at the user's expo
Q6: What will be the user journey once Panthers MVP is launched?
Constantinos: sure 😁
Let's answer this question with the example of a zAsset, in this case, zUSDC. Given a user that wants to obscure the transaction history of their USDC by turning it into zUSDC, they would…
1. Deposit their USDC into a Panther Vault. Vaults are smart contracts that lock the tokens as collateral. A corresponding amount of zUSDC will then be minted within the Panther Pool. Our pool, in this case, helps users shield their funds to obscure transactions, incentivizing users to add to the pool to support this process. The users would see their balance of zAssets from the Panther wallet, a unique wallet with privacy features.
2. The user would now be free to transact with or privately transfer the zUSDC in any way they wanted to. The wallet will allow them to redeem zUSDC for the underlying USDC into a new stealth address generated exclusively for them. They may also deploy any of their USDC into DeFi protocols that accept it. At the time of accessing the underlying USDC, the platform will automatically burn the zAsset to prevent uncollateralized assets from circulating.
3. Thanks to Panther's unique attestation systems, users can choose to disclose metadata of any transaction, for any reason, to anyone, even retroactively. Panther facilitates disclosure of private transactions within Pools, and users can reveal public on-chain transactions in the usual way. Suppose a user wants to withdraw their USDC from a DeFi protocol. In that case, they can deposit it back into a Panther Vault to obscure their DeFi history, then later optionally withdraw into another newly generated stealth address.
Myko: Superb! Thanks, let's pass to the last introductory question
Q7: Can you introduce the rest of the Panther team to CryptoDiffer's community?
Constantinos: absolutely ;p
To bring to market the next generation of decentralized products with built-in user privacy controls, Panther brings to the table a team of hands-on, world-class technical, product and commercial experts that hail from the intersection of privacy-enhancing technologies, blockchain and finance.
The Panther team consists of over 25 experts from the fields of privacy, security, zero-knowledge proofs, blockchain, DeFi, token economics, software engineering, finance, and ecosystem development.
The technical leadership team collectively has spearheaded high-profile initiatives across 55+ blockchain projects.
Panther's commercial and operations team members worked at BlackRock, P&G, Vimeo, Siemens, Cambridge Analytica, ConsenSys, Dell, NATO HQ, HSBC, and Lloyds Bank.
The team possesses a globalized perspective with a network richly connected to today's most influential brands and minds.
Myko: Woah! Thanks for the nice answers
Constantinos: Thank you for the great questions 😊
Maksym: What are the benefits of using Panther Private DeFi? How can Panther Protocol keep funds secure?
Andrew: Security is our top priority. Users of Panther will be using the most secure privacy protocol for their assets.
Panther development is guided by in-house security expertise. Our co-founder and CTO Anish has 20+ years in security and cryptography, is an early advisor to Ripple, reviewed the Ethereum orange paper. Our team has over 40 years of cumulative expertise in security, and have worked on securing some well-known protocols in this space.
The smart contract stack will be fully audited by industry-recognized security researchers prior to launch.
Xperia: Balancing Privacy and Transparency is an issue in crypto projects. Can you please tell me which one is more important for Panther? Or do you plan to take care of both equally? What are your plans on this?
Constantinos: We are focused on both Privacy and Transparency. We want to provide full privacy but also the tools for anyone to provide as much information they want to anyone they wish to.
So we are proposing 2 middle-ground solutions:
1) Zero-knowledge disclosures: Users can prove compliance without providing any underlying data — meaning they provide the financial institutions what they need (to know you did everything in accordance to a certain rules engine), without having to disclose anything about the transaction itself (sender, receiver, amounts, metadata — all of that remains private).
2) Full disclosure to a specific counterparty: Here the user allows the transactional data to be shared with the financial institution or the regulator, but that's already much better than having all of your transactions fully public/transparent for anyone to see, in perpetuity.
The key things to take into consideration here is that a) the user is in control to interact with whoever they want and discloses whatever they want, and b) any selective disclosure method is already much better than fully public transactions.
Hoa Van: How can I buy tokens from your project? Will Panther Protocol have a program to sell tokens to users in the near future?
Constantinos: As mentioned above we are gearing up for the Public Sale so if you are interested to participate please fill out the interest form https://share.hsforms.com/1NEKpcC84SFmK0fpd4sFoZQ8mifv
buy high sell low: I learnt that Panther DAO will operate with a quadratic voting system, can you tell us what a Quadratic voting system is, how it works and what makes it different from the existing voting system other projects adopt?
Constantinos: Nice question! The Panther DAO will be instituted using quadratic voting, a process whereby collective decision-making procedure involves individuals allocating votes to express the degree of their preferences, rather than just the direction of their preferences.
By doing so, quadratic voting helps enable users to address issues of voting paradox and majority rule.
So individual votes have more weight rather than just having a bunch of tokens. We feel that this is a fairer system.
BTC/ETH holder 😎: On your Website, I read that the Panther Protocol utilizes "zkSNARK" technology. Can you please explain what it is, how it works and what are its advantages? how important is the role of zkSNARK in the zAssets ecosystem?
Constantinos: Zero-knowledge proofs, for the first time in history (and this includes pre-digital history), allows you to prove something, like your age, without revealing any other information such as your name, date of birth or nationality.
Minimum disclosure is the result. It is still a small privacy leak, but it is sufficient and measured and allows you to establish that trust relationship with your counterparty.
Myko: Thank you for the ama! IT was a pleasure to host it! Thanks for your questions, everyone!
Andrew: Thank you so much Myko and the community 🙂
Constantinos: It was a pleasure to be here again! I have to say that the questions we got were the best we got! Wish we had more time to answer them 💙💙
///Transcript end here ///
About Panther
Panther is a decentralized protocol that enables interoperable privacy in DeFi using zero-knowledge proofs.
Users can mint fully-collateralized, composable tokens called zAssets, which can be used to execute private, trusted DeFi transactions across multiple blockchains.
Panther helps investors protect their personal financial data and trading strategies, and provides financial institutions with a clear path to compliantly participate in DeFi.
Stay connected: Telegram | Twitter | LinkedIn | Website
Share this article on: