AMA with the KoinSaati community (with Turkish translation)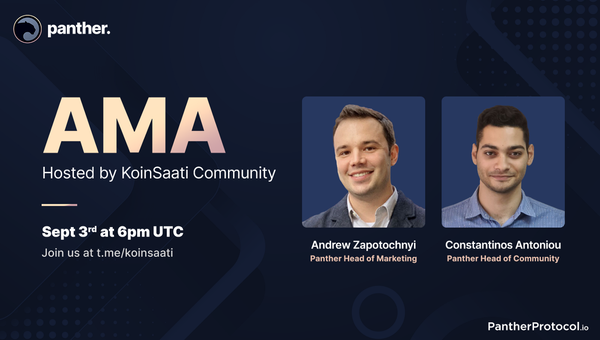 Table of Contents:
Panther Protocol had an AMA session with the KoinSaati community on September 3rd at 6PM UTC. The AMA took place in the community's Telegram group https://t.me/koinsaati.
KoinSaati organised a live translation in Turkish, of the whole AMA which we include in the transcript below. The transcript has been slightly edited for clarity.
/// Transcript starts now ///
Donatello | KoinSaati: Hello Constantinos and Andrew thanks for having AMA with us tonight. We are excited about the project and for your answers.
Raphael | KoinSaati (Turkish translation): Merhaba Constantinos ve Andrew, bu gece AMA'ya geldiğiniz için teşekkürler. Proje ve cevaplarınız için heyecanlıyız.
Andrew Zapotochnyi: Hi Donatello, and thank you, everyone, for having us today!
Raphael: Merhaba Donatello ve bugün bizi ağırladığınız için herkese teşekkür ederiz!
Constantinos: Thank you for having us guys! You have a wonderful community here 😊
Raphael: Bizi ağırladığınız için teşekkürler çocuklar! Burada harika bir topluluğunuz var 😊
Donatello: Our community is quite excited about the event so let me start with the first question! Let's go! 😊
Raphael: Topluluğumuz etkinlik için oldukça heyecanlı, bu yüzden ilk soruyla başlayayım! 😊
Donatello: Hello Friends,
Andrew Zapotochnyi, the Head of Marketing and Constantinos Antoniou, the Head of Community of Panther Protocol project are with us this evening for the AMA (Ask Me Anything) Event.
Andrew and Constantinos, thank you for accepting our invitation to answer the questions about the Panther Protocol project!
Our event will be held in 2 sessions:
⁃ First we will ask Andrew and Constantinos our own questions about the project and chat will be closed during this session.
⁃ After Andrew and Constantinos answer our questions, we will open the chat for five minutes to be able to receive questions from our members. Asking questions in English is encouraged however our translators will also translate the Turkish questions. Andrew and Constantinos will cherry-pick and answer 5 questions of the community. Those whose questions were answered retweeted our event announcement and be a follower of https://twitter.com/koinsaati, https://twitter.com/Braatuu, and https://twitter.com/ZKPanther Twitter accounts will be able to receive the giveaway prize.
Now we will start asking our questions. Let's have a delightful event!
🇹🇷 Merhaba Arkadaşlar,
Panther Protocol projesinin Marketing Sorumlusu Andrew Zapotochnyi ve Topluluk Yöneticisi Constantinos Antoniou AMA (Bana Her Şeyi Sor) etkinliği için bugün bizlerle beraber.
Andrew ve Constantinos, proje hakkında merak edilenleri bizlerle paylaşmak üzere davetimizi kabul ettiğiniz için teşekkür ederiz!
Programımız 2 bölümden oluşacak:
⁃ İlk olarak proje hakkında kendi sorularımızı soracağız ve bu bölüm boyunca sohbet açık olmayacaktır.
⁃ Sorularımız bittiğinde ise üyelerimizden soru alabilmek için 5 dakika boyunca sohbeti açacağız. Soruların İngilizce sorulması tercih sebebi olacaktır, Türkçe sorular ise tercümanlarımızca tercüme edilecektir. Andrew ve Constantinos, topluluk sorularından 5 tanesini seçerek yanıtlayacak.
Cevaplanan soruların sahipleri de, duyuru Tweetimizi RT'lemiş ve Twitter'da https://twitter.com/koinsaati, https://twitter.com/Braatuu, ve https://twitter.com/ZKPanther hesaplarını takip etmiş olmaları halinde ödüle hak kazanacaklardır.
Bu kısa açıklamayla birlikte sorularımıza başlıyoruz. Keyifli bir etkinlik olmasını dileriz!
Donatello | KoinSaati: Q1) Can you tell us a little bit about yourselves & Panther Protocol and its background?
🇹🇷Q2) Bize biraz kendinizden, Panther Protocol'den ve ortaya çıkış hikayesinden bahseder misiniz?
Andrew: Sure! I'm the head of marketing at Panther Protocol.
I've been in the blockchain space for the last five years and headed marketing at Ambisafe back in 2017, headed marketing at Propy.com, bootstrapped a couple of my own marketing blockchain-specific ventures.
Back in 2018, I came up with the ambitious Digital Independence Declaration idea (digindec.com) that brought me to Panther Protocol as I'm really concerned about where we are on privacy and human rights as a civilisation.
Raphael: Tabi ki Panther Protocol'de pazarlama şefiyim.
Son beş yıldır blok zinciri alanında bulundum ve 2017'de Ambisafe'de pazarlamaya, Propy.com'da pazarlamaya yöneldim, kendi pazarlama blok zincirine özgü girişimlerimden birkaçını başlattım.
2018'de, mahremiyet ve bir medeniyet olarak insan hakları konusunda nerede olduğumuzla gerçekten ilgilendiğim için beni Panther Protokolü'ne getiren iddialı Dijital Bağımsızlık Bildirgesi fikrini (digindec.com) buldum.
Constantinos: My name is Constantinos Antoniou, and I am handling all of the community aspects of Panther. I've been involved and Co-founded local communities. Organized a few conferences and I've been advising projects in terms of marketing and community. I was also the head of research at D-CORE, a crowdsourcing platform where we research and analyze Blockchain projects.
Raphael: Tabi ki, benim adım Constantinos Antoniou ve Panther'in tüm topluluk yönlerini yönetiyorum. Ülkem Kıbrıs'ta yerel topluluklara katıldım ve ortaklıklar kurdum. Birkaç konferans düzenledim ve pazarlama ve toplum açısından projelere danışmanlık yapıyorum. Ayrıca Blockchain projelerini araştırdığımız ve analiz ettiğimiz bir kitle kaynaklı platform olan D-CORE'da araştırma başkanıydım.
Constantinos: It all started when our Co-founder Dr Anish Mohammed and Oliver Gale met in a crypto conference and realised that both had the same concerns about on-chain surveillance and how DeFi can benefit from privacy solutions. They realised that we had complementary strengths and knowledge and the desire to bring change, so they started to develop the idea. The idea attracted a lot of talented people who stood behind it and wanted to help.
Panther Protocol is an end-to-end privacy protocol for DeFi. Panther provides DeFi users with fully collateralized privacy-enhancing digital assets, leveraging crypto-economic incentives and zkSNARKs technology. Users are able to mint zero-knowledge zAssets by depositing digital assets from any blockchain into Panther vaults. zAssets will become an ever-expanding asset class for users who want their transactions and strategies the way they should always have been: private.
Panther is compatible with AML regulations globally through the use of the Panther Metastrate — a zero-knowledge data layer that enables users to disclose all or some of their transaction histories to parties of their choosing, either fully or through the use of zk attestations.
Raphael: Her şey, kurucu ortağımız Dr. Anish Mohammed ve Oliver Gale'in bir kripto konferansında bir araya geldikleri ve her ikisinin de zincir üstü gözetim ve DeFi'nin gizlilik çözümlerinden nasıl yararlanabileceği konusunda aynı endişeleri olduğunu fark etmesiyle başladı. Tamamlayıcı güçleri ve bilgileri olduğunu ve değişim getirme arzuları olduğunu fark ettiler ve bu fikri geliştirmeye başladılar. Fikir, bunu destekleyen ve yardım etmek isteyen birçok yetenekli insanı kendine çekti.
Panther Protocol, DeFi için uçtan uca bir gizlilik protokolüdür. Panther, DeFi kullanıcılarına kripto-ekonomik teşviklerden ve zkSNARK'ların teknolojisinden yararlanarak tamamen teminatlandırılmış gizliliği artıran dijital varlıklar sağlar. Kullanıcılar, dijital varlıkları herhangi bir blockchainden Panther kasalarına yatırarak sıfır bilgili zAsset'leri basabilirler. zAsset'ler, işlemlerini ve stratejilerini her zaman olması gerektiği gibi, yani özel olmasını isteyen kullanıcılar için sürekli genişleyen bir varlık sınıfı haline gelecek.
Panther, kullanıcıların işlem geçmişlerinin tamamını veya bir kısmını tamamen veya sıfır bilgi onaylarının kullanımı yoluyla kendi seçtikleri taraflara açıklamalarını sağlayan sıfır bilgili bir veri katmanı olan Panther Metastrate'ın kullanımıyla küresel olarak Kara Para Aklama regülasyonlarıyla uyumludur.
Donatello: Glad to meet with you all. It seems like you guys are quite experienced in your areas and your project sounds promising! Thanks for the detailed answer. Heading to my second question.
Raphael: Hepinizle tanıştığıma memnun oldum. Alanlarınızda oldukça deneyimlisiniz ve projeniz umut verici görünüyor! Detaylı cevap için teşekkürler. İkinci soruma geçiyorum.
Constantinos: Our pleasure!
Raphael: Biz de tanıştığımıza memnun olduk
Donatello: Q2 — Can you tell us about your main differences and advantages with "Projects Providing Anonymity" that focuses on bringing privacy to DeFi?
🇹🇷Q2 — DeFi'ye gizlilik getirmeye odaklanan "Anonimlik Sağlayan Projeler" ile temel farklarınızdan ve avantajlarınızdan bahseder misiniz?
Andrew: The biggest differentiator that Panther has over its competitors is its unique approach to compliance.
Other 'Privacy' networks do not provide privacy, instead, they provide private solutions. Their users do not have the option to disclose information to 3rd parties like financial institutions, their accountant, or the tax department for compliance purposes.
Panther empowers DeFi users with full privacy, while also enabling them to provide different levels of disclosures for certain transactions.
Selective disclosures are the future of compliance and the game-changer institutional users have been waiting for as it puts them in control, providing unstoppable privacy and freedom to share data with whomever they decide.
Raphael: Belki de Panther'in rakiplerine göre en büyük farkı, uyum konusundaki benzersiz yaklaşımıdır.
Diğer 'Gizlilik' ağları aslında gizlilik sağlamaz, bunun yerine özel çözümler sunar. Kullanıcılarının, uyum amacıyla finansal kuruluşlar, muhasebecileri veya vergi dairesi gibi 3. taraflara bilgileri ifşa etme seçeneği yoktur.
Panther, DeFi kullanıcılarına tam gizlilik sağlarken aynı zamanda belirli işlemler için farklı düzeylerde açıklamalar sağlamalarına olanak tanır.
Seçici açıklama, uyumluluğun geleceğidir ve kurumsal kullanıcıların kontrolü kendilerine vererek, durdurulamaz mahremiyet ve karar verdikleri kişilerle veri paylaşma özgürlüğü sağlayarak beklediği ezber bozan bir şeydir.
Donatello: It is nice to hear that your project empowers DeFi users with full privacy!
Raphael: Projenizin DeFi kullanıcılarına tam gizlilik sağladığını duymak ne güzel!
Donatello: Q3 — Panther Protocol is an end-to-end privacy protocol for DeFi. So, can you tell us about the contributions of this privacy to the user and the crypto industry?
🇹🇷S3 — Panther Protocol, DeFi için uçtan uca bir gizlilik protokolü olarak karşımıza çıkıyor. Peki bu gizliliğin kullanıcıya ve kripto sektörüne katkılarından bahseder misiniz?
Constantinos: Bitcoin and Blockchain technology-enabled digital scarcity and the creation of permissionless, unstoppable, and immutable financial systems. What we now call DeFi, has the potential to replace big parts of the traditional financial industry. The biggest smart contract platforms that facilitate DeFi ecosystems are inherently transparent, anyone can go to a blockchain explorer and find out your balances, transaction history, as well as the people or organisations you have transacted within the past. Blockchain analytics firms such as Chainanalysis and Ellipti, have developed sophisticated technology to make this kind of surveillance easier.
All of this leads up to the erosion of personal financial privacy as well as loss of apha for professional traders and institutions. Institutions have expressed their reluctance to join DeFi in a big way until they can deploy complex trading strategies without the fear of them being quickly replicated, thus marginalising their effectiveness. Additionally, big financial institutions need to protect their customers' sensitive information.
As you can imagine, privacy is a very important issue we need to address in order for DeFi to grow and gain mass adoption.
Raphael: Bitcoin ve Blockchain teknolojisi, dijital kıtlığı ve izinsiz, durdurulamaz ve değişmez finansal sistemlerin yaratılmasını sağladı. Şimdi DeFi olarak adlandırdığımız şey, geleneksel finans endüstrisinin büyük bölümlerinin yerini alma potansiyeline sahip. DeFi ekosistemlerini kolaylaştıran en büyük akıllı sözleşme platformları doğal olarak şeffaftır, herkes bir blockchain gezginine gidebilir ve bakiyelerinizi, işlem geçmişinizi ve geçmişte işlem yaptığınız kişi veya kuruluşları öğrenebilir. Chainanalysis ve Ellipti gibi Blockchain analitik firmaları, bu tür gözetimi kolaylaştırmak için sofistike teknolojiler geliştirdiler.
Tüm bunlar, profesyonel traderlar ve kurumlar için kişisel finansal mahremiyetin aşınmasına ve apha kaybına yol açar. Kurumlar, hızlı bir şekilde tekrarlanma korkusu olmadan karmaşık ticaret stratejileri uygulayana ve böylece etkinliklerini marjinalleştirene kadar DeFi'ye katılma konusundaki isteksizliklerini dile getirdiler. Ek olarak, büyük finans kurumlarının müşterilerinin hassas bilgilerini koruması gerekir.
Tahmin edebileceğiniz gibi, gizlilik, DeFi'nin büyümesi ve kitlesel olarak benimsenmesi için ele almamız gereken çok önemli bir konudur.
Donatello: Well that sounds interesting and quite accurate when it comes to big financial institutions. It is nice to hear that your project have a solution for them!
Raphael: Konu büyük finans kurumları olduğunda projeniz kulağa ilginç ve oldukça doğru geliyor. Projenizin onlar için bir çözümü olduğunu duymak güzel!
Donatello: Moving to my next question.
🇬🇧Q4 — As Panther Protocol, what can you tell us about other services you will offer to platform users?
🇹🇷S4 — Panther Protocol olarak, platform kullanıcılarına yönelik sunacağınız diğer hizmetlerden bahseder misiniz?
Andrew: Another important development for Q4 2021: the DAO will be instituted using quadratic voting, a process whereby collective decision-making procedure involves individuals allocating votes to express the degree of their preferences, rather than just the direction of their preferences.
By doing so, quadratic voting helps enable users to address issues of voting paradox and majority rule.
In Q122, we are releasing the first inter-chain privacy DEX, which will feature inter-chain functionality, privacy pricing and mining, built on an L2 solution.
We will add additional features to the DEX in Q222 such as anonymous LP, privacy flash pools and many more peerchains.
Raphael: 2021'in 4. Çeyreği için önemli gelişmelerimiz var: DAO, toplu karar alma prosedürünün, yalnızca tercihlerinin yönünü değil, tercihlerinin derecesini ifade etmek için oyları tahsis eden bireyleri içeren bir süreç olan ikinci dereceden oylama kullanılarak kurulacak.
Bunu yaparak, ikinci dereceden oylama, kullanıcıların oylama paradoksu ve çoğunluk kuralı sorunlarını çözmelerine yardımcı olur.
2022'nin 1. Çeyreği'nde, bir Layer-2 çözümü üzerine inşa edilmiş, zincirler arası işlevsellik, gizlilik fiyatlandırması ve madencilik özelliklerine sahip olacak ilk zincirler arası gizlilik DEX'i piyasaya sürüyoruz.
2022'nin 2. Çeyreği'nde DEX'e anonim LP, gizlilik flaş havuzları ve daha birçok eş zincir gibi ek özellikler ekleyeceğiz.
Donatello: Your upcoming services are promising indeed! As KoinSaati community, we will be following the updates closely!
Raphael: Yaklaşan hizmetleriniz gerçekten umut verici! KoinSaati topluluğu olarak güncellemeleri yakından takip ediyor olacağız!
Donatello: Here comes my next question.
🇬🇧Q5 — One of the most fascinating things we learned about Panther Protocol is "Privacy Mining", a special type of liquidity mining. Could you provide us with some information on this subject?
🇹🇷S5 — Panther Protocol hakkında öğrendiğimiz en büyüleyici şeylerden biri, özel bir likidite madenciliği türü olan "Gizlilik Madenciliği". Bu konuyla ilgili bize biraz bilgi verebilir misiniz?
Constantinos: Privacy mining is a specialized form of liquidity mining that results in making it probabilistically hard to nail down the correlation between a given transaction on a blockchain and the identity of a person. Privacy mining is what enables Panther to facilitate a way to safely transact across all major DeFi platforms.
The process starts from the Panther pools where 'privacy miners' deposit. Just like liquidity pools, which serve as the backbone of decentralized exchanges like Uniswap, in a similar construct, Panther Pools are a collection of assets locked in a smart contract that enable users to privately deposit, withdraw, and transact zAssets.
As Panther Pools grow and the number of transactions in the anonymity set increases, so too do the quality and cost efficiencies of decentralized transactional obfuscation that Panther Provides.
For making liquidity available for privacy mining, contributors to Panther Pools are rewarded in ZKP, Panther network's native token. The number of fees they earn are in accordance with the size and length of their deposit.
Raphael: Gizlilik madenciliği, bir blockchaindeki belirli bir işlem ile bir kişinin kimliği arasındaki korelasyonu tespit etmeyi olasılıksal olarak zorlaştıran özel bir likidite madenciliği şeklidir. Gizlilik madenciliği, Panther'in tüm büyük DeFi platformlarında güvenli bir şekilde işlem yapmanın bir yolunu kolaylaştırmasını sağlayan şeydir.
Süreç, 'gizlilik madencilerinin' para yatırdığı Panther havuzlarından başlıyor. Benzer bir yapıda, Uniswap gibi merkeziyetsiz borsaların bel kemiği olarak hizmet eden likidite havuzları gibi, Panther Pools da kullanıcıların özel olarak zAssets'i yatırmasına, çekmesine ve işlemesine olanak tanıyan bir akıllı sözleşmeye kilitlenmiş varlıklar topluluğudur.
Panther Pools büyüdükçe ve anonimlik kümesindeki işlemlerin miktarı arttıkça, Panther'in sağladığı merkeziyetsiz işlem gizlemenin kalitesi ve maliyet verimliliği de artar.
Likiditeyi gizlilik madenciliği için kullanılabilir hale getirmek için Panther Pools'a katkıda bulunanlar, Panther ağının yerel tokeni olan ZKP ile ödüllendirilir. Kazandıkları ödüllerin miktarı, yatırdıkları paranın boyutuna ve süresine göredir.
Donatello: Such an interesting process! Glad to learn that your project has its own unique way of transforming liquidity mining into privacy mining!
Raphael: Oldukça ilginç bir süreç! Projenizin, likidite madenciliğini gizlilik madenciliğine dönüştürmek için kendine özgü bir yolu olduğunu öğrenmekten memnun oldum!
Donatello: Moving to my next question.
🇬🇧Q6 — Crypto projects that provide anonymity are perceived as enemies by some governments. What kind of work do you have to break this perception and tell the whole world about the project?
🇹🇷S6- Anonimlik sağlayan kripto projeler, bazı hükümetlerce kötü olarak algılanıyor. Bu algıyı kırmak ve tüm dünyaya projeyi anlatmak için ne tür çalışmalarınız var?
Andrew: That's true, this is why when we were designing Panther Protocol we wanted to provide the tools for the users to be able to comply with their local regulations. These can vary from country to country but the essence is to be able to have privacy but also the ability to disclose any information about your personal information and transactions to anyone you wish to.
Panther will provide you with the necessary tools to do that. The first tool that will be made available from our MVP launch on Polygon later this year, is what we call 'full disclosure' which means that users will be able to disclose their full transaction history to anyone they want, which might include a financial service provider that requires proof of funds, their accountant or even their local tax office or authorities.
Later in our roadmap, we will be releasing another tool called 'Zero-Knowledge disclosure' where users can prove compliance without providing any underlying data — meaning they provide the financial institutions what they need (to know you did everything in accordance to a certain rules engine), without having to disclose anything about the transaction itself (sender, receiver, amounts, metadata — all of that remains private).
Raphael: Bu doğru, bu yüzden Panther Protocol'u tasarlarken, kullanıcılara yerel yönetmeliklere uymaları için araçlar sağlamak istedik. Bunlar ülkeden ülkeye değişebilir, ancak esas olan mahremiyete sahip olabilmek ve aynı zamanda kişisel bilgileriniz ve işlemleriniz hakkında herhangi bir bilgiyi istediğiniz kişiye açıklayabilme yeteneğidir.
Panther size bunu yapmak için gerekli araçları sağlayacaktır. Bu yılın ilerleyen saatlerinde Polygon'daki MVP lansmanımızdan kullanıma sunulacak ilk araç, 'tam açıklama' olarak adlandırdığımız şeydir; bu, kullanıcıların tam işlem geçmişlerini, fon kanıtı gerektiren sağlayıcı, muhasebeci veya hatta yerel vergi dairesi veya makamları gibi, istedikleri kişiye, bir finansal hizmet de içerebilecek şekilde açıklayabilecekleri anlamına gelir.
Yol haritamızın ilerleyen bölümlerinde, kullanıcıların herhangi bir temel veri sağlamadan uyumluluğu kanıtlayabilecekleri, yani işlemin kendisi hakkında hiçbir şey açıklamak zorunda kalmadan (gönderen, alıcı, tutarlar, meta veriler — bunların tümü gizli kalır), finansal kurumlara ihtiyaç duydukları şeyi sağladıkları (her şeyi belirli bir kural motoruna göre yaptığınızı bilmek gibi) 'Sıfır Bilgi Açıklama' adlı başka bir araç yayınlayacağız.
Donatello: Compliance is an important element for DeFi projects that target centralized big institutions. Glad to hear that Panther Protocol has plans for it.
Raphael: Merkezi büyük kurumları hedefleyen DeFi projeleri için uyumluluk önemli bir unsurdur. Panther Protocol'ün bunun için planları olduğunu duyduğuma sevindim.
Constantinos: Exactly
Raphael: Aynen
Constantinos: DeFi will not be adopted by institutions if there is not some level of privacy but also the ability to be compliant
Raphael: DeFi, belirli bir düzeyde mahremiyet yoksa, aynı zamanda uyumlu olma yeteneği de yoksa, kurumlar tarafından kabul edilmeyecektir.
Donatello: 🇹🇷 Açıklamalarınız için teşekkürler,Constantinos ve Andrew! Şimdi son soruma geçiyorum. Son soruma cevap verdikten sonra 5 dakika sohbeti açacağız ve topluluğun sorularını sormasına olanak tanıyacağız. Türkçe gelen sorular ekibimiz tarafından çevrilecek ve 5 dakika sonra sorulan sorulardan 5 tanesini seçip cevaplama şansınız olacak. İngilizce bilen üyelerimizin sorularını İngilizce sormasını önemle rica ediyoruz.
🇬🇧 Thanks for your explanations, Constantinos and Andrew! Now I will ask my last question. After you answer my last question, we will open the chat for 5 minutes and let the community ask their questions. Turkish questions will be translated by our team and after 5 minutes you will have a chance to pick and answer 5 of the questions asked. We strongly encourage our English speaking members to ask their questions in English.
Constantinos: Great 😁
Raphael: Harika 😁
Donatello: 🇬🇧Q7 — Finally, what can you say about the importance of "Financial Secrecy" for the world and your future plans?
🇹🇷S7 — Son olarak "Finansal Gizliliğin" dünya için önemi ve gelecek planlarınız hakkında neler söyleyebilirsiniz?
Andrew: Privacy is one of the most compelling needs for DeFi and Web3 right now. An unalienable right, it has been nevertheless eroded in the digital age where, through a combination of reckless sharing and greedy harvesting of data, there is a thin line between who we are and what we share.
The flippant argument in the form of 'what have you to hide?' combined with a determination to ferret out real or imagined threats has created a world where privacy is being taken out of the picture as if it wasn't a basic human right. Imagine walking down the street with your wallet in your back pocket or in your purse and anyone looking at you could see an additional layer with every purchase you have made in your life, from the drinks last night to the books you read or the food choices you make. How much could someone know about you by knowing your entire transaction history? Do we really need to share everything with everyone? Any sensible person would agree to the absurdity of that.
We are being led Inexorably into a world where surveillance is the norm. Oppressive regimes, Big tech and competitors should not have access to your data. Period.
At Panther, we have created a solution that enables privacy while being mindful of the compliance landscape. We believe that this middle of the line approach is going to be a game-changer that can enable a new wave of growth for DeFi and Web3.
Raphael: Gizlilik, şu anda DeFi ve Web3 için en zorlayıcı ihtiyaçlardan biridir. Vazgeçilemez bir hak, yine de, pervasız paylaşım ve açgözlü veri toplamanın bir araya gelmesiyle, kim olduğumuz ve neyi paylaştığımız arasında ince bir çizginin olduğu dijital çağda aşındı.
"Gizleyecek neyin var ki?" şeklindeki küstah argüman, gerçek veya hayali tehditleri ortaya çıkarma kararlılığıyla birleştiğinde, mahremiyetin sanki temel bir insan hakkı değilmiş gibi tablodan çıkarıldığı bir dünya yarattı. Cüzdanınız arka cebinizde veya çantanızdayken sokakta yürürken, size bakan herkesin, dün gece içtiğiniz içeceklerden, okuduğunuz kitaplara veya yaptığınız yemek seçimlerine kadar, hayatınızda yaptığınız her alışverişi görebileceğini hayal edin.Tüm işlem geçmişinizi bilen biri sizin hakkınızda ne kadar bilgi sahibi olabilir? Gerçekten her şeyi herkesle paylaşmamız gerekiyor mu? Aklı başında her insan bunun saçmalığını kabul eder.
Gözetimin norm olduğu bir dünyaya amansızca yönlendiriliyoruz. Baskıcı rejimler, Büyük teknoloji firmaları ve rakipler verilerinize erişmemelidir; Bu kadar!
Panther'de, uyumluluk ortamını göz önünde bulundurarak gizliliği sağlayan bir çözüm yarattık. Bu çizginin ortasında yer alan yaklaşımının, DeFi ve Web3 için yeni bir büyüme dalgası sağlayabilecek bir oyun değiştirici olacağına inanıyoruz.
Donatello: Thanks for your detailed answers! Now it is time for the community questions. 😊
Raphael: Ayrıntılı cevaplarınız için teşekkürler! Şimdi topluluk sorularının zamanı geldi. 😊
Constantinos: Awesome ;p
Raphael: keep in mind that 5 questions you answer will be rewarded, but you are welcome to answer more of course :)
Khampi: Do you have any plan to launch NFT for Panther Protocol? Recently, many projects have launched NFT to attract investors, what is your opinion about the NFT industry?
Andrew: Yes, we do have some plans in our pipelines, but it's not final. However, we have signed a partnership agreement with StackOS on bringing privacy to NFT, you can check out more info here: https://news.bitcoin.com/panther-protocol-and-stackos-partner-to-bring-privacy-to-defi-and-nfts/
Raphael:
Soru: Panther Protocol için NFT'yi başlatma planınız var mı? Son zamanlarda, yatırımcıları çekmek için birçok proje NFT'yi başlattı, NFT endüstrisi hakkında ne düşünüyorsunuz?
Cevap: Evet, aklımızda bazı planlarımız var, ancak bunlar nihai değil. Ancak, NFT'ye gizlilik getirmek için StackOS ile bir ortaklık anlaşması imzaladık, daha fazla bilgiyi buradan kontrol edebilirsiniz: https://news.bitcoin.com/panther-protocol-and-stackos-partner-to-bring-privacy -tanımla-ve-nfts/
Yasin: In your medium article, I realized that your vision is to restore the right to privacy and protect your users from a surveillance economy. Accordingly, how do you regain your right to privacy and protect users from a surveillance ecosystem?
Andrew: We can't protect you from Apple scanning your images on your iPhone, obviously, but we are working on getting you covered on the blockchain side. Our long-term vision is to make Panther the solution making any blockchain asset private.
Raphael | KoinSaati, [03.09.21 22:02]
Soru: Medium makalenizde, vizyonunuzun gizlilik hakkını geri kazanmak ve kullanıcılarınızı bir gözetim ekonomisinden korumak olduğunu fark ettim. Buna göre, gizlilik hakkınızı nasıl yeniden kazanırsınız ve kullanıcıları bir gözetim ekosisteminden nasıl korursunuz?
Cevap: Apple'ın görüntülerinizi iPhone'unuzda taramasından sizi koruyamayız elbette, ancak sizi blok zinciri tarafında ele almak için çalışıyoruz. Uzun vadeli vizyonumuz, Panther'i herhangi bir blok zinciri varlığını özel yapan çözüm haline getirmektir.
WAJIB: How big is your team and are you a global project or is there any restriction?
Constantinos: The Panther's biggest asset is its team. The team gained experience in leading organisations across a wide spectrum of verticals such as the United Nations, Accenture, BlackRock, P&G, Vimeo, Siemens, UFC, DELL, HSBC, and Lloyds Bank. In Blockchain specifically, team members contributed to over 55 blockchain projects, including Ethereum, Ripple, Avalanche, Ocean Protocol, Boson Protocol and blockchain.com
The team consists of 26 members in total from every almost all over the globe. There is not a central office somewhere. Our developer team currently consists of 8 incredible technologists, with vast experience in cryptography, product development, security and game-theoretic mechanisms.
Raphael:
Soru: Ekibiniz ne kadar büyük ve global bir proje misiniz yoksa herhangi bir kısıtlama var mı?
Cevap: Panther'in en büyük varlığı ekibidir. Ekip, Birleşmiş Milletler, Accenture, BlackRock, P&G, Vimeo, Siemens, UFC, DELL, HSBC ve Lloyds Bank gibi geniş bir sektör yelpazesinde lider kuruluşlarda deneyim kazandı. Özellikle Blockchain'de ekip üyeleri, Ethereum, Ripple, Avalanche, Ocean Protocol, Boson Protocol ve blockchain.com dahil olmak üzere 55'ten fazla blockchain projesine katkıda bulundu.
Ekip, dünyanın hemen her yerinden toplam 26 üyeden oluşmaktadır. Bir yerde bir merkez ofis yok. Geliştirici ekibimiz şu anda kriptografi, ürün geliştirme, güvenlik ve oyun teorisi mekanizmalarında engin deneyime sahip 8 inanılmaz teknoloji uzmanından oluşmaktadır.
Yellow 🌻🌻: Maybe, some people will ask you about #Panther Protocol projects strong points. However, behind those outstanding factors, are you still wondering or dissatisfied with anything? Do you have any plans to improve these?
Andrew: It's not like we're dissatisfied with anything, but I would say one of the concerning factors for the whole industry is to have solid regulations from governments. We do hope that they understand that this emerging market and technology will be the major driver for the economy of the 2020s and we don't want regulators and institutions to see it as a threat.
Raphael:
Soru: Belki bazı insanlar size #Panther Protocol projelerinin güçlü noktalarını soracaktır. Ancak, bu olağanüstü faktörlerin arkasında, hala herhangi bir şeyi merak ediyor musunuz veya memnun kalmadınız mı? Bunları geliştirmek için herhangi bir planınız var mı?
Cevap: Hiçbir şeyden şikayetçi değiliz, ancak tüm endüstri için ilgili faktörlerden birinin hükümetlerden sağlam düzenlemelere sahip olmak olduğunu söyleyebilirim. Gelişmekte olan bu pazar ve teknolojinin 2020'lerin ekonomisinin ana itici gücü olacağını anlamalarını umuyoruz ve düzenleyicilerin ve kurumların bunu bir tehdit olarak görmesini istemiyoruz.
Andrew: We do collect some data, and we certainly do KYC for token sale participants, just as required by regulators.
We're working on getting our code audited, and we'll be making announcements on that note probably before the public sale.
Raphael:
Soru: Veri topluyor musunuz? Panther'in auditleri var mı?
Cevap: Bazı veriler topluyoruz ve düzenleyicilerin gerektirdiği şekilde token satışı katılımcıları için kesinlikle KYC yapıyoruz. Kodumuzun denetlenmesi için çalışıyoruz ve muhtemelen public sale'den önce bu notla ilgili duyurular yapacağız.
DORUTAY 🎖: You mention on your website that zAssets will become an ever-expanding, privacy-protecting asset class. Could you give detailed information about the features, differences and innovative aspects of zAssets?
Constantinos: Great question that we actually answer in great depth in the new article we released yesterday 😁
https://blog.pantherprotocol.io/minting-and-burning-zassets-a-semi-technical-deep-dive-18dea602a859
Raphael:
Soru: Web sitenizde zAssets'in sürekli genişleyen, gizliliği koruyan bir varlık sınıfı olacağından bahsediyorsunuz. zAssets'in özellikleri, farklılıkları ve yenilikçi yönleri hakkında detaylı bilgi verir misiniz?
Cevap: Dün yayınladığımız yeni yazımızda aslında derinlemesine cevapladığımız harika bir soru 😁
https://blog.pantherprotocol.io/minting-and-burning-zassets-a-semi-technical-deep-dive-18dea602a859
Adam Zampa: Can I prove my transaction activity to third parties?
Andrew: Yes, you are free to disclose your transaction history and other information to a third party, but only on a volunteer basis.
Raphael:
Soru: İşlem faaliyetimi üçüncü şahıslara kanıtlayabilir miyim?
Cevap: Evet, işlem geçmişinizi ve diğer bilgileri üçüncü bir tarafa açıklamakta özgürsünüz, ancak yalnızca gönüllü olarak.
Constantinos: By the way guys we are gearing up for a Public sale this quarter so if you are interested to participate please fill out the interest form https://share.hsforms.com/1NEKpcC84SFmK0fpd4sFoZQ8mifv
Raphael: Bu arada arkadaşlar, bu çeyrekte public sale için hazırlanıyoruz, bu nedenle katılmak istiyorsanız lütfen ilgili formunu doldurun https://share.hsforms.com/1NEKpcC84SFmK0fpd4sFoZQ8mifv
Donatello: @andrewzap and @Consanto, I would like to thank you for answering the questions from the community. Furthermore, thanks for having an AMA with us tonight. It was a pleasure to meet with you all and learn more about your amazing project.
Raphael: @andrewzap ve @Consanto, topluluktan gelen soruları yanıtladığınız için teşekkür ederim. Ayrıca, bu gece AMA'yı bizimle geçirdiğiniz için teşekkür ederiz. Hepinizle tanışmak ve harika projeniz hakkında daha fazla bilgi edinmek bir zevkti.
Constantinos: Thank you for having us! Great questions from the community 🙏😁🙏
Please follow us on our other social media!
Twitter: https://twitter.com/panther_prtcl
Telegram: https://t.me/pantherprotocol
https://blog.pantherprotocol.io/
Discord: https://discord.gg/WZuRnMCZ4c
Andrew: Thank you so much for your time, I know it's late in Turkey so enjoy your evening and your great black tea I love so much 😅
Raphael: Bizi ağırladığınız için teşekkür ederiz! Topluluktan gelen harika sorular harikaydı 🙏😁🙏
Lütfen bizi diğer sosyal medya hesaplarımızdan da takip edin!
Twitter: https://twitter.com/panther_prtcl
Telegram: https://t.me/pantherprotocol
https://blog.pantherprotocol.io/
Discord: https://discord.gg/WZuRnMCZ4c
/// Transcript ends here ///
About Panther
Panther is a decentralized protocol that enables interoperable privacy in DeFi using zero-knowledge proofs.
Users can mint fully-collateralized, composable tokens called zAssets, which can be used to execute private, trusted DeFi transactions across multiple blockchains.
Panther helps investors protect their personal financial data and trading strategies, and provides financial institutions with a clear path to compliantly participate in DeFi.
Stay connected: Telegram | Twitter | LinkedIn | Website
Share this article on: