Transcript of the AMA with the TokenHunter Community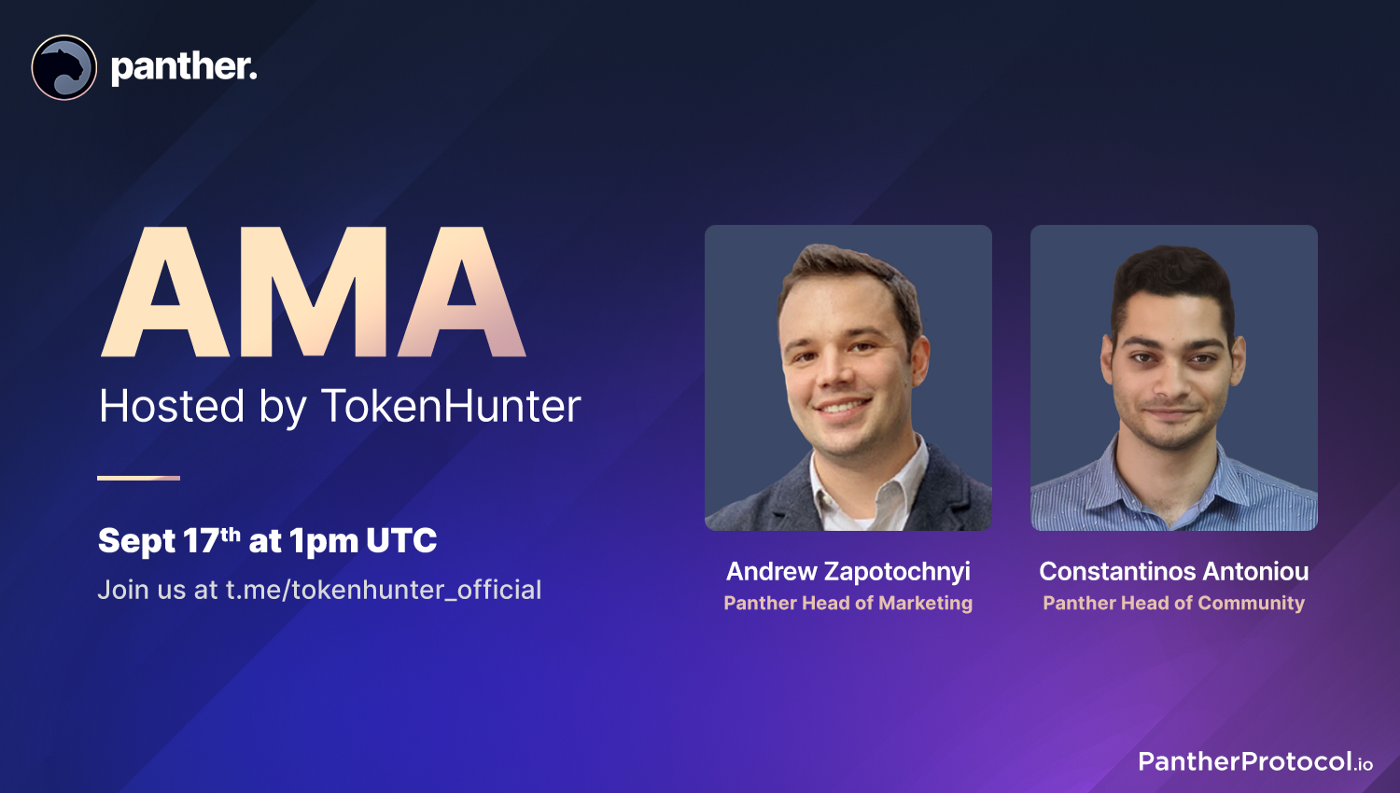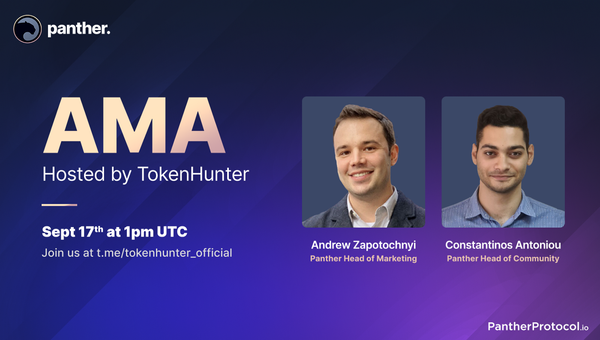 Table of Contents:
We had a lovely AMA session with the TokenHunter Community in their Telegram group https://t.me/tokenhunter_official on the 17th of September at 1PM UTC.
We transcribed the conversation and slightly edited it for clarity. If you missed the live AMA you can check out the transcript below!
///Transcript begins here///
Sawyer: Hello, everyone!☺
We are glad to meet here:
Andrew Zapotochnyi, Head of Marketing. @andrewzap
Constantinos Antoniou, Head of Community. @Consanto
Constantinos: Hey everyone! Glad to be here with you!
Andrew: Hi everyone, thanks for having us!
Sawyer: Hello, Andrew. Hello, Constantinos and welcome to TokenHunter!!
Our team has prepared several questions for you. Can we start?
Constantinos: Awesome, let's do it!
Sawyer: Q1. Please Introduce yourself to the community. @Consanto @andrewzap
Andrew: I'm the head of marketing at Panther Protocol.
I've been in the blockchain space full time for the last five years and headed marketing at Ambisafe back in 2017, headed marketing at Propy.com, bootstrapped a couple of my own marketing blockchain-specific ventures.
I came up with the Digital Independence Declaration idea (digindec.com) that brought me to Panther Protocol.
Constantinos: Hi TokenHunters, my name is Constantinos Antoniou, and I am handling all of the community aspects of Panther. I've been involved and Co-founded local communities in my country Cyprus. Organized a few conferences and I've been advising projects in terms of marketing and community. I was also the head of research at D-CORE, a crowdsourcing platform where we research and analyze Blockchain projects.
Sawyer: Thanks for your introduction. Now let's look at the project!
Q2. What is Panther Protocol and what does it do? @Consanto @andrewzap
Constantinos: Panther Protocol is an end-to-end privacy protocol for DeFi. Panther provides DeFi users with fully collateralized privacy-enhancing digital assets, leveraging crypto-economic incentives and zkSNARKs technology. Users are able to mint zero-knowledge zAssets by depositing digital assets from any blockchain into Panther vaults. zAssets will become an ever-expanding asset class for users who want their transactions and strategies the way they should always have been: private.
Panther is compatible with AML regulations globally through the use of the Panther Metastrate — a zero-knowledge data layer that enables users to disclose all or some of their transaction histories to parties of their choosing, either fully or through the use of zk attestations.
Sawyer: Great project! The next question
Q3. What is the biggest advantage you have over your competitors? @Consanto @andrewzap
Andrew: The biggest differentiator that Panther has over its competitors is its unique approach to compliance. Other 'Privacy' networks do not provide privacy, instead, they provide private solutions. Their users do not have the option to disclose information to 3rd parties like financial institutions, their accountant, or the tax department for compliance purposes.
Panther empowers DeFi users with full privacy, while also enabling them to provide different levels of disclosures for certain transactions.
Selective disclosures are the future of compliance and the game-changer institutional users have been waiting for as it puts them in control, providing unstoppable privacy and freedom to share data with whomever they decide.
Sawyer: It's awesome. It's lucky to be your user!
Let's move on
Q4. How can anyone become involved with Panther? @Consanto @andrewzap
Constantinos: Currently we are super focused on the Public Sale of our token $ZKP in a few weeks and subsequently the release of our MVP on Polygon and later on Ethereum. If you are interested to participate in our Public sale please fill out the interest form https://share.hsforms.com/1NEKpcC84SFmK0fpd4sFoZQ8mifv
Oh and by the way we are looking to expand it by hiring world-class talent for the 3 following positions:
-Solidity Developer
-Zero-Knowledge Engineer
-Junior Finance Analyst & Strategist
Sawyer: Thanks a lot! Next are 3 questions from Twitter.
Q1. @IsoKaNal: What is the tokenomics of $ZKP? What are its use cases? How many units/amount of $ZKP must an individual hold to be able to participate in governance decisions?
Andrew: $ ZKP is an ERC20 token and it is the fuel for the protocol. It has a finite supply of 1 Billion tokens which is expected to reach it over a 12 years time-frame. The initial supply will be approximately 11% of the total supply.
Besides governance It has other uses within the Panther ecosystem such as:
Pay for fees within the ecosystem
Get rewards for providing liquidity or other services for the protocol
Secure the interchain private DEX LP vaults
Sawyer: This is great information for us! We are all waiting for $ZKP public sale update. Thank you for your question. @IsoKaNal
Q2. @Xinya_xu19: I read that Panther Protocol has established a partnership with #StackOS, a cross-chain protocol for people to offer a decentralized cloud and implement full-stack applications, $DApp and blockchain nodes. What are the benefits you expect to gain from this partnership?
Constantinos: That is correct, we are very excited about this partnership with StackOS. Under the Partnership agreement, Panther Protocol's DeFi privacy services will be deployed on StackOS' decentralized cloud.
This is easily done in minutes through its easy-to-use interface after the applications have been containerized. Applications running on StackOS become unstoppable and more secure as the infrastructure is automatically being maintained, resulting in the removal of DevOps costs.
Sawyer: It seems that this user is very concerned about your project! Thank you for your question. @Xinya_xu19
Q3. @David_Leo123: At present, NFTs is a hot topic. What do you think of it ? Does Panther Protocol have any plans to provide privacy for NFTs?
Andrew: We are exploring different ways to provide privacy to NFTs in the peerchains we are deploying Panther on. StackOS will soon be introducing NFTs to its platform.
Currently, NFT's are public as they are on a public ETH chain, but StackOS will use Panther's service to encrypt the NFT data, making NFT interaction within the StackOS platform private. You can learn more about the partnership here: https://news.bitcoin.com/panther-protocol-and-stackos-partner-to-bring-privacy-to-defi-and-nfts/
Sawyer: Wow! Fulfilling answer! Thank you for your question. @David_Leo123
Next, We will enter the community questioning part. Are you ready? @Consanto @andrewzap
Constantinos: ready!
Sawyer: Chat is muted! Thank you for your questions, everyone! @Consanto @andrewzap please choose the questions you like and answer them!
Sohil D: Do you have an AUDIT certificate or are you working to AUDIT your project to make it more secure and reliable?
Constantinos: Security is our top priority. Users of Panther will be using the most secure privacy protocol for their assets. Panther development is guided by in-house security expertise. Our team has over 40 years of cumulative expertise in security, and have worked on securing some well-known protocols in this space. The smart contract stack will be fully audited by industry-recognized security researchers prior to launch.
Roxie Aniston: I love this project for placing importance on the community aspect. It's something that I think is lacking in a lot of projects. How can early investors really help a project grow before it launches? From providing liquidity to general participation, what different roles are there when it goes live?
Constantinos: As mentioned above we are gearing up for the Public Sale so if you are interested to participate please fill out the interest form https://share.hsforms.com/1NEKpcC84SFmK0fpd4sFoZQ8mifv
Additionally, we would love to see you all in our communities! Especially Telegram and Twitter!! 💙
Please feel free to join our communities by following and participating in discussions on our social media:
Twitter: https://twitter.com/ZPPanther
Telegram: https://t.me/pantherprotocol
Blog: https://blog.pantherprotocol.io/
Discord: https://discord.gg/WZuRnMCZ4c
Charlyn Chalmers: Too many projects promise magic but never release any working product or prove any revenue, Within a short/long time of release. Is your project also like this? If not can u tell us, What makes your project different from other projects?
Andrew: I can see you are worried about the technical implementation, the answer to this is:
1. We're already working on the MVP, and the next technical update will be published in the next week. Sign up for the updates on https://www.pantherprotocol.io
2. Look at our CTO Anish's experience — you can see that he was reviewing the Ethereum whitepaper, advising Ripple, and had many more experiences. I think this is a good sign that we're going to stay on track for the delivery of the project.
Constantinos: and the rest of the development team is awesome!
Galen Burge ||AnimoTron||: According to the roadmap, what are your most important next priorities? Does your team have enough funds and strong community to achieve those milestones?
Andrew: The most important part our tech team is working on is building an MVP on Polygon. We're going to be announcing more details soon.
As for the funding, we already have approx. $10M in custody, which is enough for Panther to keep delivering for the next few years.
Sawyer: Thank Andrew Zapotochnyi & Constantinos Antoniou for coming to TH community group and answering many questions about Panther Protocol for us.
I believe our community followers have a deeper understanding of Panther Protocol.
Constantinos: Our pleasure! Thank you for having us!
Sawyer: Let's witness the future of Panther Protocol and cheer together! Join Panther Protocol telegram group and learn more! https://t.me/pantherprotocol
And, thank the community followers for listening.
///Transcript ends here///
About Panther
Panther is a decentralized protocol that enables interoperable privacy in DeFi using zero-knowledge proofs.
Users can mint fully-collateralized, composable tokens called zAssets, which can be used to execute private, trusted DeFi transactions across multiple blockchains.
Panther helps investors protect their personal financial data and trading strategies, and provides financial institutions with a clear path to compliantly participate in DeFi.
Stay connected: Telegram | Twitter | LinkedIn | Website
Share this article on: