Monthly Update: May 2022
A busy month just went by! Here's everything we did and how the future's looking for Panther.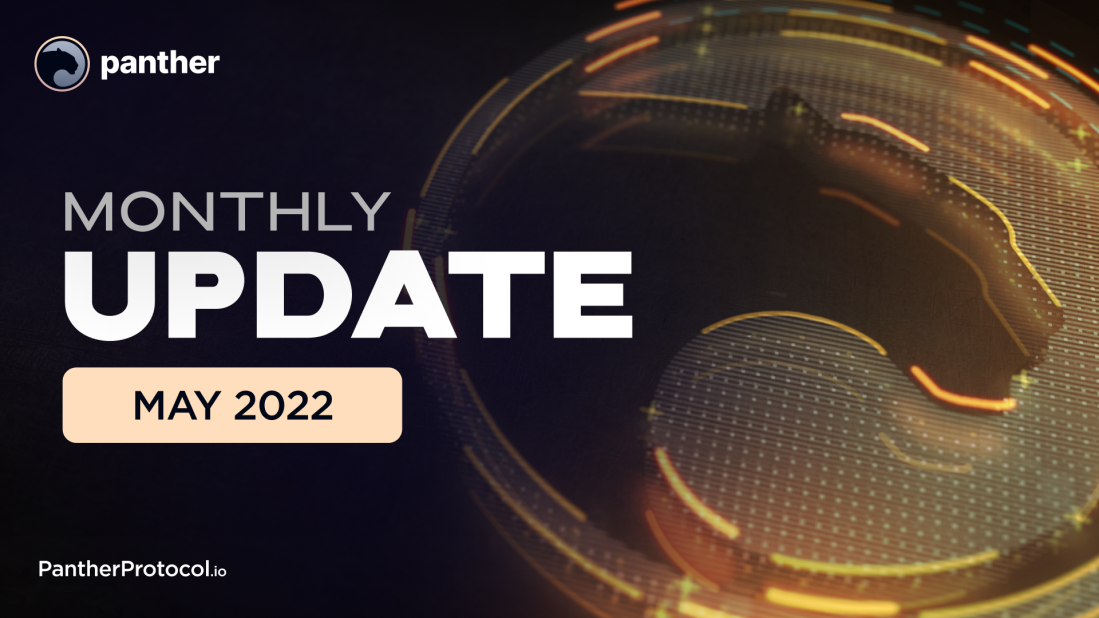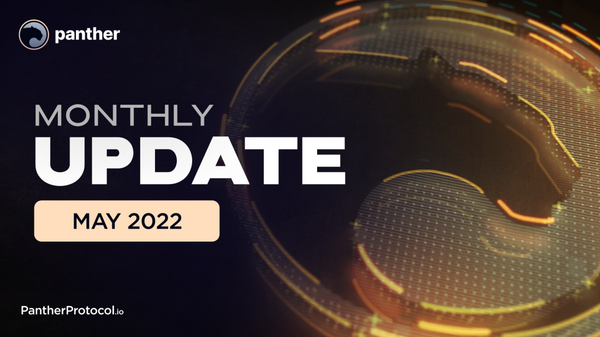 Table of Contents:
Dear Panthers,
Another month went by, and full of developments it was.
Looking back, it's positively satisfying to see progress in so many areas of our project as we move towards delivering Panther Core v1.
Let's have a look at what happened in the different areas of Panther.
Tech and Product
Proposal to fix the Classic Staking unstaking bug
We started the month with the discovery of a bug in our Staking solution as users tried to withdraw their Ethereum Mainnet rewards at the end of the staking period. This unfortunate event was quickly solved by Panther Improvement Proposal #5, approved on May 9th and implemented on May 12th.
Anecdotally, solving the unstaking bug involved collaborating with Snapshot.org to solve a UI bug, resulting in a net positive for the multi-DAO ecosystem. Fixing the unstaking bug allowed us to finally move on to testing Advanced Staking.
For all relevant details about the unstaking bug and the fix's implementation, see the post-mortem blog post. If you'd like to know more about the unique process Panther employs to apply fixes through its DAO and the community, refer to our road to decentralization piece.
Launched the Zafari incentivized Testnet
We debuted the Zafari incentivized Testnet on May 19th. Zafari will help the Panther team thoroughly test different products and developments with the help of its community, giving away varied rewards for contributors that help discover bugs and issues.
The first round of testing using Zafari's Beta is currently underway with Advanced Staking Testing. Note that this program is still ongoing thanks to the community's discovery of a couple of issues, highlighting the importance of initiatives that ensure a smooth final product rollout.
Below, you can see some metrics from testing so far. Make sure as well to check out our dedicated Twitter thread to learn more about how testing is progressing!
More than 1400 individual contributions to Testing by Panthers!
Became ZPrize Silver Partners
Panther has joined forces with 40 other leading names (the Ethereum Foundation, Polkadot, Polygon, etc.) in the blockchain space to sponsor and orchestrate the ZPrize competition. ZPrize is a collection of challenges offering $7M in prizes to teams advancing the zero-knowledge scientific field.
As our first task as Partners, the Panther team architected the Accelerating the Poseidon Hash Function challenge. For more details on the importance of Poseidon, this challenge, and Panther's role in ZPrize, read our official announcement.
Our brand-new Litepaper
On May 4th (May the 4th be with you!), we published the Panther Litepaper.
Over several months, a lot of work went into producing this introduction to Panther and our fight for privacy in DeFi and Web3. With half the length of the Panther Whitepaper, a more didactic and less technical approach, no compromise in essential talking points, and stunning visuals, we're incredibly proud of it.
If you haven't checked it out yet, make sure to give it a read after finishing this update!
Community
Debuted as a CoinMarketCap Gravity VIP member
CoinMarketCap recently debuted Gravity, their new blogging platform. Panther was invited to participate as a VIP member on Gravity, publishing exclusive content and re-publishing some of our existing articles.
Gravity presents a splendid opportunity for Panther to seize a spot of prominence among CoinMarketCap's top projects. To help Panther shine in CoinMarketCap, make sure to follow us now.
Ambassador Program and Language communities
The launch of our Ambassador program is still fresh in our memories, but we definitely didn't expect it to grow as fast as it has.
Merely a month and a half since we've introduced the program, we can gladly see the first fruits of our Ambassadors' dedication. We'd like to give a big shoutout to everyone hard at work pushing exclusive content and moderating eight Panther regional and language communities. The existing communities are in:
If you'd like to start your own Panther community or become an Ambassador to create exclusive content, evangelize about Panther, or want to make us a proposal, reach out via our Telegram channel! Learn more about the program in our original blog post.
Debuted Partner Spaces and Panther zTalks
Partner Spaces
On May 17, e-Money's CTO and CMO joined us on Twitter for our first Partner Spaces! We addressed Terra LUNA's collapse (the topic of the moment), e-Money's sustainable model for interest-bearing stablecoins, the need for privacy in creating a surveillance-free online economy, and much more.
This first Partner Spaces was an incredible opportunity to showcase how e-Money and Panther can profoundly benefit from our mutual partnership. Stablecoins need privacy, and Panther is more than glad to onboard them on our token-agnostic privacy privacy solution. Partner Spaces will be an excellent tool for us to engage with and be on the radar of our Partners' community, spreading the word about the need for privacy in DeFi.
Panther zTalks
Our marketing team hosted the first Panther zTalks on May 9th, discussing our previous monthly update, news about Panther, and what's on the horizon, including a DeFi integration Proof of Concept and Advanced Staking.
We'll continue to issue episodes of Panther zTalks whenever they feel relevant, involving different members of our team. We're also looking forward to inviting our Ambassadors and community members, so feel free to drop us a line if you'd like to participate!
Events
Mike Chan and Anish Mohammed, Head of Marketing and CTO, were busy on May 17–19th attending the Permissionless conference in Miami. Permissionless by Blockworks is a cultural event for the Metaverse and DeFi industries, attended by builders, investors, and leading voices in crypto.
We'd love to tell you all about the partnerships and discussions held throughout this event, but you'll have to wait to learn about them through special announcements ;)
Hirings
This month, our HR team hired new team members for the following positions:
Head of Delivery
Product Manager
Senior Solidity Developer
Front End Developer
Community Manager
We still have multiple positions open on our Angel.co page. If you feel like you or someone you know could be a good fit for these, make sure to apply! Some of them are:
Features and media
Podcasts
As always, our co-Founders have been actively involved in raising awareness about our vision and objectives.
Oliver Gale, Panther's CEO, gave an hour-long interview in LunarCrush Live focusing on Panther's community strategies and $ZKP. Our CEO also delivered a Panther 101 on Joe Robert's podcast, covering the essentials to understanding Panther's vision, approach, and key components.
The latest appearance by our founders on a podcast was our CTO's interview on CryptoCoinShow, on May 31st. Anish is always happy to delve deeper into technical aspects, as well as untangle the challenges and opportunities that come with seeking a leadership role in the DeFi privacy sector!
Oliver in Nasdaq
Nasdaq also invited Oliver as a guest contributor to their news portal. Our CEO delivered a brief but potent piece on how regulation does not threaten crypto's ethos, provided that privacy and compliance can be balanced. Definitely a must-read!
About Panther
Panther is a decentralized protocol that enables interoperable privacy in DeFi using zero-knowledge proofs.
Users can mint fully-collateralized, composable tokens called zAssets, which can be used to execute private, trusted DeFi transactions across multiple blockchains.
Panther helps investors protect their personal financial data and trading strategies, and provides financial institutions with a clear path to compliantly participate in DeFi.
Stay connected: Telegram | Twitter | LinkedIn | Website
Share this article on: