Panther announces the implementation of its Polygon package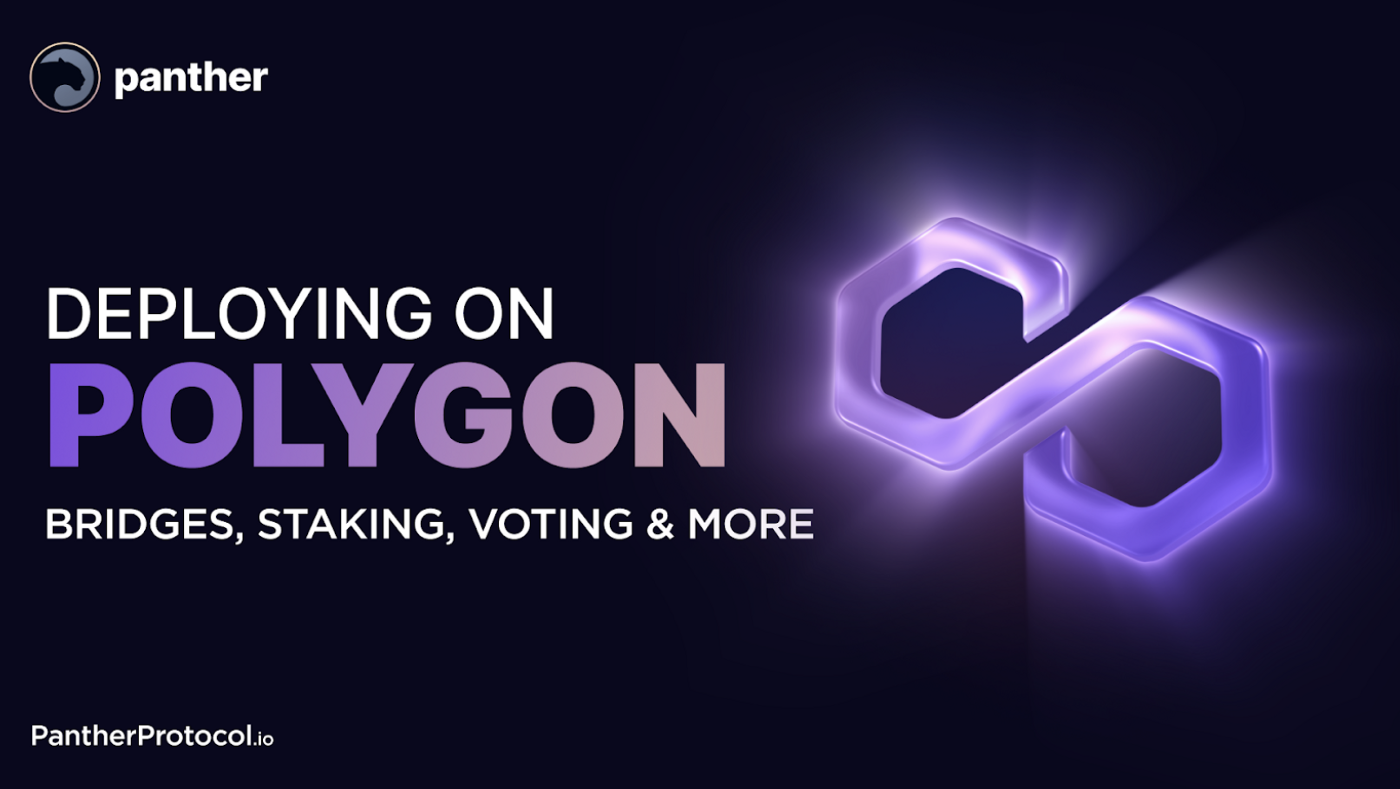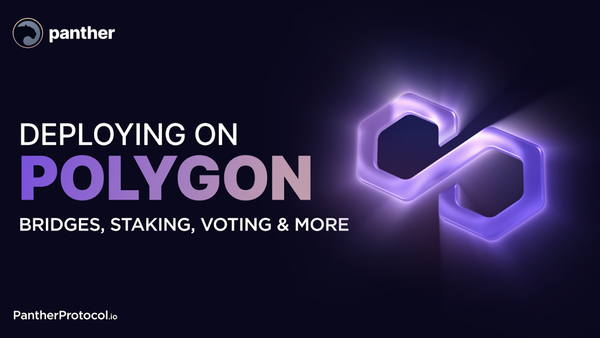 As a scalability solution, Polygon has been one of blockchain's rising stars for the last couple of years.
In an ecosystem constantly reinventing itself and looking for its next breakthrough, Polygon has helped some of blockchain's most prominent use cases, such as DeFi's top protocols (1nch, Curve, SushiSwap, Aave, etc.), GameFi, and NFTs, continue to thrive amongst challenging conditions. We will only be able to determine the full extent of Polygon's industry impact in these core development years in retrospect, but its pragmatic contribution is not to be overlooked.
Because of all the above, we at Panther are proud to announce that our protocol is deploying a number of solutions in Polygon, introducing a private voting and staking package.
Taking a step forwards.
After finalizing our TGE and launching $ZKP Staking on Ethereum's Mainnet, the Panther core team quickly started examining ideas to optimize:
As Panther moves towards launching its v1, with Polygon Multi-Asset Shielded Pools enabling private asset transactions, we see this deployment as a perfect intermediate step to guarantee the protocol's cost efficiency and utility. Through this initiative to distribute vesting options using the Polygon network and the deployment of a Polygon bridge, Panther also guarantees a swift transition between both networks for all of its users.
Governance and staking in Polygon, a winning, soon-to-be-private combination.
$ZKP is primarily a governance token for the Panther protocol, which aims to infuse DeFi with default privacy, utilizing a unique system including shielded assets and state-of-the-art cryptography to enable fully compliant disclosures.
By staking their tokens in Ethereum's Mainnet, and now in Polygon, $ZKP holders will be able to govern the protocol while increasing their token's scarcity. Panther has allocated a sizeable pool of rewards for stakers to incentivize user participation in protocol governance. According to the protocol's roadmap, staking will also eventually transition to Private Staking, a modality solely within Panther's Multi-Asset Shielded Pools in the Polygon network thanks to wrapped $ZKP, b$zZKP, a privacy-preserving zAsset representing a private right to vote within the protocol.
Why Multi-Asset Shielded Pools?
Panther's move to Polygon follows an integration roadmap building up to the launch of MASPs on Polygon, which are crucial to Panther's v1.
Thanks to Multi-Asset Shielded Pools, Panther will facilitate users the minting of zAssets, fully private, 1:1 collateralized versions of regular assets. zAssets, held in MASPs, facilitate fully private transactions which, thanks to Panther Reveals, can be disclosed by users at will. Since a high number of transactions is crucial for MASPs to provide a high grade of privacy, Polygon's cost-efficiency is vital for Panther's capability to bring its users compliant-ready privacy, the core vision of the protocol. For more information about MASPs, please read the corresponding article on this blog.
It's important to note that, along with MASPs, Panther will develop a number of security-focused, audited bridges to allow users to bring assets from multiple chains into Panther. In this regard, Polygon also plays a crucial part in the development of the protocol, as it facilitates cost-efficiency in bridging and EVM (Ethereum Virtual Machine) compatibility.
The community shall decide.
Panther is (and thanks to its innovative decentralized launch, has always been) a fully decentralized autonomous organization. The Panther DAO has voted and decided through every major milestone of the protocol development, which will continue to be at the heart of Panther's operations.
The Panther team has confirmed a positive reception of this initial idea (over 80% of Panther users approved this initiative through the protocol's Discord, Telegram, and Twitter). As such, Panther will introduce a formal proposal to deploy the Polygon package in the coming weeks. Voting will happen completely off-chain and without cost to users within the Snapshot platform.
About Panther
Panther is a decentralized protocol that enables interoperable privacy in DeFi using zero-knowledge proofs.
Users can mint fully-collateralized, composable tokens called zAssets, which can be used to execute private, trusted DeFi transactions across multiple blockchains.
Panther helps investors protect their personal financial data and trading strategies, and provides financial institutions with a clear path to compliantly participate in DeFi.
Stay connected: Telegram | Twitter | LinkedIn | Website
Share this article on: