Oliver Gale @Nasdaq: "ZKPs will save the financial system"
Panther aims to achieve a delicate balance between privacy and compliance, as Oliver Gale explained in this week's Nasdaq TradeTalks.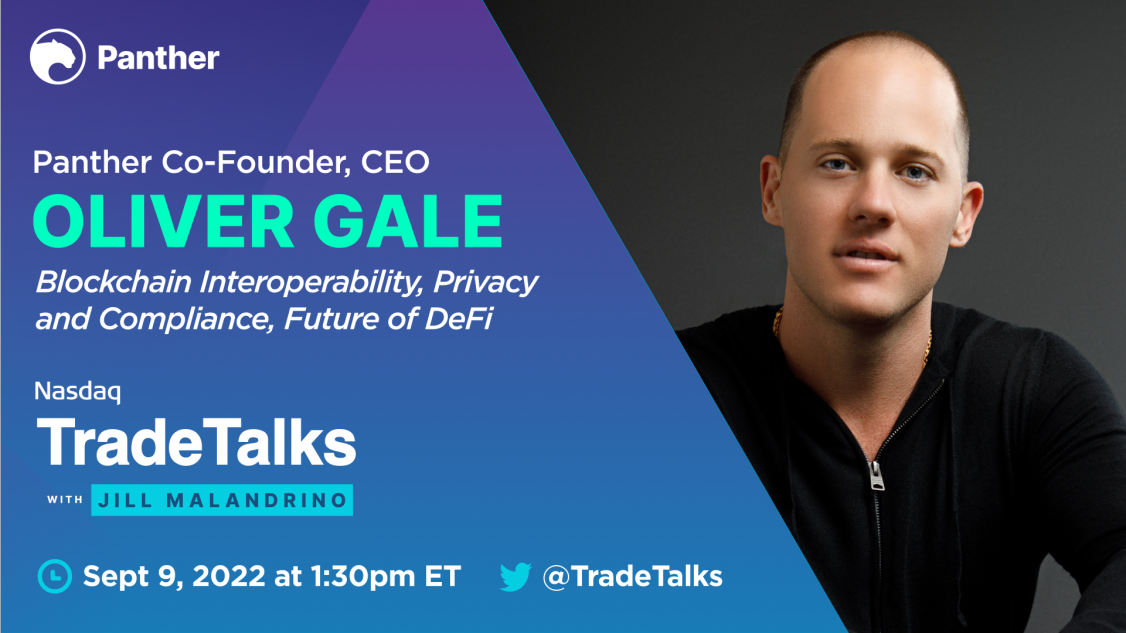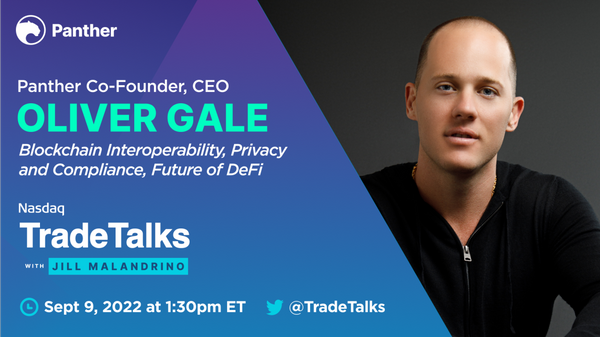 Table of Contents:
Oliver Gale,  co-Founder of Panther, was a guest on the Nasdaq Trade Talks broadcast on September 9th. Topics covered included blockchain interoperability, privacy, and how compliance can co-exist with them, as well as Panther's mission.
"Interoperability is crucial to have at a blockchain level", explained Oliver. He outlined the fact that it is the key for the Web3 user not to be repeatedly "switching and swapping" when using different chains, which "would make Web3 really a pain to use on a daily basis."
However, Oliver pointed out that there are a few trade-offs that come with interoperability. In fact, interoperable bridges will "reveal transaction data, in the same way the underlying blockchain might".
Oliver Gale's take on Panther's value proposition
This is where Panther's value proposition comes up. Panther aims to allow users to interact in this space while restoring their access to privacy.
However, especially in 2022, with every mention of privacy one needs to consider compliance. Oliver mentions that, in this regard, compliance is almost like a different type of interoperability. He illustrates this through the example of two financial institutions that are globally distributed but based in different countries. "If you want to have an account at both institutions, you have to do compliance at both", explained Oliver, who pointed out the major costs it represents for the financial institutions "however, storing and replicating data means instantly doubling the risk of it being hacked".
"You don't need to know anything about me, all you need to know is that I am verified"
As Oliver summed up, "privacy is actually a fantastic (compliance) tool using Zero-Knowledge Proofs" to ease the tracks left by the process on everyone's side, while "proving you've been verified and that your transactions are legitimate". He believes this solution will save the financial system from the rising costs of compliance processes.
When asked about everyday use cases for zero-knowledge technology, Panther's CEO listed identity verification at airports, taxes, and credit scoring. "You don't need to know who I am, you don't need to know anything about me, all you need to know is that I am verified. It allows each of us as individuals to interact compliantly without giving data away."
In such a landscape, Oliver Gale depicts Panther as "a Privacy middleware for Web 3, enabling private bridging, and private DeFi transactions". "What sets Panther apart is that we've really been working on this marriage between compliance and privacy" Oliver outlined.
About Oliver Gale
Oliver Gale is a Web3 entrepreneur, investor, and CBDC inventor. He has also collaborated with the UN, MIT, and IMF. You may know him as the founder/co-founder of Panther, Bitt, BaseTwo, Fluent, and Elemental.
He attended the University of Bristol, graduating with honors as double major in Accounting and Finance.

About Panther
Panther is a decentralized protocol that enables interoperable privacy in DeFi using zero-knowledge proofs.
Users can mint fully-collateralized, composable tokens called zAssets, which can be used to execute private, trusted DeFi transactions across multiple blockchains.
Panther helps investors protect their personal financial data and trading strategies, and provides financial institutions with a clear path to compliantly participate in DeFi.
Stay connected: Telegram | Twitter | LinkedIn | Website
Share this article on: