Panther announces the successful closing of its latest $2M sale round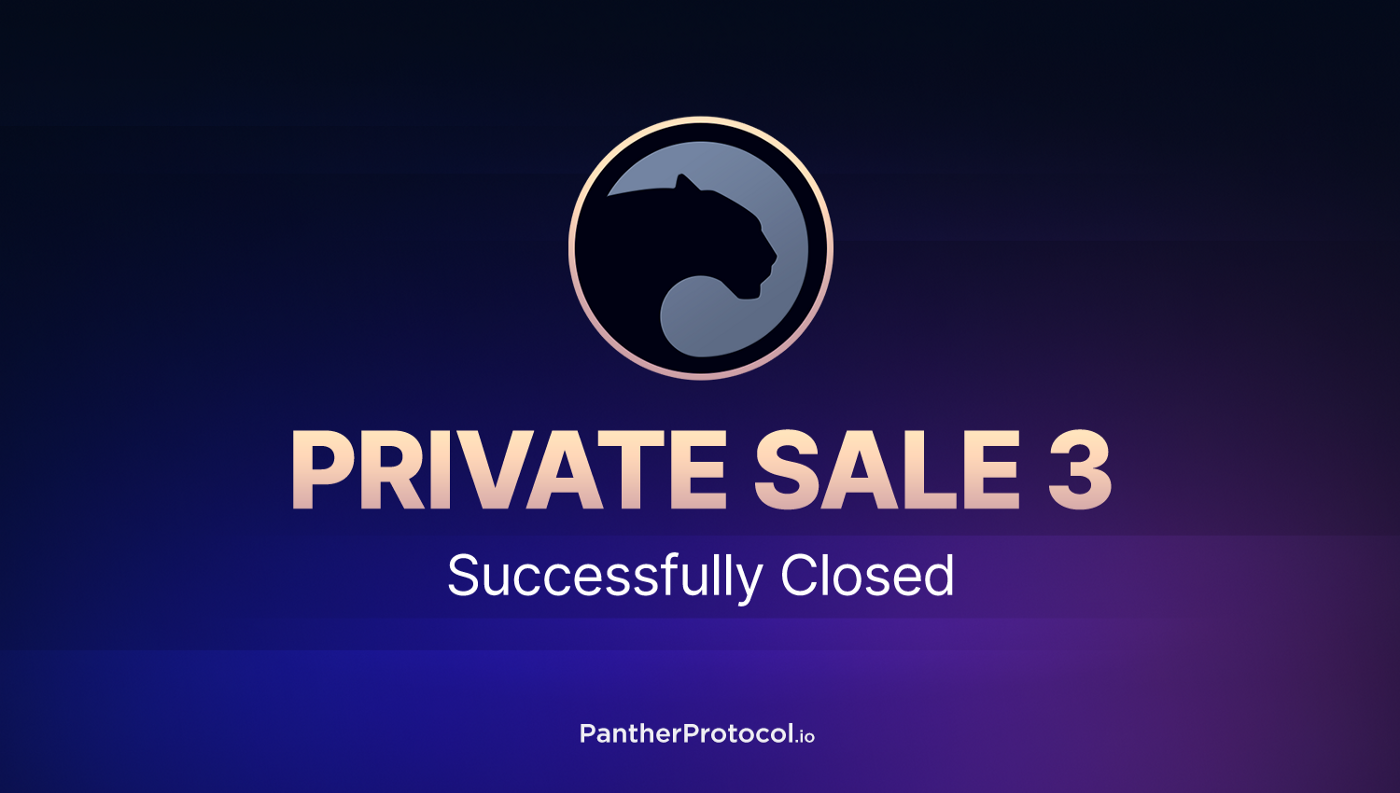 Table of Contents:
Trajectory is good for Panther Protocol and enabling privacy in DeFi!
Dear Panther community,
The entire team at Panther Protocol is thrilled to announce the successful closing of its latest $2m private sale round, totalling $10m so far.
We're honored with the support we have been getting and trust that a community-focused private sale was the right approach for the project's decentralization efforts, giving the community a say from the project's earliest days.
Panther is gaining momentum as the public sale approaches.
The last private sale round began on August 10th and was done to support the growth of the team and it speeds up towards the development of an interoperable private infrastructure for DeFi and Web3.
Thousands of community members, from various parts of the world and from different backgrounds demonstrated their interest in the project, and hundreds are now future $ZKP token holders. The private sale was oversubscribed, so not everyone that was interested was able to invest.
This is just the beginning of our journey.
Privacy is essential to human dignity, democracy, and fair economic systems. In the past decades, at an exponential pace, we have digitized our economies using centralized networks that emphasize a winner takes all mentality.
Technology advanced with little regard to the full spectrum of implications, and between other major issues, our data turned into a commercial commodity. As a result of that, our privacy became a neglected afterthought.
While decentralized networks and business models point to a solution, there is a major hurdle. By design, on-chain data is radically transparent, and immutable. This is both a feature and a bug because as progressively more aspects of our lives move on-chain, it allows full-scale surveillance and economic espionage to take place.
Restoring privacy is critical to building a better society with empowered individuals who can be truly self-sovereign. It is therefore paramount that technology is advanced through a privacy-first ethos, where fundamental human values are respected and preserved by design.
If we do not, DeFi and Web3, which were both created with the best of intentions, could become the pillars of a dystopian surveillance society.
If privacy is important to you too, we highly encourage your participation in our community.
The mission of Panther Protocol is to provide users with transactional privacy throughout DeFi while preserving competitive advantages and individual freedoms. We maintain that privacy is a fundamental human right and work diligently to uphold that principle.
We are announcing our public sale date very soon.
If you want to receive early updates, please visit our website and enter your email to join the email list. Also, stay close to us in our social channels: Telegram, Twitter and our Medium are the most important.
About Panther
Panther is a decentralized protocol that enables interoperable privacy in DeFi using zero-knowledge proofs.
Users can mint fully-collateralized, composable tokens called zAssets, which can be used to execute private, trusted DeFi transactions across multiple blockchains.
Panther helps investors protect their personal financial data and trading strategies, and provides financial institutions with a clear path to compliantly participate in DeFi.
Stay connected: Telegram | Twitter | LinkedIn | Website
Share this article on: