Panther DAO Approves PIP-14: A Milestone in Decentralization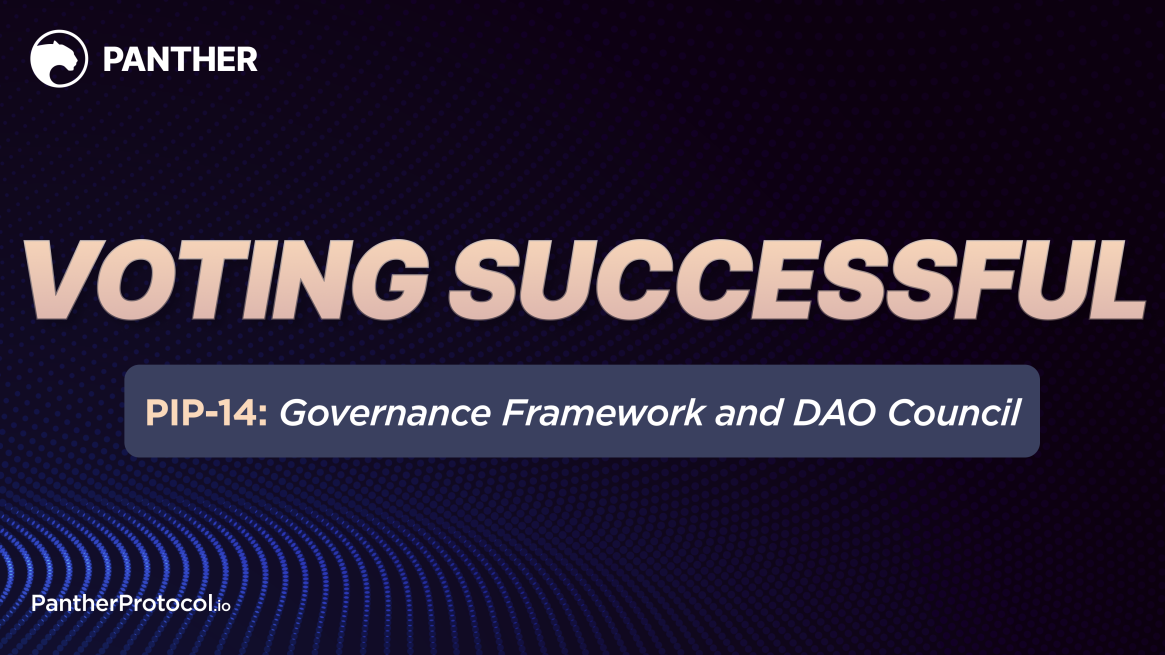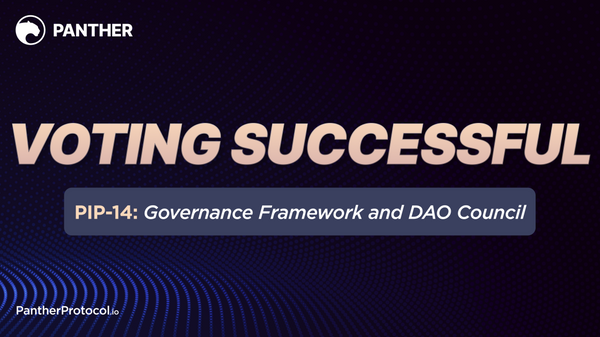 Table of Contents:
Dear Panther Community,

We are thrilled to announce that the Panther DAO has officially approved PIP-14. This proposal formalizes the project's Governance Framework and introduces a DAO Council, marking a significant stride in the project's decentralization journey.

This landmark development follows extensive discussions on our community forum about the need for a decentralized, high-level decision-making process, and accountability for non-team members.

Significance

The approval of PIP-14 puts us on the path to:

The formation of a DAO Council, which will be entrusted with reviewing Panther Improvement Proposals (PIPs) from our Discourse forum. By verifying the alignment of proposals with Panther DAO's mission, vision, and values, the Council will effectively weed out spam requests and proposals that are out of budget or misaligned with Panther's scope and roadmap.

Establishing a transparent Governance Framework, bringing implicit rules and guidelines into the light. These rules, which are now formalized, can be found in the following diagram: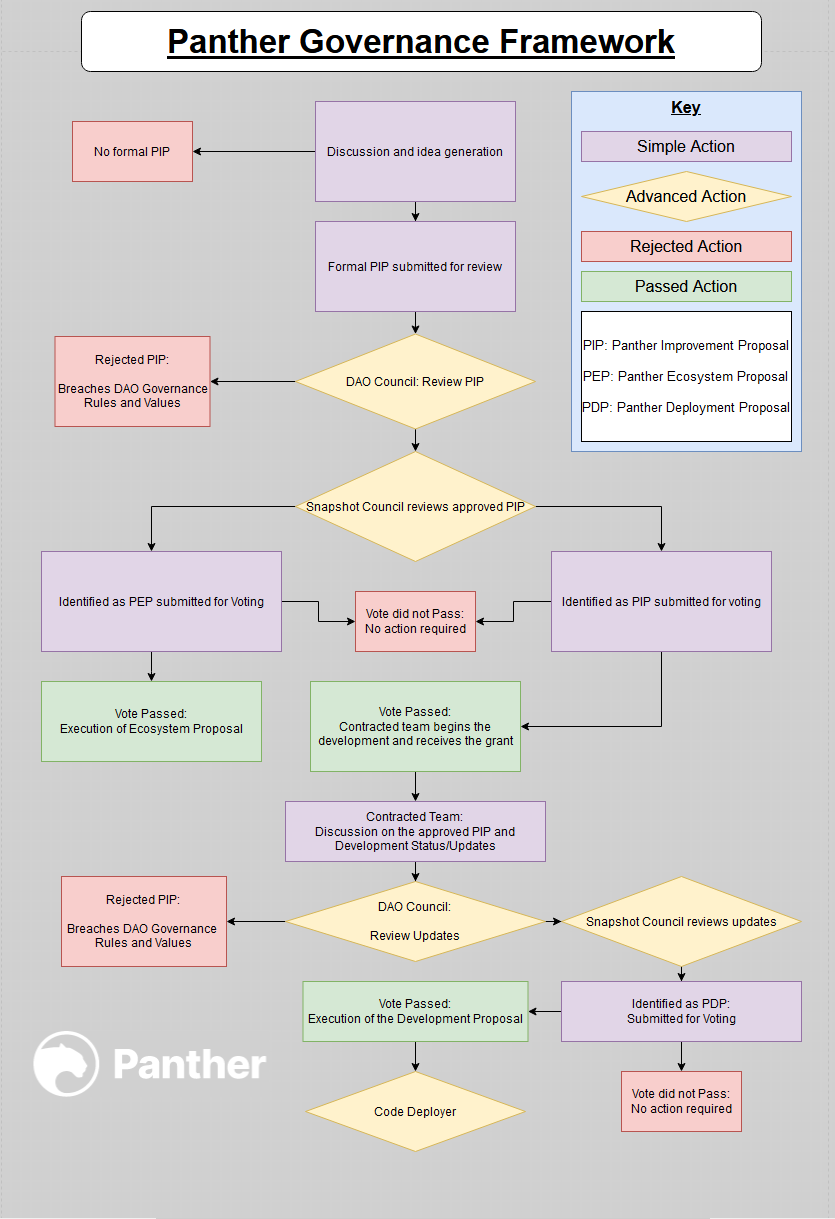 The Council

The elected Council will consist of three respected community (non-team) members:

Santiago Velez: Co-Founder & Division Lead (R&D) at Block Digital Corporation, VP of R&D at Sindric Solutions, LLC. Former Nuclear Engineer, VP of UWUA L590 Engineers Union, and Panther Protocol user.

Jillian Godsil: Journalist, Broadcaster, Influencer, CEO, Writer, Former European Parliament Candidate, Law Changer, Panther Protocol user & early contributor.

Debra Farber: Host of The Shifting Privacy Left Podcast, CEO, Principled LLC, and Advisor to the PrivacyTech Rise, Privado, the Institute of Operational Privacy Design, and XRSI.

These individuals will ensure that the Council safeguards Panther's mission, vision, and values, which emphasize privacy, scalability, security, transparency, and interoperability in Decentralized Finance (DeFi). Their tenure will be for 6 months, with the possibility of re-election.

Moving Forward

The approval of PIP-14 marks an exciting chapter in Panther's roadmap. By installing a council to review PIPs and instating a transparent governance framework, we are becoming more open and democratic. Your trust and active participation have been instrumental in this success.

Let's continue to build and accelerate the development of private, scalable blockchain infrastructure for Web3 together. Remember, your vote and voice matter!

About Panther
Panther is a decentralized protocol that enables interoperable privacy in DeFi using zero-knowledge proofs.
Users can mint fully-collateralized, composable tokens called zAssets, which can be used to execute private, trusted DeFi transactions across multiple blockchains.
Panther helps investors protect their personal financial data and trading strategies, and provides financial institutions with a clear path to compliantly participate in DeFi.
Website · One-pager · Lite Paper · Twitter · Telegram · Discord
Share this article on: