Monthly Update: April 2022
Advanced Staking is coming, the first Panther Ambassadors are ready to jump into action and a MASP Testnet is underway!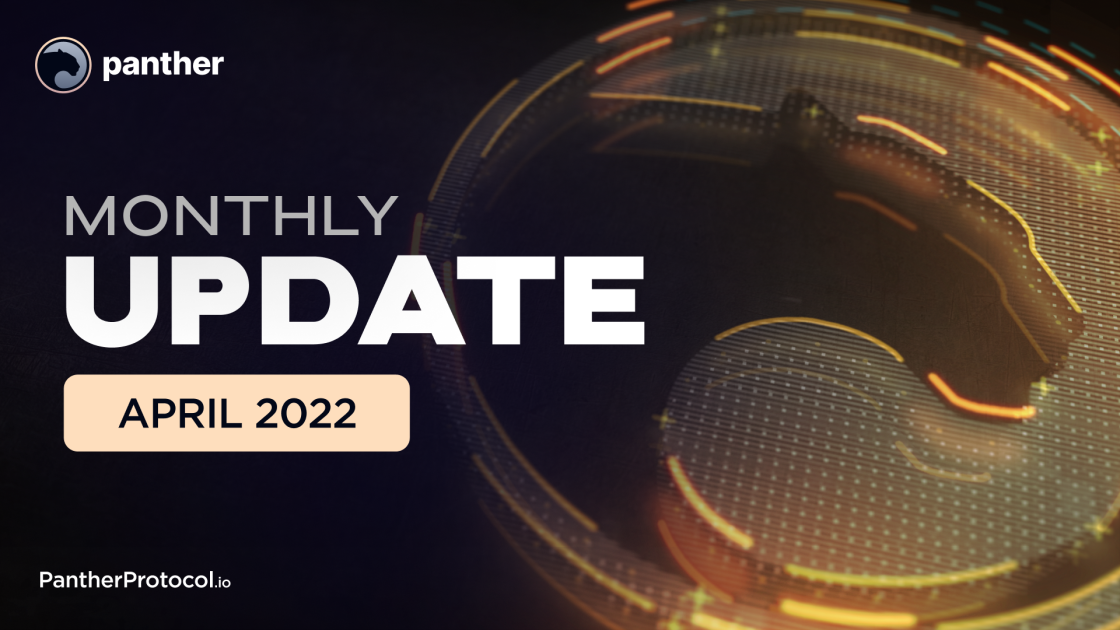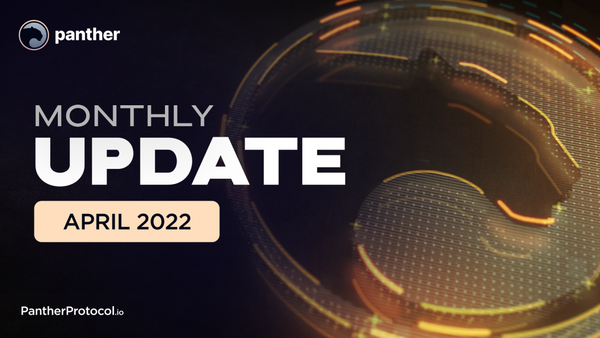 Table of Contents:
Dear Panthers,
Once again, it's been a busy month. Improved processes and new team members are helping us pick up speed, with developments in every area of our project. Things are certainly moving in the right direction, and we're more than happy to announce a couple of advances that have been cooking in the background.
Without any further ado, let's look at what happened in April and what we're preparing for in May.
Advanced Staking testing has begun
April's most significant announcement was that Advanced Staking is almost ready, and we've begun internal testing.
We strongly advise you to read all the details surrounding this milestone for our protocol in our official announcement. However, we would like to stress the importance of Advanced Staking in launching Panther's v1 or Panther Core. Through Advanced Staking, Panther's Multi-Asset-Shielded Pools (MASPs) will see their first users and mint the first-ever zAssets.
As you read this, the Panther team is testing Advanced Staking and preparing for the start of community testing. As soon as we have all collectively made sure that the code is safe to ship, the Panther DAO will be presented with a formal proposal to implement it.
And, speaking of Panther Core…
As we mentioned above, Advanced Staking and Panther Core, the debut of Multi-Asset Shielded Pools, are deeply intertwined. Advanced Staking will allow the Panther team to test several components that are key to finalizing the design of Multi-Asset Shielded Pools on Polygon.
If everything goes well, and we believe it will, we should see the first MASPs in Testnet mode this May. We will update the community about any significant development in this regard throughout the month.
DeFi integration Proof of Concept
Another piece of good news coming straight from our Product department is that the planning phase for our DeFi integration proof-of-concept is complete. This means that work surrounding this PoC will start in the first week of May.
However, since this item is deserving of its own dedicated update, this is as much as we'll tell you for now. All we can say is that we're looking forward to enabling private access to DeFi! ;)
AMAs, past and future
This month, we debuted video AMAs! Our first Telegram video AMA featuring both of our co-founders and Head of Product Saif Akhtar was very well received by the community, taking place on April 14th. In it, we discussed Advanced Staking, the status of providing liquidity to decentralized exchanges, and the next steps for our protocol. This format also allowed us to try out fresh new things, and we're certainly looking forward to continuing it. You can watch it below or read a transcript here.
As a matter of fact, for our first AMA in May, we'll be including a partner in the conversation. E-money will join us on May 10, 2 PM UTC to talk about the importance of private economies, the role of Panther in a stablecoin ecosystem, and much more. Make sure you prepare your questions!
Spreading the word about Panther
Our CEO Oliver Gale was in Miami between April 6–11th, where he attended the memorable Bitcoin 2022 and participated as a speaker at Blockchain 2022. The invitation-only summit Crypto Bahamas was Oliver's next destination, where he was able to connect and broker partnerships with builders and investors of blockchain and Web3 projects. We can't wait to tell you all about these, but those as well deserve their own dedicated space.
This month Panther sponsored two events. Taking place on April 21st, the zkSummit conference — hosted by Polygon and part of DevConnect Amsterdam — featured the most significant projects, companies, and researchers in the zero-knowledge field. Our CTO Anish Mohammed, Senior Architect Adam Spiers, and Software Developer Sulejman Sarajlija attended both events in Amsterdam.
In the second event, of which Panther was a leading sponsor, Panther's Head of Product, Saif Akhtar, also saw some action this month. Saif delivered his talk "Privacy on DeFi" at Michigan State University's Spartan Blockchain Innovation Conference.
The first Panther Ambassadors are debuting in May
One thing we were happy to witness this April was the enthusiasm surrounding our Ambassador program. Over 300 Panthers applied for this program to become dedicated content creators and swag producers, promote Panther in their communities, and lead country- or language-specific efforts.
We are finalizing the details regarding compensation and internal processes to onboard these Ambassadors. However, it's 100% likely that you'll see them in action beginning this May.
New hires
As always, new Panthers joined the pack this April! We had starters for the following positions:
Operations Project Manager
Junior Accountant
Cryptographic Engineer
We're also hiring for:
Blockchain Architect
Cryptography Engineer
Cryptography Internship
Cryptography/ Zero Knowledge Research Engineer
Frontend Developer
Full Stack Developer
Machine Learning Internship
Applied Mathematician
Solidity Developer
DeFi Quant Analyst
Head of Community
Head of Quantitative Analysis
Junior Analyst
Product Manager Blockchain
If you, or anyone you know is passionate about crypto privacy, please let them know to apply through our Angel.co page!
What else would you like to see from Panther?
This month, we'd like to ask you to tell us: What else would you like to see from Panther?
Our team constantly monitors our official Discord, Telegram, and Twitter notifications. If you have something to say to us, rest assured that we'll be there to hear you out! Just message us with your thoughts, ideas, or recommendations.
At the end of the day, it's the community that makes the DAO, not the other way around!
About Panther
Panther is a decentralized protocol that enables interoperable privacy in DeFi using zero-knowledge proofs.
Users can mint fully-collateralized, composable tokens called zAssets, which can be used to execute private, trusted DeFi transactions across multiple blockchains.
Panther helps investors protect their personal financial data and trading strategies, and provides financial institutions with a clear path to compliantly participate in DeFi.
Stay connected: Telegram | Twitter | LinkedIn | Website
Share this article on: