Monthly Update: March 2022
Three partnerships, Polygon staking, hires, conferences, AMAs… with so much happening in March, it's always good to have a recap!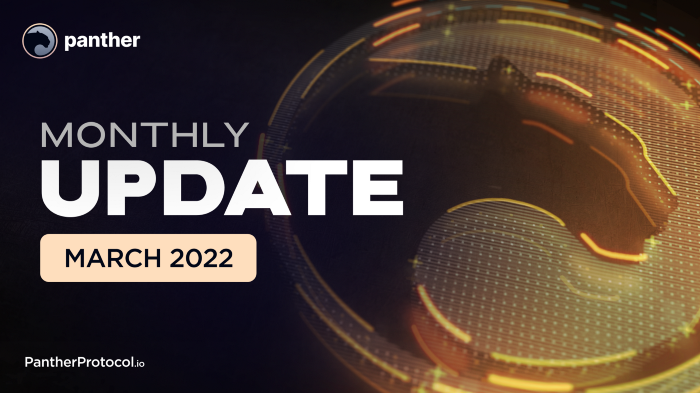 Table of Contents:
Dear Panthers,
March was a busy month, that's for sure! We've struck partnerships, extended staking to Polygon, expanded our team, deployed solutions, fixed the occasional bug, and fought the privacy fight on every front.
With so much going on, and as we pick up speed to deliver even more to you, it's easy to get lost. As such, we have prepared this monthly recap in what will be the start of a new Panther tradition! This will be, from now on, a place to reflect on what's behind us, lay down our intentions for the coming month, and look back into Panther's development.
Without any further ado, let's look into what happened in March.
Started with a distribution, ended with a distribution
Last month we distributed vested tokens for the first time on Polygon in the second distribution for Public Sale Option 1. As we expanded staking to the Polygon network, February's approved governance proposal resulted in a smooth distribution. And, as promised, we continued to deliver tokens over the Ethereum Mainnet to users that stated this as their preference.
Similarly, on March 31st, we successfully issued our third-ever distribution, the second one on Polygon. All tokens are with their respective buyers now, as announced by our CEO Oliver Gale in our most recent AMA. Speaking of…
We installed bi-weekly AMAs!
On March 17, we had the first AMA of our newly-installed bi-weekly sessions. It happened on our Telegram channel, with the participation of hundreds of community members, along with Oliver Gale (CEO), Adam Spiers (Senior Architect), and Saif Akhtar (Head of Product) addressing the community's questions. Here is our recap in case you missed it!
We also hosted the month's second AMA, this time as a Twitter Space, on March 31st. This one also involved several Panthers, Adam, Saif, and Oliver, as well as our new Head of Marketing, Mike Chan. A recap will be posted soon, but you can listen to it here!
Partnerships
e-Money
This month, we also announced our partnership with e-Money. Our joint efforts aim to incorporate e-Money's stablecoin ecosystem into Panther's.
Bridging the gap between conventional banking systems and DeFi is critical to enabling Web3 users to gain financial inclusion, and Panther will take care of helping safeguard their privacy.
Zprize
We also joined the Zprize initiative together with the Ethereum Foundation, Mina, Railgun, Algorand, Consensys, and other impressive names in the ZK space. Zprize is an initiative to collaborate across the blockchain industry to:
Improve baseline performance of key general algorithms.
Increase diversity and availability of low-level libraries for cryptographic proofs.
Increase awareness of the groundbreaking potential of zero-knowledge cryptography.
Hopr
As featured in CoinTelegraph, we are in the process of announcing a partnership with Hopr, a Layer-0 metadata privacy protocol. Hopr aims to add essential transport-level privacy to the on-chain privacy of Panther Protocol.
We'll soon be disclosing more details about this collaboration.
The Panther team is growing fast!
Panther's team grows as we push toward our goals and accelerate our vision of Private DeFi. Acquiring new talent is time-consuming, but we believe that the best investment (time and resources-wise) is to improve the quality and size of our team. As such, we've made hires in several key areas across the organization.
Please welcome:
Patrick Claudius — Recruitment Coordinator & Junior Resourcer
Temidayo Orintunsin — Junior Accountant
Mike Chan — Head of Marketing
Michael Sawdayee — General Counsel
Roman Melnikov — Cryptographic Architect
Dr. Mark Blunden — Cryptographer
Sanjay Jain — Blockchain Architect
Gabriel Rondon — Operations Project Manager
Luís Ferreira — Junior Accountant
Similarly, we're still hiring for the following positions:
Blockchain Architect
Cryptography Engineer
Cryptography/ Zero Knowledge Research Engineer
Front-end Developer
Full Stack Developer
Product Marketing Intern
DeFi Quant Analyst
Head of Quantitative Analysis
Junior Analyst
Applied Mathematician
Please check out our Careers page if you're interested in getting a job at Panther to infuse the crypto ecosystem with privacy. We're always looking for talent!
CTO Anish Mohammed on a conference tour
Panther is always active in sharing its expertise on blockchain technology, privacy, and DeFi with the broader ecosystem.
Spring brought along a number of crypto-related events, and on March 26th, Anish Mohammed delivered a talk about privacy on DeFi at DevCon2022, the largest developer conference in the Asia Pacific region.
Anish also participated in a panel on ETHDubai tackling Layer-2s on March 31st.
The DAO in action
March featured two crucial voting proposals for the Panther DAO. DAO Proposal #3 expanded traditional staking and governance to the Polygon, and Proposal #4 was issued to fix a bug on the rewards distribution for Polygon staking.
No one likes having to fix bugs, but this event proved that the Panther DAO and team are capable of swiftly reacting to adverse situations. The fix was quickly but carefully approve by the DAO and promptly implemented with no tokens compromised. To read more about the issue and the process to fix it, see our Polygon Bugfix Post-Mortem.
In the works
Our team of developers has begun the development of Advanced Staking, a key piece for Panther governance, and our core Multi-Asset Shielded Pool protocol. We are on track to reach most of our roadmap goals on time and focused on delivering Panther's MVP, aiming to see MASPs in Testnet in May. We'll dive into more detail in due time, but we can advance that April will feature:
Finalizing DEX listings. The Panther team has secured the liquidity needed to list major DEXes, an implementation our community has been eager to see.
A Proof-of-Concept for integrating Panther with existing DeFi.
Our Litepaper! We have prepared an updated, concise version of Panther's whitepaper, covering all relevant aspects of the protocol and why we believe we're poised to succeed in our mission.
Oliver Gale, our CEO, will be in Miami between April 6–11th to attend Bitcoin 2022 (the largest Bitcoin conference in the world) and Blockchain 2022 as a speaker. He will also be attending Crypto Bahamas on April 26–29th. Crypto Bahamas is an invitation-only conference for Web3 and blockchain investors and builders, hosted by FTX and SALT.
Developments in our Ambassador Program. We want to surround ourselves with the very best, and that includes having Panther evangelists! If you have a substantial following on social media, please reach out to us through our official channels.
More hires! If you're interested in working for Panther, please check out our Careers page and feel free to apply to any position you're qualified for.
Thank you for your support!
As always, we'd like to share to spotlight with the Panther community and supporters, who have been instrumental in kickstarting and keeping the protocol going. By participating on our social channels, voting on governance proposals, asking questions in AMAs, and holding the ZKP token, you play a vital part in steering Panther towards true decentralization.
We'll see you soon with more updates and developments!
About Panther
Panther is a decentralized protocol that enables interoperable privacy in DeFi using zero-knowledge proofs.
Users can mint fully-collateralized, composable tokens called zAssets, which can be used to execute private, trusted DeFi transactions across multiple blockchains.
Panther helps investors protect their personal financial data and trading strategies, and provides financial institutions with a clear path to compliantly participate in DeFi.
Stay connected: Telegram | Twitter | LinkedIn | Website
Share this article on: