Panther's partnership with Flare now includes its canary network, Songbird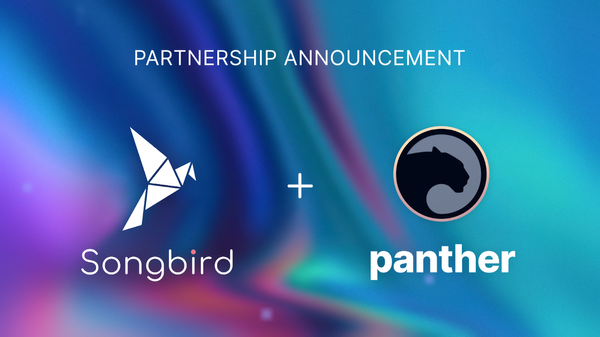 Table of Contents:
Dear Panthers, today we're glad to announce that we are expanding our partnership with Flare into its canary network, Songbird.
As you have gathered from our ongoing communications and partnership announcements, we are on an active mission to align the very best projects of the blockchain ecosystem with Panther to create the Privacy layer for the internet of blockchains. By doing this, we hope to create a perfect storm that makes privacy in DeFi and Web3 a standard, rather than an afterthought.

Flare is the world's first Turing-complete FBA (Federated Byzantine Agreement) network. It's built to "Unlock the Value" inherent in the 65% of blockchains that do not have native smart contracts by bringing, for the first time, true trustless usage of those tokens through scalable EVM-based smart contracts.
Blockchain interoperability is a hot topic right now, and Flare is taking a unique approach by going straight for the older, bigger blockchains that need smart contracting and interoperability capabilities. Flare and Songbird are kicking things off with Ripple, Litecoin, Stellar and Doge. Bringing new capabilities (and privacy features!) to these projects is big, and we're thrilled to be working with them.
Building a privacy ecosystem together on Flare's canary network, Songbird
Songbird will integrate Panther's Shielded Pools into its Ethereum Virtual Machine (EVM) to enable on-chain privacy for its users. Our team will deploy Panther's privacy-preserving infrastructure on Songbird for code testing.
Thanks to these efforts, Panther users will be able to benefit from private transactions over Songbird. We expect this, in turn, to also dramatically increase the user base and TVL potential of Panther's Shielded Pools.
Songbird users will be included in Panther's staking and governance. They'll also be able to benefit from private DeFi within the network, access selective disclosures both for retail users and institutions, and enjoy early access to Panther's KYC/AML zero-knowledge solution on Songbird's Institutional side.
Overall, a major win-win scenario for privacy and interoperability in DeFi and Web3!
Upon finalizing the agreement, Co-Founder and CEO Oliver Gale said: "From the first day, there was clear alignment between the founders of Panther and Flare Network around the need for privacy, compliance, security and scalability in blockchain ecosystems, and in particular those relating to institutional DeFi. In Flare and its canary network, we see great ecosystem partners, innovative technology and clear action-oriented plans to mass adoption."
Hugo Philion, Flare's Co-Founder and CEO, added: "Songbird has launched to be a thriving testbed for the most ground-breaking decentralised technologies. So we are thrilled that Panther are leveraging their zkSNARK cryptography and state of the art asset mixing technologies to deliver the privacy solutions that DeFi radically requires to make a giant leap forward. Stablecoins, utility tokens and NFTs can now become infused with privacy, giving sovereignty back to the user."
About Flare and Songbird
Songbird is the Canary network for Flare, an operational blockchain that aims to work with decentralized data. Flare has a defined native token supply of 100 billion FLR tokens at genesis, similar to Polkadot's Kusama network. Flare Network's launch date was set for July 11th 2022, but the Flare Mainnet Genesis was only completed on July 14th. Songbird is key to the continuous testing of other projects both beyond and prior to the launch of Flare, such as:
The Flare Time Series Oracle (FTSO): delivers highly-decentralized price and data feeds to dApps (decentralized applications) on Flare, without relying on centralized providers.
The State Connector: provides trustless event data. It enables information from other blockchains and the internet to be used securely and trustlessly with smart contracts on Flare.
Innovations and new dApp launches will happen first on Songbird and can then be rolled out on Flare after testing. This means that Songbird  will often have more advanced features than Flare. Post Flare launch, Songbird is intended to be a long term network for testing governance led changes to Flare but can take its own path set by its own token holder mediated governance. Songbird has demonstrated phenomenal growth, having only existed for 8 weeks, it has already processed over 2.3M blocks and registered over 222K addresses. Flare and Songbird are both developed by the Flare Foundation
Want to learn more about Songbird and Flare?
About Panther
Panther is a decentralized protocol that enables interoperable privacy in DeFi using zero-knowledge proofs.
Users can mint fully-collateralized, composable tokens called zAssets, which can be used to execute private, trusted DeFi transactions across multiple blockchains.
Panther helps investors protect their personal financial data and trading strategies, and provides financial institutions with a clear path to compliantly participate in DeFi.
Stay connected: Telegram | Twitter | LinkedIn | Website
Share this article on: