Panther Protocol Alpha - Weekly Update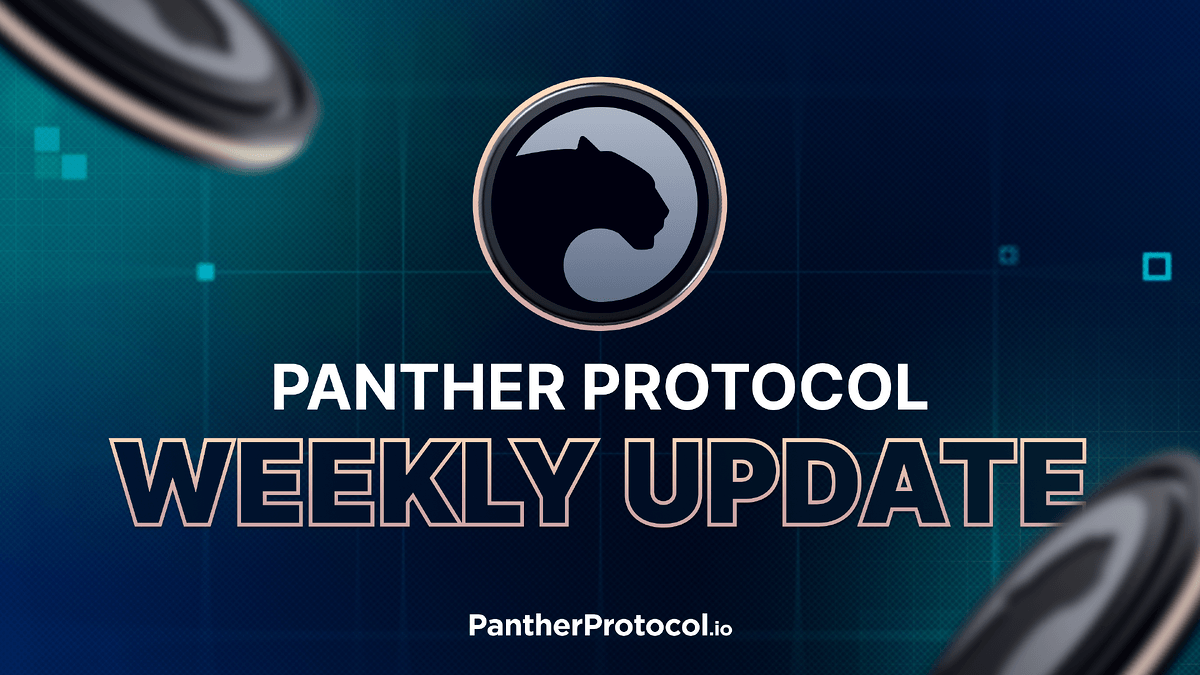 Table of Contents:
Dear Panthers,
It's Friday again, and it's time for our weekly mini-update. Here's everything that transpired at Panther this week.
TECH UPDATES
As the first period of rewards for Advanced Staking comes to its end, preparations are ongoing for:
  1. The extension of rewards.
  2. Governance improvements to optimize the process of delivering updates.
  3. Simultaneously introducing minor fixes to 0.5's UI.
Stay tuned to our Discourse governance forum as we look to formalize the above with the Panther DAO!
As for v1, this week witnessed the internal release of the first prototype for our first product. Exciting times are near as we polish and prepare to develop it towards Testnet.
We've also prepared a comprehensive summary of our most recent update from March. Take a look at it here.
Last but not least, technical contributors are fact-checking and screening our improved documentation for it to go live. Expect a first release soon, followed by an ongoing process of updates and upgrades.

ECOSYSTEM
This week, our decentralized community reached a notable milestone as $ZKP was listed on MEXC Global, enhancing its accessibility in the crypto ecosystem. Kudos to everyone who contributed to this achievement! 🙌
Following this, Hotbit.io also took the initiative to list $ZKP, so we had two, not one, centralized exchange listings this week.
Another notable event was the #ZKPanthers NFT Giveaway organized by community-run merch providers @SubvertedN!
  1. Total mint: 25
  2. Floor price on OpenSea: 0.3 $ETH
  3. Giveaway: 15
See the rules to participate here!
Speaking about NFTs, Head of Product Saif Akhtar has been invited to speak at @NFT_NYX next week, where he will share his expertise on the significance of privacy within the NFT space.
This week Panther contributors came together to attend the ZK9 Summit and meet other builders in the ZK space.
Remember to follow @ZKPanther on Twitter to see the latest updates of the Panther ecosystem live!
Best,
The Panther Protocol Team
About Panther Protocol
Panther Protocol is an end-to-end privacy protocol connecting blockchains to restore privacy in Web3 and DeFi while providing financial institutions with a clear path to compliantly participate in digital asset markets. Panther provides DeFi users with fully collateralized privacy-enhancing digital assets, leveraging crypto-economic incentives and zkSNARKs technology. Users can mint zero-knowledge zAssets by depositing digital assets from any blockchain into Panther vaults. zAssets flow across blockchains via a privacy-first interchain DEX and a private metastrate. Panther envisions that zAssets will become an ever-expanding asset class for users who want their transactions and strategies the way they should always have been: private.
Be sure to check out our Whitepaper
Share this article on: