StackOS and Panther Protocol partner for privacy in NFTs
Panther has joined forces with StackOS, a decentralized cloud protocol, to deliver privacy and trust for DeFi and Web3.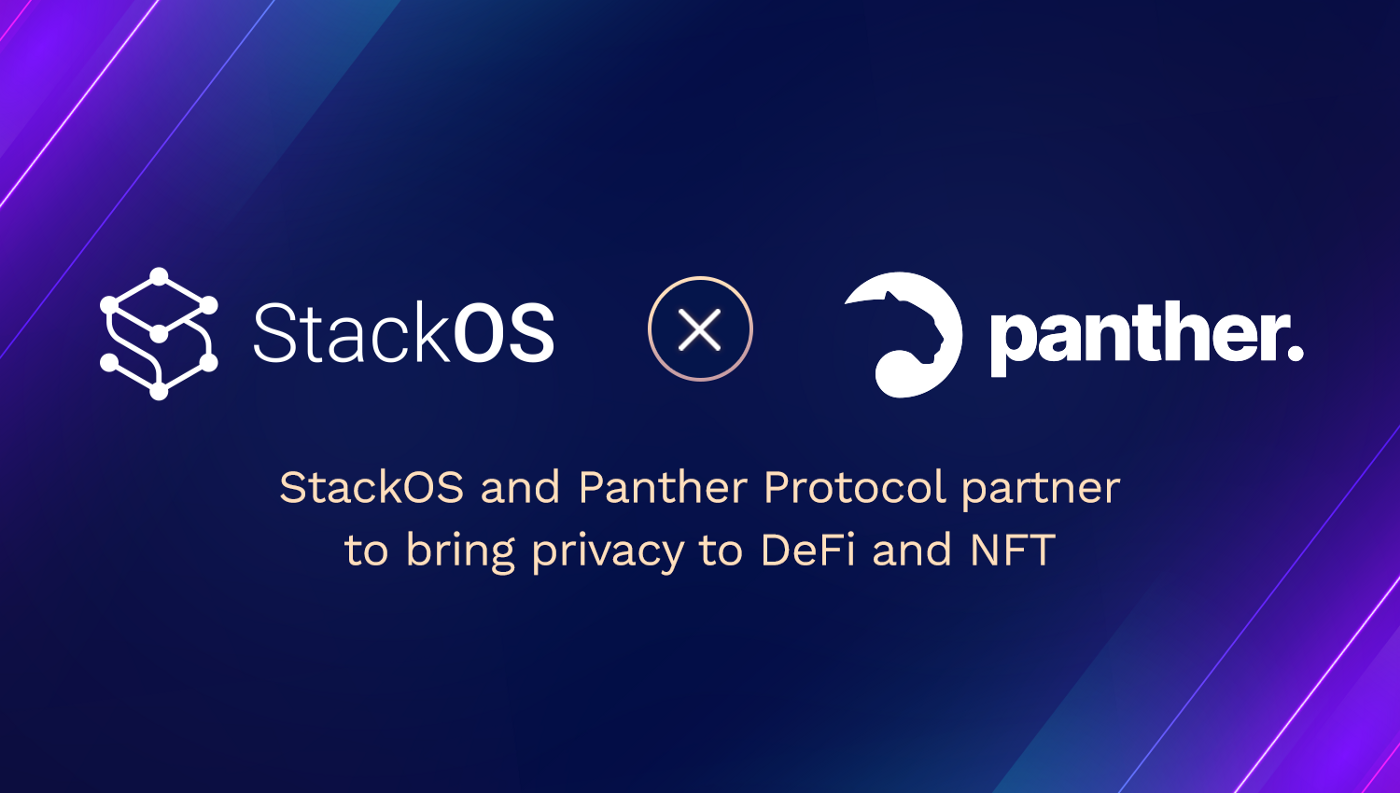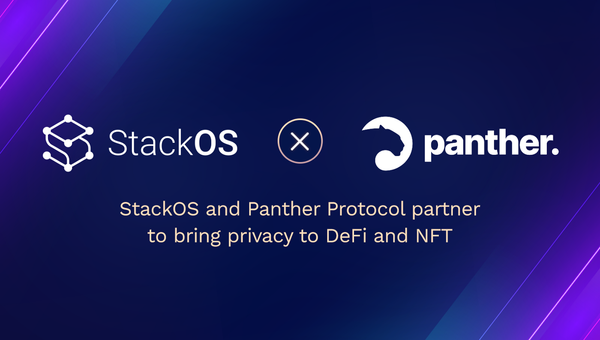 Table of Contents:
We are thrilled to announce that Panther Protocol has joined forces with StackOS, a decentralized cloud protocol, to deliver privacy and data protection tools.
StackOS.io is a decentralized cloud protocol on which full-stack applications can be deployed anonymously and securely. Together with Panther Protocol fully collateralized privacy-enhancing digital assets, both platforms can leverage each other's technologies, bringing its users complete anonymity 24 hours, 7 days a week, and making Panther's services unstoppable.

As a meta-protocol focused on end-to-end privacy for any digital asset, Panther is of great interest to virtually all DeFi users looking to benefit from personal financial data protection and confidential cryptocurrency transactions. Panther zAssets are 1:1 backed representations of the underlying assets they represent, offering users all of the benefits of private transactions in this emerging asset type.
Under the Partnership agreement, Panther Protocol's DeFi privacy services will be deployed on its decentralized cloud.
This is easily done in minutes through its easy-to-use interface after the applications have been containerized. Applications running on StackOS become unstoppable and more secure as the infrastructure is automatically being maintained, resulting in the removal of DevOps costs.
Panther Protocol CEO and co-founder Oliver Gale comments:
"We are delighted to work with StackOS and its innovative platform. They're leading the way in the containerized deployment of applications. This partnership will assist in the advancement of privacy and data protection tools."
StackOS CEO and Chief Architect, Vishnu Korde say:
"Currently every payment on the platform with $STACK tokens through the Ethereum chain is public. The transactions will now be made private with Panther's technology, making payments for cloud resources and apps in the App Store completely anonymous. We welcome this great pairing of our technologies to deliver real benefits for both users."
The cross-chain open protocol will soon be introducing NFTs to its platform. Currently, NFT's are public as they are on a public ETH chain, but it will use Panther's service to encrypt the NFT data, making NFT interaction within its platform private.
About Panther
Panther is a decentralized protocol that enables interoperable privacy in DeFi using zero-knowledge proofs.
Users can mint fully-collateralized, composable tokens called zAssets, which can be used to execute private, trusted DeFi transactions across multiple blockchains.
Panther helps investors protect their personal financial data and trading strategies, and provides financial institutions with a clear path to compliantly participate in DeFi.
Stay connected: Telegram | Twitter | LinkedIn | Website
About StackOS
StackOS is an open protocol that allows individuals to collectively offer a decentralized cloud, where you can deploy any full-stack application, decentralized app, blockchain privatenets and mainnet nodes. It also enables sharing of computer resources between individuals and organizations in order to accomplish this purpose.
It aims to provide the world with "The Unstoppable Infrastructure Protocol", which will allow any person across the world to deploy their application without incurring heavy cloud management costs and freely run any application they wish to run. StackOS furthermore intends to help brick and mortar businesses around the globe, to go online cost-effectively and securely with minimal technical overhead.
Recently, Stackos has announced the launch of their Innovative Node NFT Program. Launching nodes has been a massive undertaking that generally necessitates a certain level of technical competence as well as a significant quantity of finance. All you need for the StackOS Node NFTs are $200 and a PC with an internet connection.
Without any technical skills, you may instantly mint a Node NFT and immediately become a part of their decentralized network. A Node NFT allows you to create a slot for a node that a cluster operator can use, also, StackOS nodes offer rewards for each Node NFT someone mints: 50% of the trading fees from future generations of NFT transactions in ETH and MATIC.
StackOS has already gained heavy early traction from the market and has launched its native STACK token on the Mainnet and cryptocurrency exchanges for the general public to use and govern the protocol.
Twitter | Telegram | Demonstration Video | Explainer Video | Website | Apply (Early Access)
Share this article on: