Panther revamps entire website as we prepare for November public sale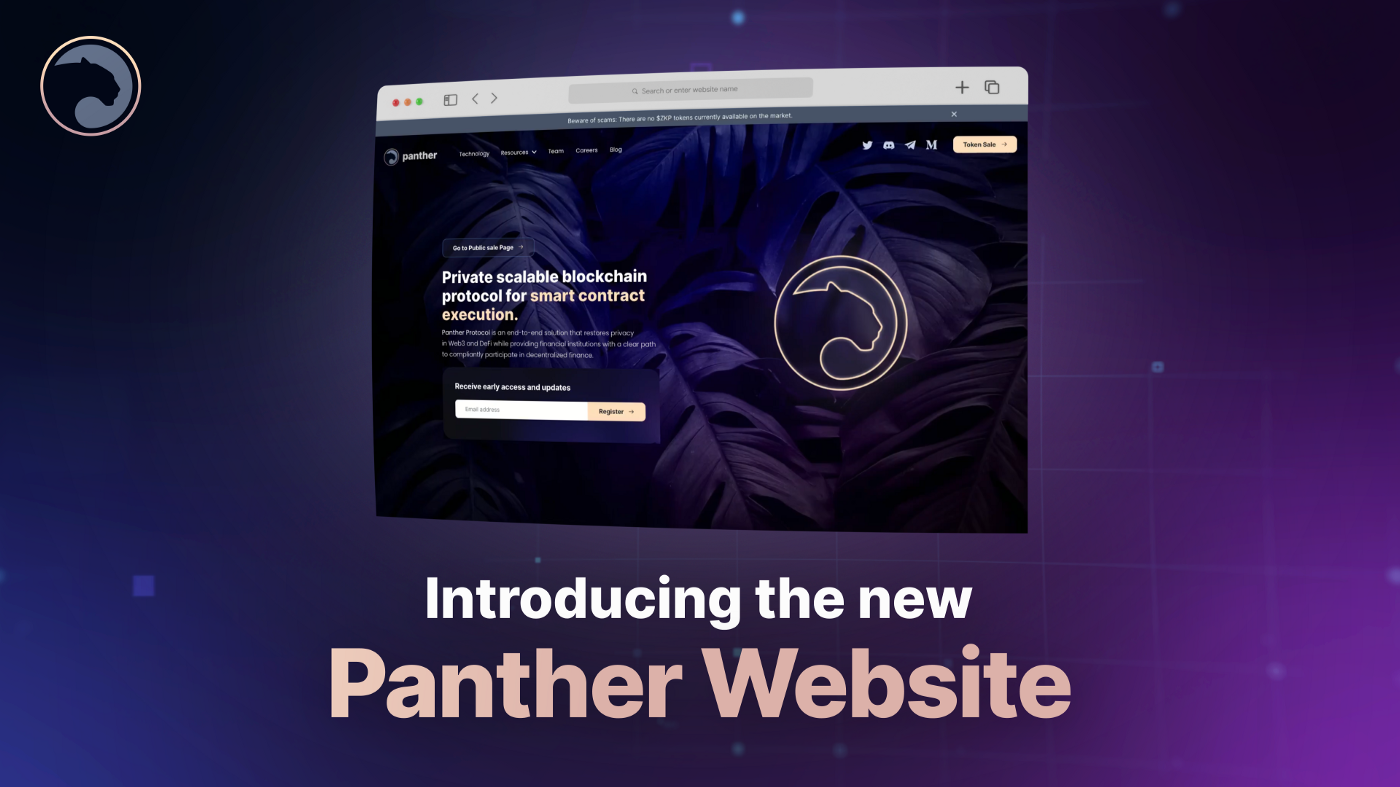 Table of Contents:
Dear Panther Community,
Panther Protocol is on a mission to create the privacy layer for Web3 and DeFi, connecting all smart contract blockchains, and empowering DeFi users with privacy by default while providing enterprises, financial institutions and fintechs alike with a clear path into the new paradigms of Decentralized Finance.
To realize that vision, communicating who we are, what we do and why we exist is critical.
If a year ago we were a handful of trailblazers in a quest for privacy, now we are a rapidly growing team and community, and the scope and language around our work are also expanding and becoming more refined.
Our community growth validates that our mission is worth pursuing, and we are proud of that rapid growth, but at the same time, we know how important it is to align everyone around a shared vision.
As our website is a major point of contact for everything Panther, we are pleased to announce that we have gone through a complete redesign…
…and you can be one of the first to visit it by pointing your browser to Pantherprotocol.io
The overhauled website serves as an important touchpoint for our community to learn more about our roadmap and read through our essential materials, including the Whitepaper.
The most important new section is the Public Sale page.
Yes! It's coming. We will release the public sale date in the coming days and will continue expanding on it with tokenomics information and other important details, so please stay connected with us via Twitter and make sure you are part of the Telegram community. We are also going to add a One Pager, and a Litepaper shortly.
As you probably have seen — we have spent the last several months expanding our footprint in the ecosystem, through several strategic partnerships.
These partnerships include collaborations with L1s such as NEAR, Elrond and Flare, and L2s such as Polygon, where our v1 is going to be launched. We also have partnered with Firo to accelerate zero knowledge (ZKP) research, and DeFi players like BUMPER to both give them privacy superpowers and implement their technology in our protocol.
Many more partnerships are coming and we will take advantage of the composable nature of DeFi to blitz scale our protocol and restore user privacy for everyone, everywhere.
This update is just another step in our journey to bring our community (and beyond) the privacy and financial sovereignty that they deserve.
About Panther
Panther is a decentralized protocol that enables interoperable privacy in DeFi using zero-knowledge proofs.
Users can mint fully-collateralized, composable tokens called zAssets, which can be used to execute private, trusted DeFi transactions across multiple blockchains.
Panther helps investors protect their personal financial data and trading strategies, and provides financial institutions with a clear path to compliantly participate in DeFi.
Stay connected: Telegram | Twitter | LinkedIn | Website
Share this article on: