PVL welcomes Asheesh Birla, Ripple founding member, as an advisor.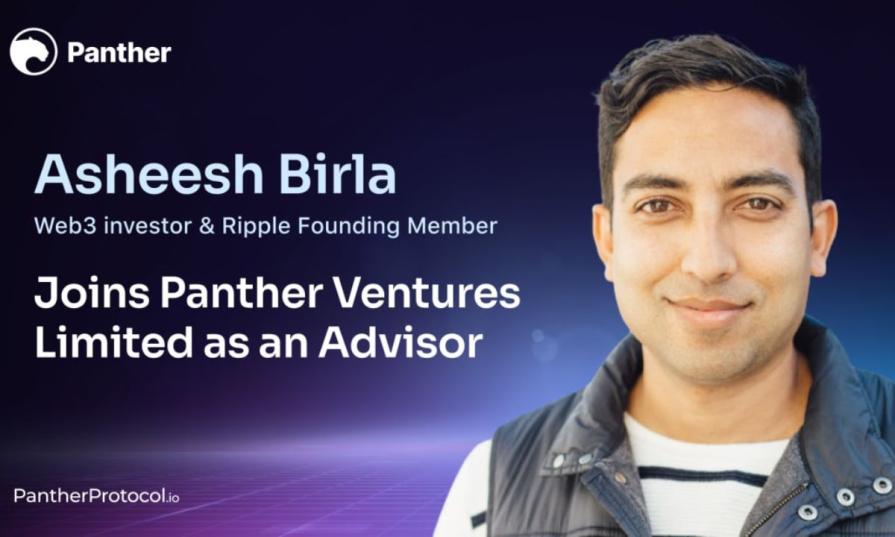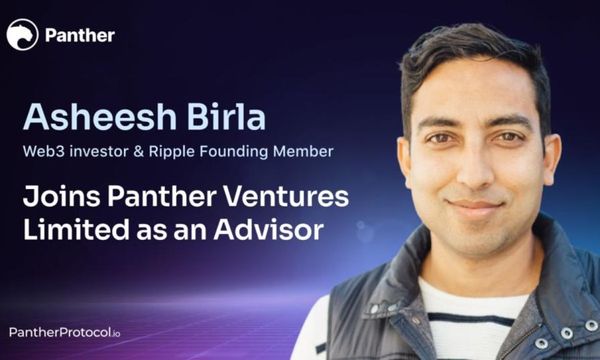 Table of Contents:
Today, Panther Ventures Limited, a Web3 development company leading the development of Panther Protocol, is welcoming Asheesh Birla as an advisor. With his decade-long history in the cryptocurrency and blockchain space, the San Francisco native brings a wealth of knowledge and experience in digital assets and financial systems that will be invaluable to our mission: creating a privacy layer for DeFi.
As Panther Co-Founder, Chief Scientist and CTO Anish Mohammed expressed, "Asheesh has had a ring side in the evolution of web3/crypto for past decade. I'm personally excited to continue our collaboration from the Ripple days and look forward to leveraging his 9+ years of crypto expertise and experience in Panther."
The Panther DAO and community is making rapid strides towards releasing v1 of Panther Protocol –a compliant gateway that offers private DeFi access to both retail users and institutes alike. Thus, it's vital we build an elite team comprised of esteemed experts from around the world specializing in zero-knowledge technology.
Birla currently serves on the board of Ripple, and has been part of Ripple's founder team since 2013, serving as General Manager of the RippleNet and steering Ripple (XRP), now one of the world's largest digital currencies, to its current position until last June. He also invests in early stage projects through Angel Track, having previously built up successful portfolios with Nium, Azimo, Moneygram, Thomson Reuters, and Kno (acquired by Intel) and Bitso, a leading crypto exchange in Latin America that partnered with Ripple to provide cross-border payments using XRP. Additionally, Asheesh lectures at Wharton School University, Pennsylvania, where he graduated with an MBA and was a member of the Venture Capital Club. He also credits his education at an institute of technology in India, BITS Pilani, for shaping his career in blockchain and Fintech. In his time at Ripple, he worked closely with CEO Brad Garlinghouse and co-founder Chris Larsen to tackle issues impacting the company at all levels.
Asheesh Birla's thoughts on joining Panther
Birla expressed his utmost confidence in Panther's goal of providing private access to decentralized financial services, particularly within DeFi. He likened its potential to that of Ripple's early days; citing a proficient design cognizant about mixing compliant laws with advanced blockchain technology as integral for success.
"I am incredibly optimistic about Panther becoming a leader in the regulated DeFi privacy segment, which is rapidly evolving and can be positively impacted by the project's upcoming products. Panther Ventures reminds me of Ripple's early days, with a highly capable team that understands the importance of combining solid legal grounds and state-of-the-art blockchain technology."  —- Asheesh Birla.
About Panther
Panther is a cross-protocol layer that uses zero-knowledge technology to build DeFi solutions that meet regulatory requirements and satisfy users' on-chain data privacy needs. The goal of Panther is to allow seamless access to DeFi and create a cross-chain-supported architecture that serves different use cases. Panther's zero-knowledge primitives are also generalizable to KYC, selective disclosures between trusted parties, private ID, voting, and data verification services.
Website · Documentation· Lite Paper · Twitter · Telegram · Discord
Share this article on: