The Panther Public Sale is upon us: here's everything you need to know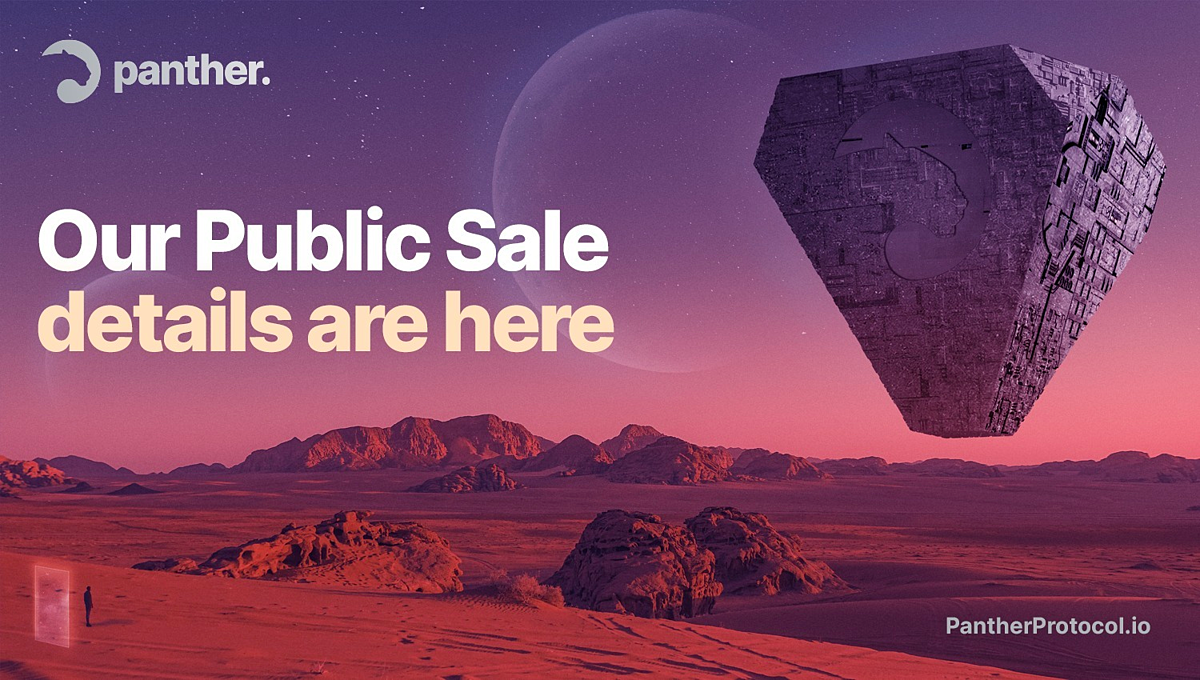 Table of Contents:
Dear Panthers,
Our public sale is quickly approaching, and we couldn't be more thrilled with the trajectory of our project thus far.
This is a long, albeit crucial article covering our Public Sale and everything surrounding it.
In this article you will find:
Introduction: What is Panther and why it exists, project milestones.
Token sale details (date, venue, step-by-step guide, minimum and maximum contributions, pricing/vesting options, accepted tokens)
Registration + KYC state of affairs
$ZKP tokenomics at a glance
Exchange listings + liquidity details
ZKP rewards and staking
Links for further research
Final words
It all begins with building a strong community around a grand vision.
Seeing this community grow from just over 1,000 Panthers on Telegram and Twitter in May 2021 to over 30,000 on each platform (crossing 10,000 Panthers on Discord), makes us extremely grateful and proud. Not because of the vanity number, but because of the sheer number of individuals that believe in our mission to fix privacy in the Web 3.0 ecosystem.
We are aware of the responsibility bestowed upon our team and core community and honored to be recipients of your trust. From our pre-Seed round until now, we have received $10m in private investments, growing our team to 30+ experts in cybersecurity, cryptography, blockchain engineering, game theory, DeFi, ecosystem development, technology commercialization and marketing, .
Since the beginning of our journey, Panther has partnered with blue chips and up-and-coming projects in blockchain and DeFi alike. We've grown from an inspiring idea to a blitzscaling project, building our MVP on Polygon with subsequent deployments of our privacy preserving infrastructure on Ethereum, NEAR, Elrond, Flare, Songbird, Velas and Avalanche… plus everything that's to come.
Panther Protocol is building an interoperable privacy layer for DeFi and Web3.
We pursue this mission because privacy is an integral part of what it means to be human. It is, indeed, a Human Right. Web 2 Tech Giants have turned our data into a commercial commodity, and our privacy is under attack. Decentralized networks point to a solution, but there's a major privacy hurdle to overcome: By design, on-chain data is transparent and immutable, allowing malicious agents to spy, reverse engineer, and front-run Web 3.0 users.
Without privacy, DeFi and Web3 could become the pillars of a surveillance society.
Panther is building the private scalable infrastructure that connects all public blockchains, giving users custom privacy controls while providing financial institutions and FinTechs with a clear path into DeFi that is compliant and future-proof.
We want to help onboard the next billion users into DeFi and bank the unbanked while guaranteeing that these users will be respected, their self-sovereignty and Human Rights protected. We envision a world where these users' privacy is enjoyable by default, while being mindful and aligned with regulations and compliance requirements.
Here's everything you need to know about the Public Sale:
When is it happening?
Panther's Public Sale will happen on November 23, 2021, Tuesday, 14:00 GMT.
Participants need to show up at least 10 minutes before to be included in the Waiting Room. Contributors that do not show up before the event's starting time will be the last in line.
Where will the Public Sale happen?
The Public Sale will happen on the Tokensoft platform, hosted at publicsale.pantherprotocol.io.
How will the Public Sale work?
The waiting room will be open prior to the start of the event. As long as you join the waiting room prior to this time (regardless of whether it's 10 minutes or 1 hour prior), you will enjoy an equal chance to participate in the event. Those who join after the event starts will automatically go to the back of the line on a first -come, first-served basis.
Once you have joined the event, you have 30 minutes to make a payment before your session expires, so follow the prompts and complete the process as quickly as you can.
Make sure you have MetaMask installed on your computer, and that your wallet on Metamask is the same one you used to undergo KYC.
Be sure to have enough funds (ETH, USDT, USDC or DAI) to make your contribution, and also plan on having enough ETH to cover gas fees.
Gas fees may be high, so plan accordingly.
Log in to your Public Sale account at https://publicsale.pantherprotocol.io with the credentials that you have used to register and pass KYC. At this point, you should already have a registered account to be eligible.
We have created a step-by-step guide for you: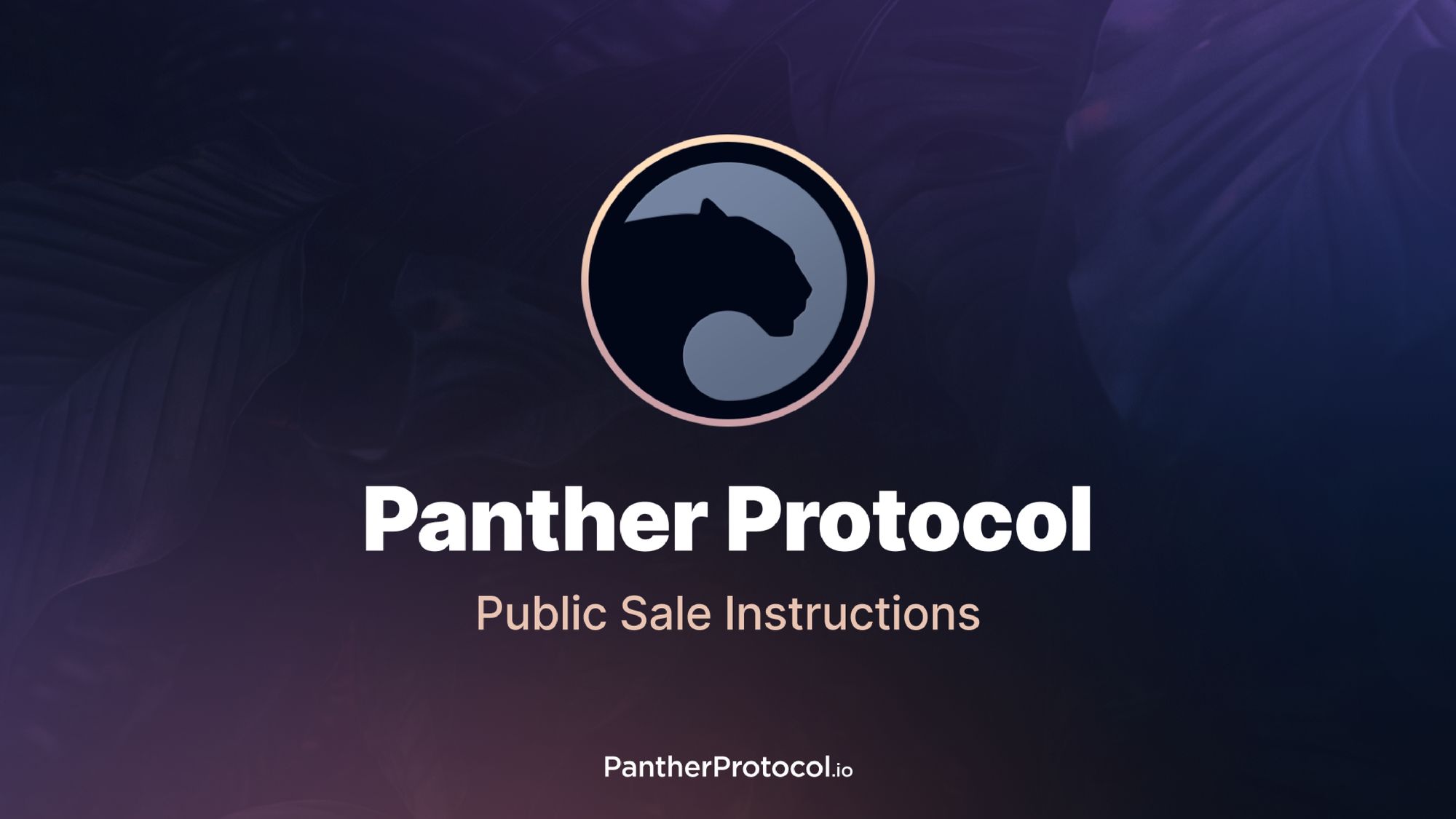 ---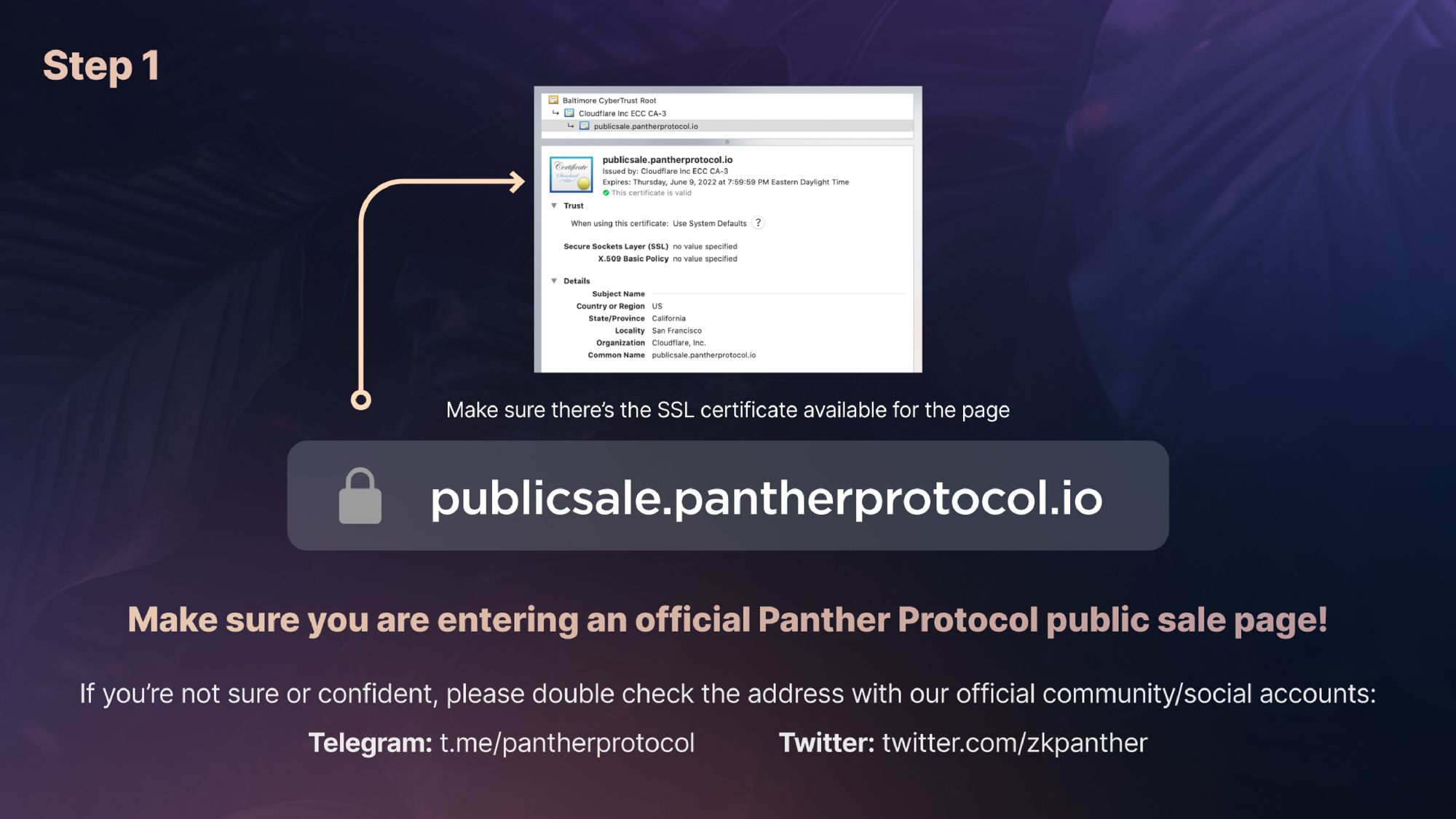 ---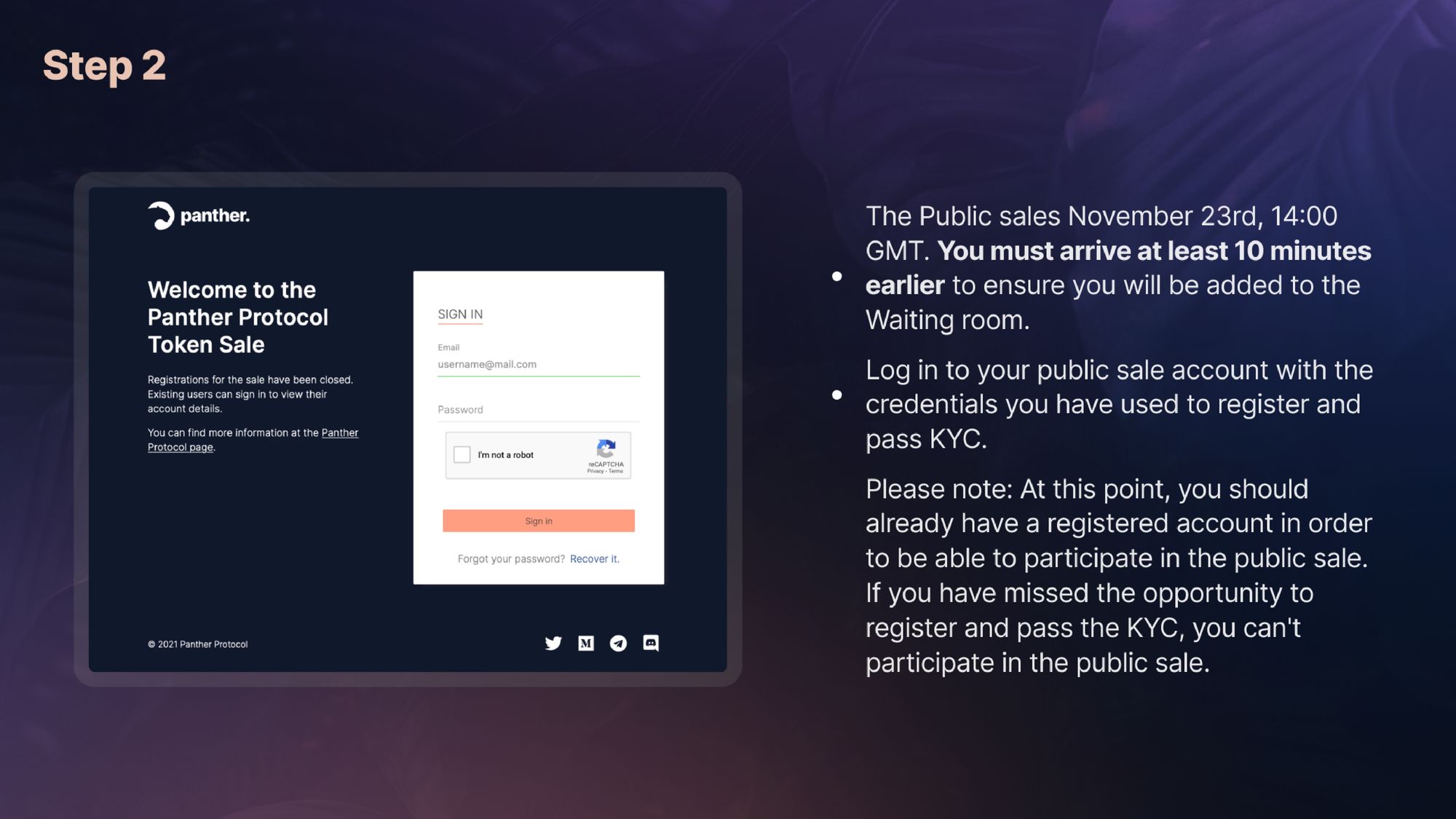 ---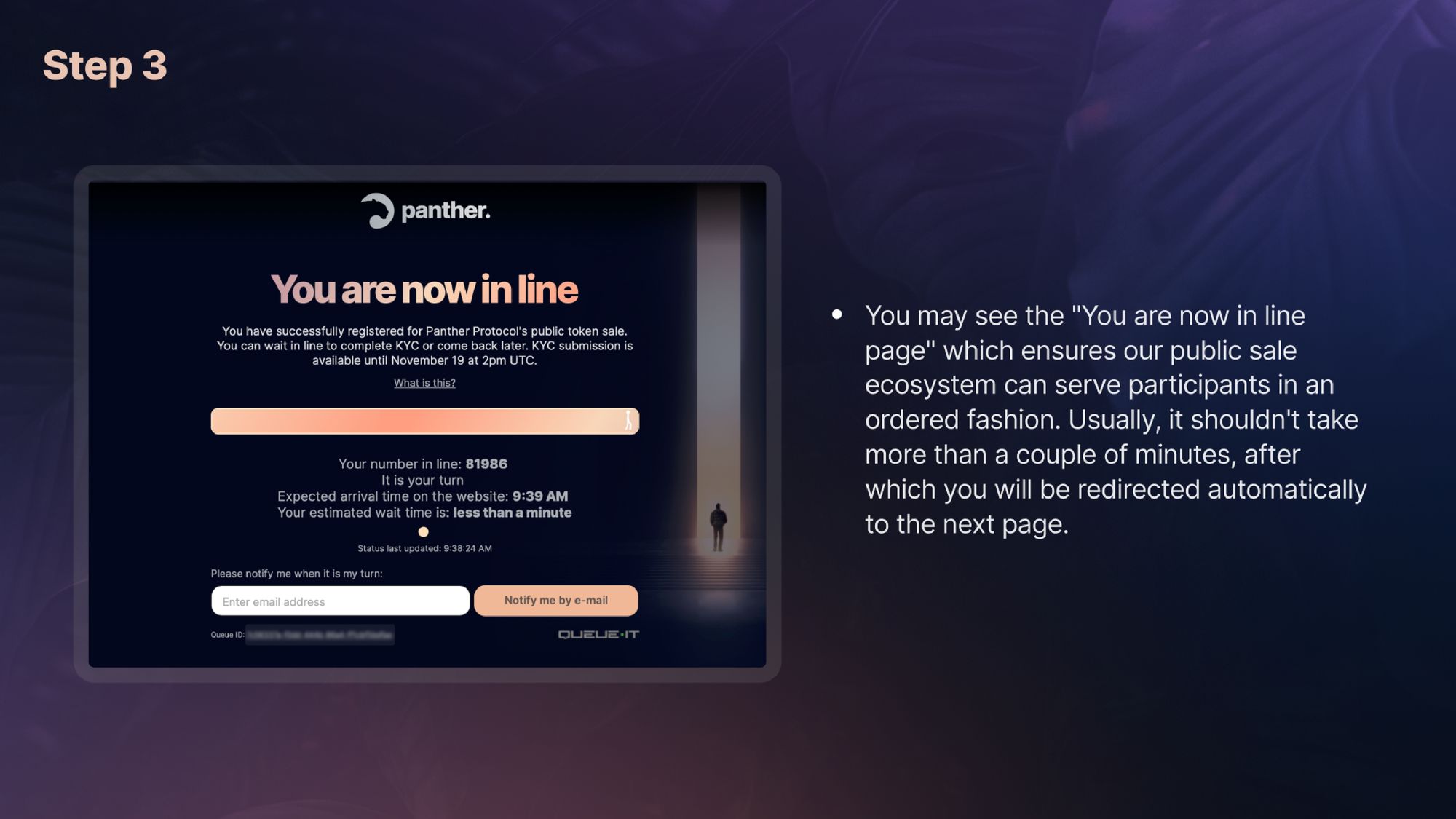 ---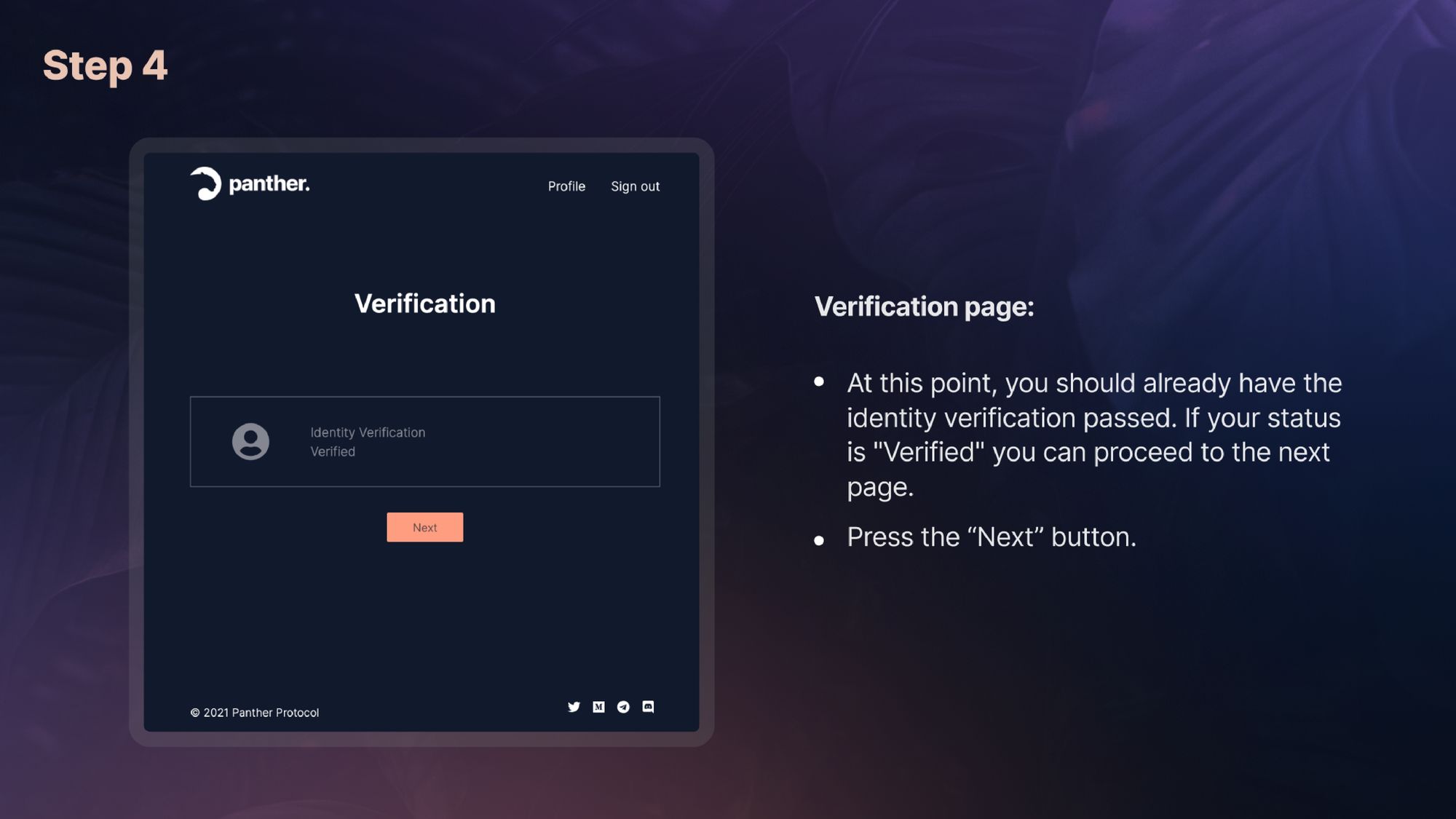 ---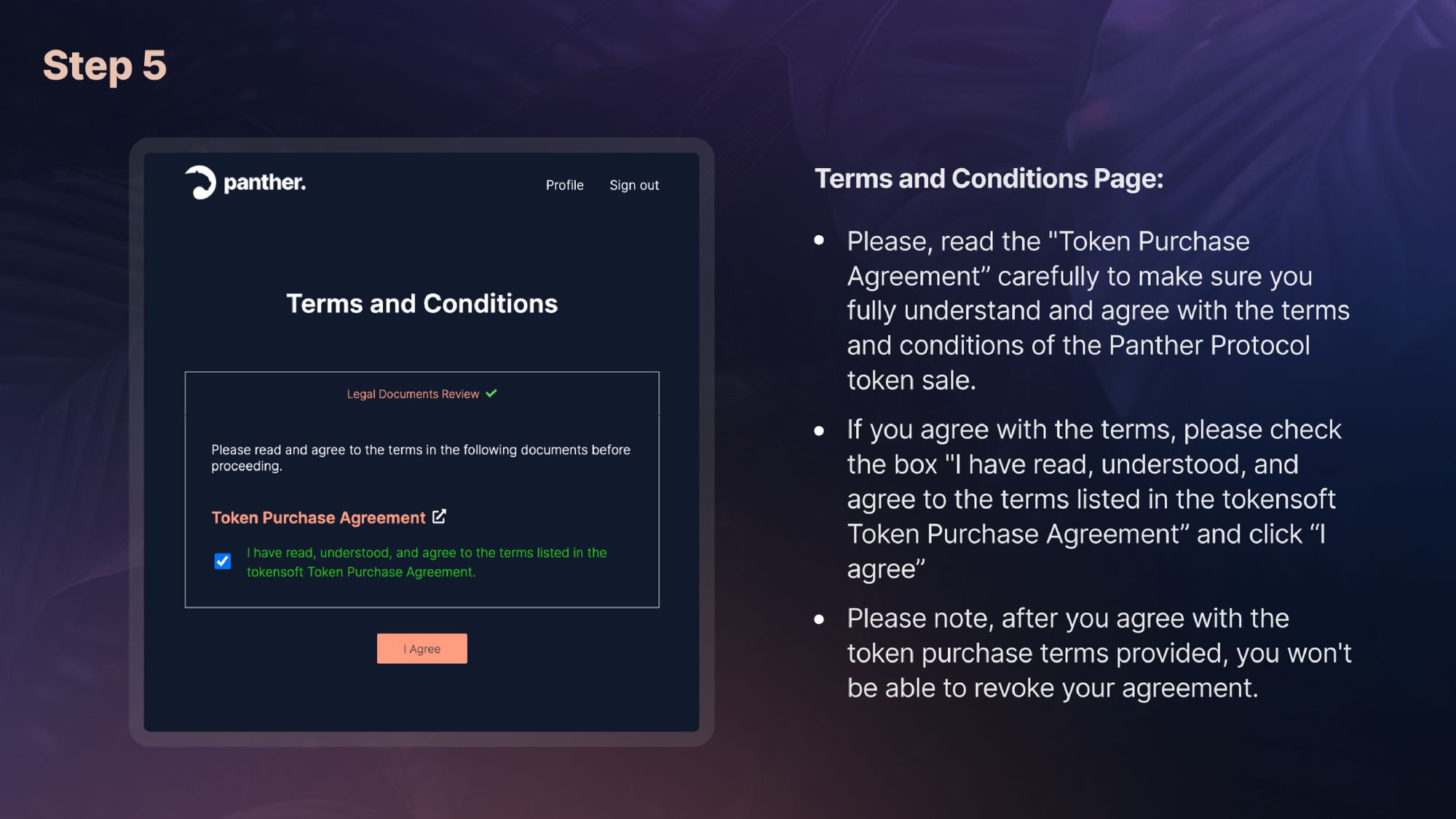 ---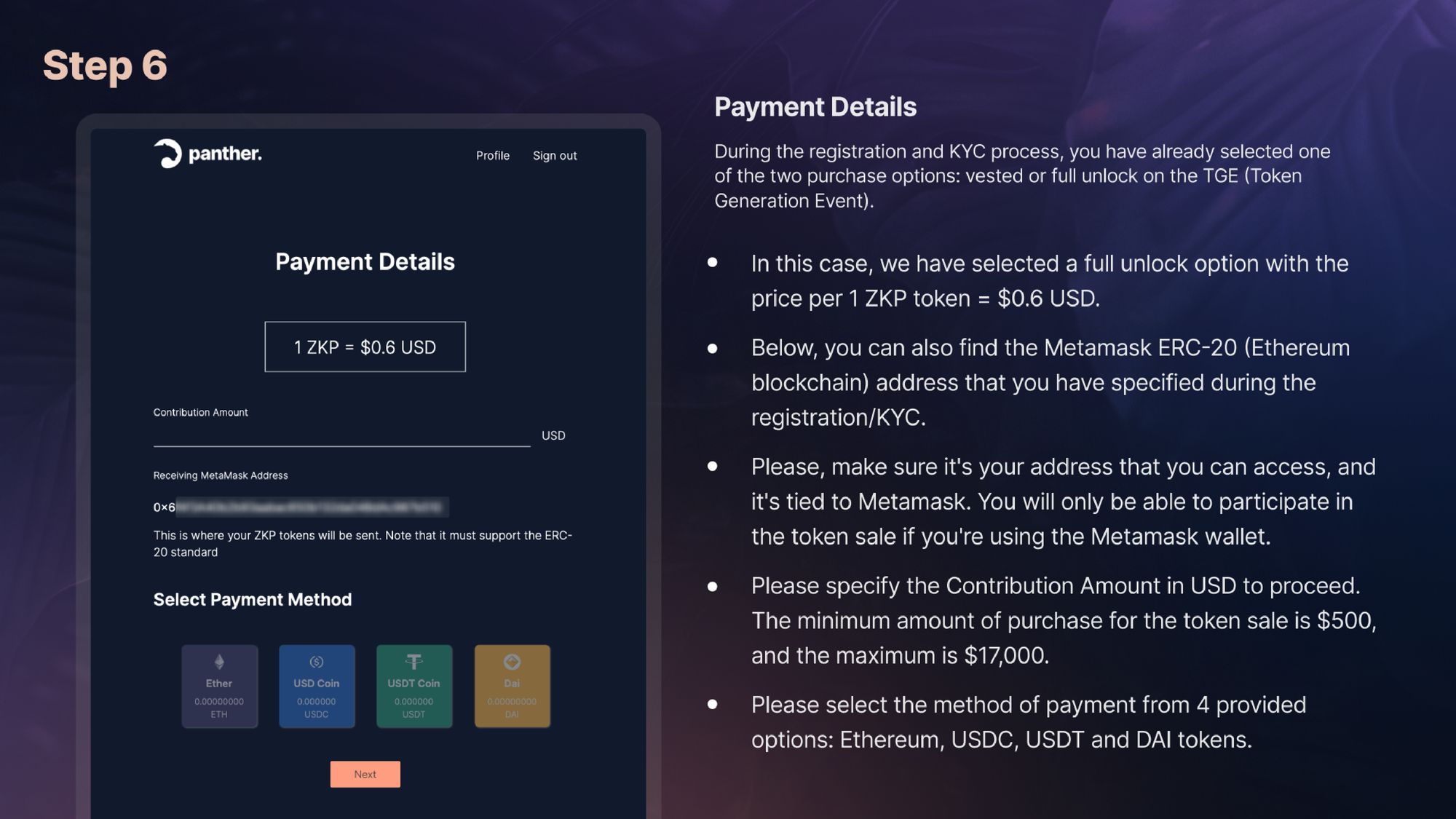 ---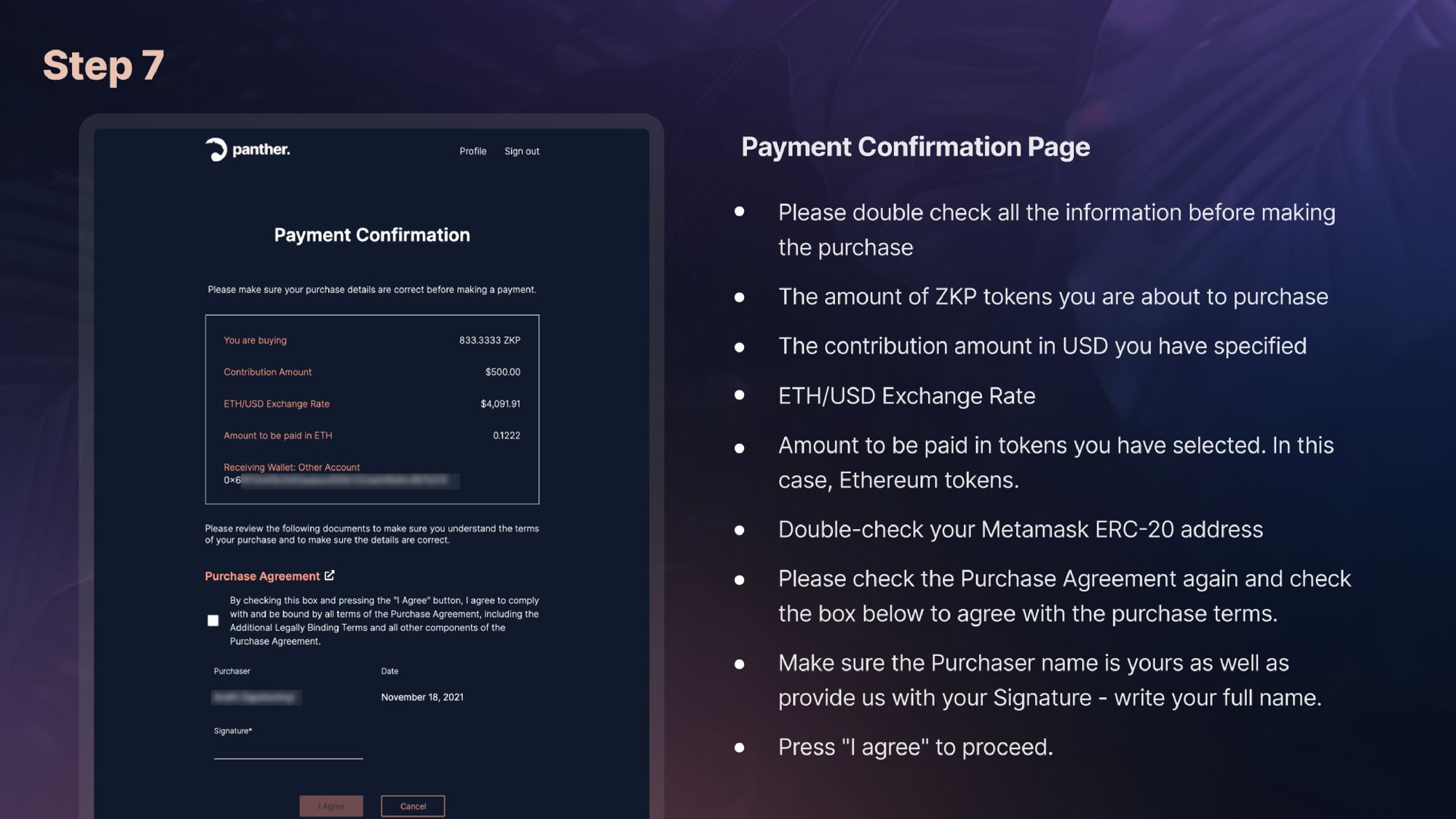 ---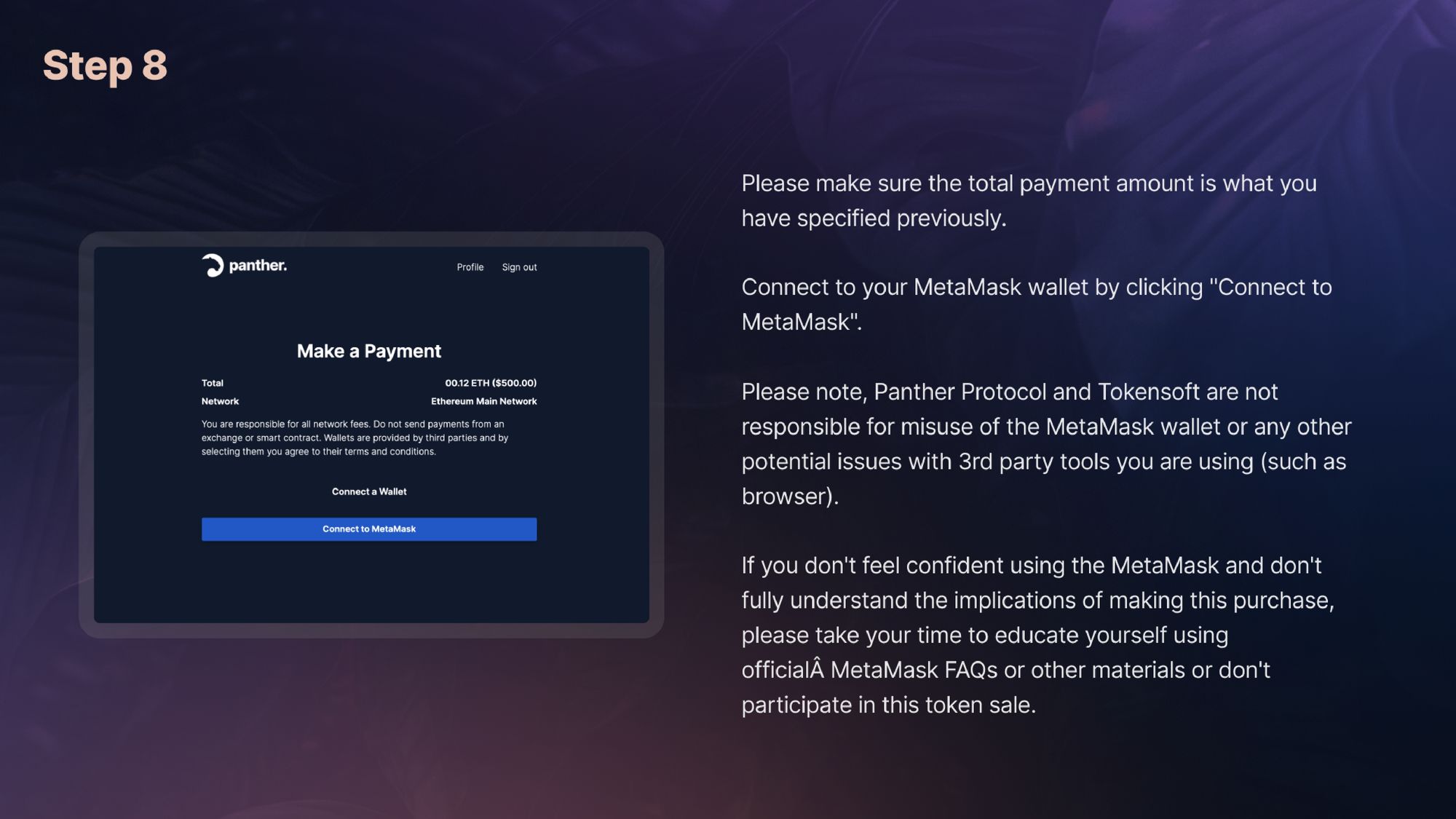 ---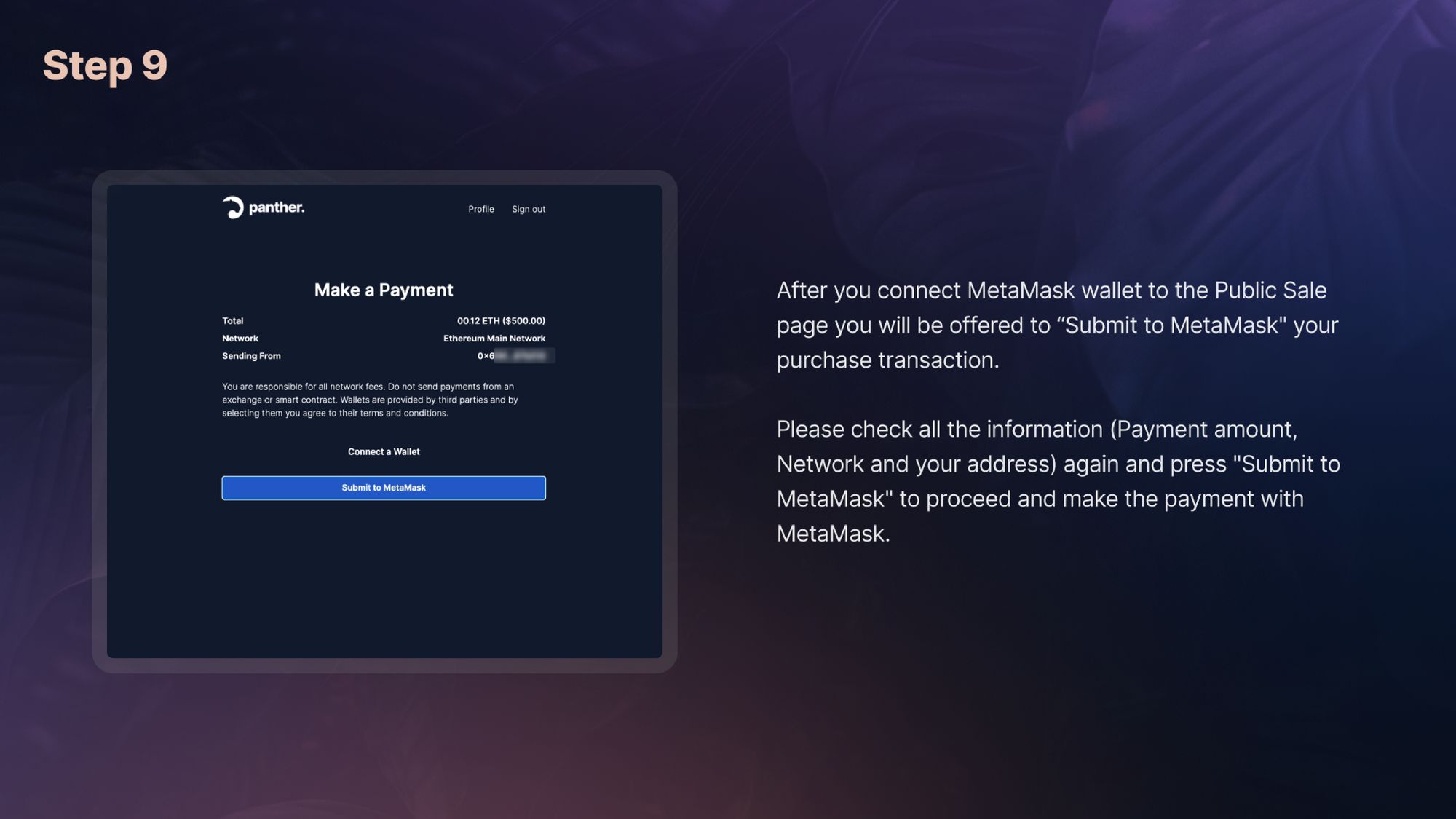 ---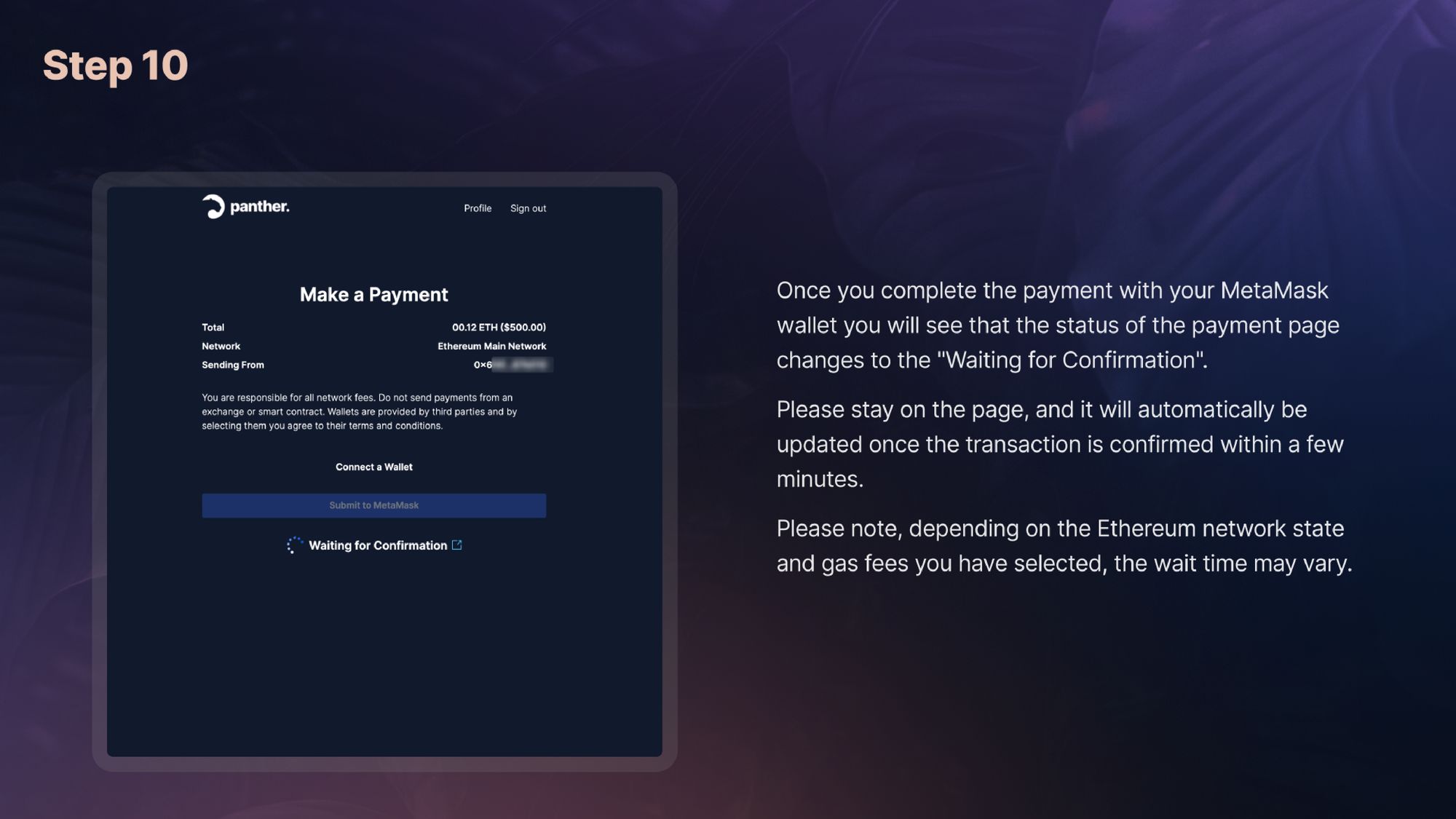 ---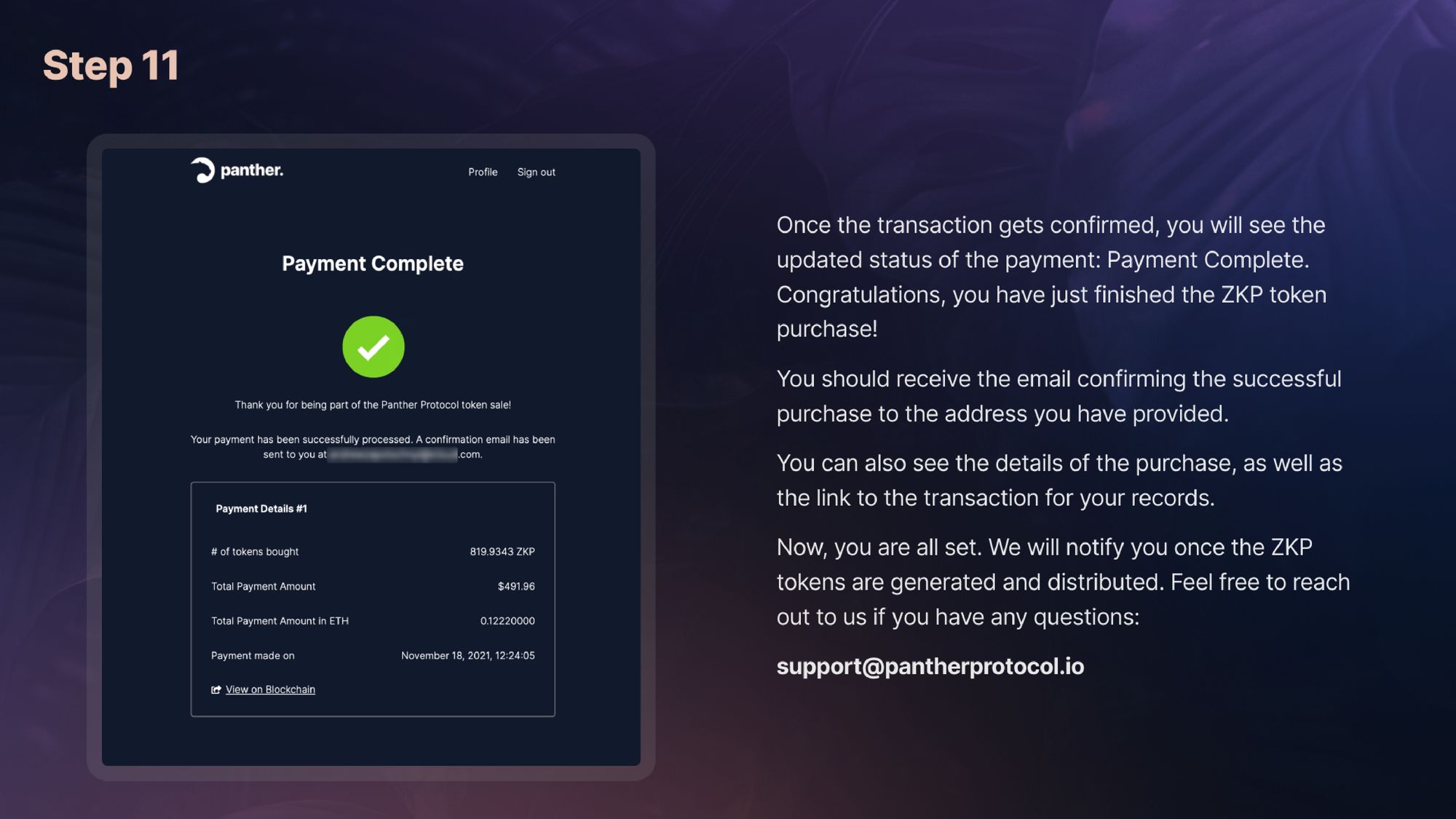 You can download it here.
Pricing / Vesting options:
Public Sale participants will be able to pick from two pricing options, subject to availability of tokens within the two allocations:
Option 1:
25% unlocked at our Token Distribution Date (early December).
75% distributed linearly over six-months of vesting.
Price per $ZKP: $0.40.
Option 2:
Fully unlocked at Token Distribution Date (early December).
Price per ZKP: $0.60.
OBS: You won't need to claim your tokens on Token Distribution Date — you will receive the ZKP tokens on the same wallet you used to send the funds.
What are the minimum and maximum contribution amounts, and what are the accepted tokens?
The minimum contribution amount to participate in the Public Sale is $500 USD. The maximum allowed is $17,000 USD.
The contributions can be made in USDT, USDC, DAI or ETH.
What happens to contributions above $17,000?
We have created a simple but effective mechanism to ensure fairness: Each participant may receive $ZKP up to a maximum USD value of $17,000. Contributions over this amount will be treated as donations to the Foundation, and no refunds will be payable in respect of the same.
Pro tip: Read above twice.
Registration + KYC Process
As previously stated in our latest community update, Panther has received over 55,000 registrations for our Public Sale event. Thus far, over 15,000 registered community members have completed KYC and our KYC partners @ Tokensoft and Onfido are working on onboarding as many participants as possible until November 22nd.
The deadline for registered users to submit their KYC application was November 19th, 2pm GMT.
We are aware that many registered community members have pending KYC applications. Our teams (Panther, Tokensoft, Onfido) are working hard to onboard as many community members as humanly possible until November 22nd, the day before the Public Sale.
Here are the key $ZKP tokenomics at a glance
The details on the images below should contain enough information for anyone who's already familiar with our project. In case you want to learn more about the tokenomics of Panther Protocol, please visit this comprehensive Tokenomics docs page.
Key Metrics:
Token Allocation:
At the Genesis of our privacy protocol, we were faced with the important task of allocating our tokens fairly among the Panther Foundation, Team/Advisors, Early and Public Sale investors, and Protocol Liquidity and Rewards to the community of privacy enthusiasts that will use the protocol and govern the Panther DAO.
We have decided that the following allocation is what best represents our principles and creates a healthy foundation for all network participants to thrive:
Token Release Schedule:
The chart below showcases the token release schedule by token allocation type during a 144 months period (12 years), highlighting the long-term vision of the project.
The issuance of ZKP tokens will follow a sensible release schedule that keeps the interests of all network participants aligned. Key stakeholders and project stewards are subject to long vesting periods for their tokens, ensuring long-term commitment to the success of the protocol.
$ZKP protocol rewards and staking
We understand that it is important to incentivize early community members, participants on Private and public rounds and early protocol users to ensure a healthy community sentiment and engagement from the onset.
Our team is going to release more information about rewards and Staking opportunities to every ZKP token holder in the coming weeks.
Longest Panther article ever? Maybe!
Here's the wrap-up:
We are grateful for our community and the overwhelmingly positive response to our Public Sale efforts.
We are building the Interoperable Privacy Layer for DeFi and Web3 and are equipped to deliver on the vision. With the Public Sale, we will raise the necessary capital to take on any challenges and market conditions.
Make sure you have MetaMask installed on your computer, and that your wallet on Metamask is the same one you have used for KYC.
Be sure to have enough funds (ETH, USDT, USDC and DAI) to make your contribution, and plan on having enough ETH to pay for gas fees.
Gas fees may be high, so plan accordingly.
Arrive on the Public Sale interface at least 10 minutes before the Public Sale, which will happen November 23rd, 14:00 GMT.
There's no step 7. You are on your way to becoming a Panther Privacy Pioneer! :)
Looking to do some last minute research?
Whitepaper:
https://www.pantherprotocol.io/resources/panther-protocol-v-1-0-1.pdf
One Pager:
https://www.pantherprotocol.io/resources/panther-one-pager.pdf
Explainer Video:
We are honored that you are joining us in our Quest for privacy in DeFi and Web3.
Privacy is essential to human dignity, democracy and fair economic systems. Separating the public and private spheres of our lives may be as primordial as language itself. It is such a foundational value that we must ask ourselves: "Are we really human if we lose our privacy?"
In the past decades, at an exponential pace, we have digitized our economies using centralized networks that emphasize a winner-takes-all mentality. This approach gave birth to billionaires and increased the gap between haves and have-nots. Technology advanced with little regard to its full spectrum of implications and, between other major issues, our data turned into a commercial commodity. As a result of this, our privacy became a neglected afterthought.
Our data, financial or otherwise, was siloed and monetized by the few, so it became a target. Data breaches cost institutions billions of dollars a year… but, how much does it cost humanity to lose our sense of privacy?
While decentralized networks and business models point to a solution, there is a major hurdle: By design, on-chain data is radically transparent and immutable. This is both a feature and a bug, because as progressively more aspects of our lives move on-chain, it allows full scale surveillance and economic espionage to take place.
Restoring privacy is critical to building a better society with empowered individuals who can be truly self-sovereign.
It is therefore paramount that technology is advanced through a privacy-first ethos, where fundamental human values are respected and preserved by design. If we do not, DeFi and Web3, both created with the best of intentions, could become the pillars of a dystopian surveillance society.
Panther sees an urgent need to restore user privacy and infuse privacy enhancing technologies in the roadmaps of protocols and products across decentralized finance and Web3.
With a clear focus and a mission critical dedication to the privacy cause, Panther aims to accelerate the development of technology that balances privacy, responsibility and trust so that we may continue to improve the design of our open tokenized economies, always with humans in mind.
Blockchain, AI and Big Data are powerful enough technologies to both empower or enslave people in the future, and Panther wants to be on the right side of history.
There's no time like now to restore privacy and reshape society, fostering a generation of empowered individuals who can contribute their voices and talents to humanity's fullest potential.
// End of transmission
About Panther
Panther is a decentralized protocol that enables interoperable privacy in DeFi using zero-knowledge proofs.
Users can mint fully-collateralized, composable tokens called zAssets, which can be used to execute private, trusted DeFi transactions across multiple blockchains.
Panther helps investors protect their personal financial data and trading strategies, and provides financial institutions with a clear path to compliantly participate in DeFi.
Stay connected: Telegram | Twitter | LinkedIn | Website
Share this article on: