Panther Community Update #6: Tremendous growth across the board!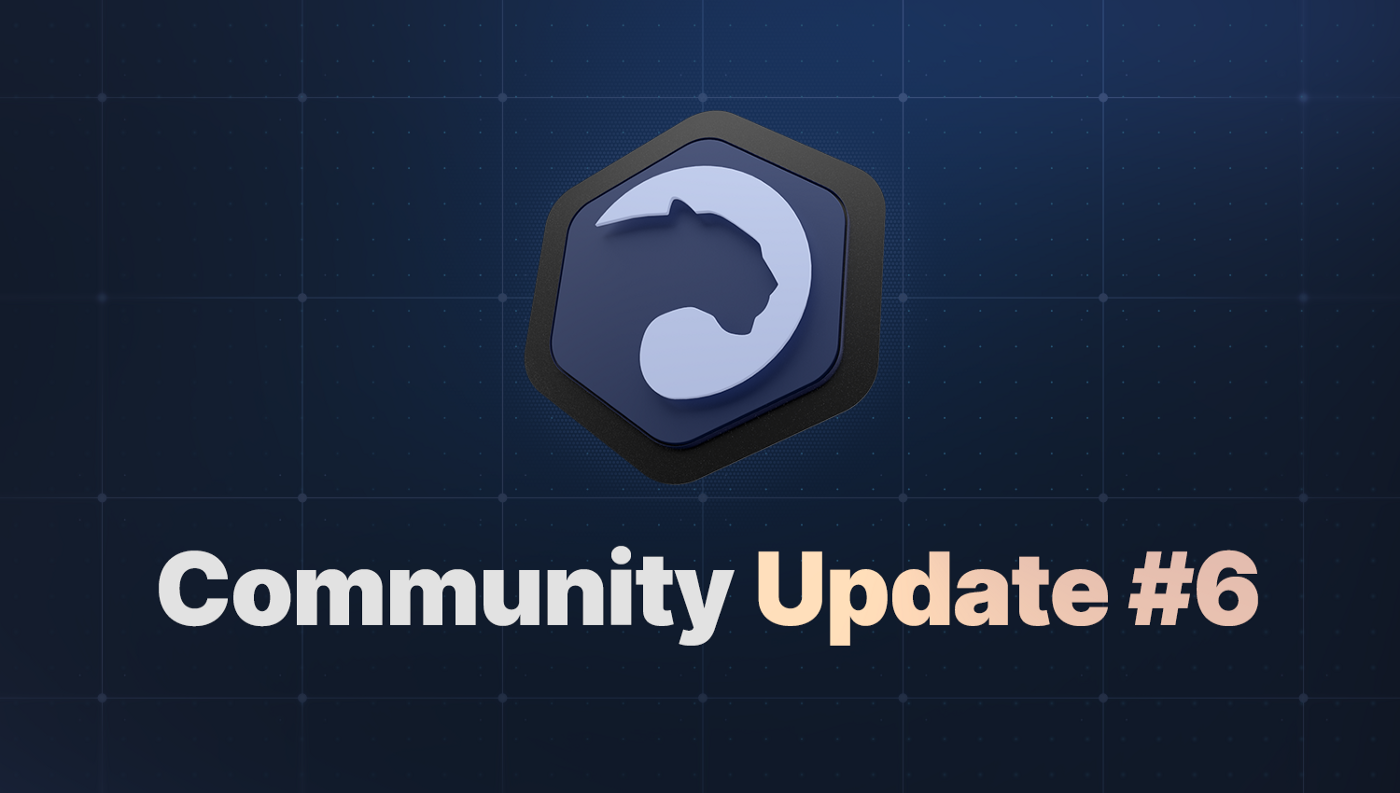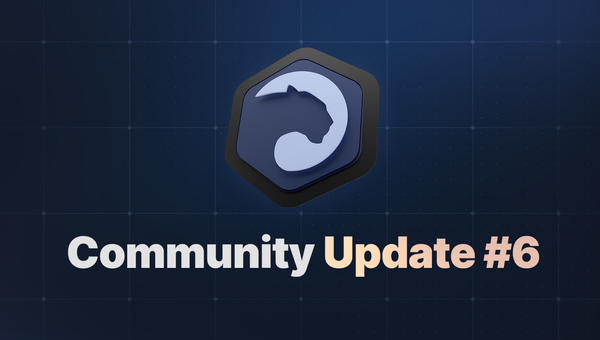 Table of Contents:
Dear Panther Community,
It's time for another Community Update, and we are thrilled to say that this may be the most exciting update so far! As the teams and partnerships grow, we seem to be entering warp speed and it's an honor for all of us to experience the tremendous growth of the project on all fronts!
We tend to repeat this all the time, but privacy is a human right and essential for us to preserve our self sovereignty.
Privacy cannot be done in isolation so ecosystem and community development are at the heart of what we do. Thank you for being part of this journey with us. We're doing important work together.
The Panther community has more than doubled since our last update and we would like to take a moment to welcome everyone — we are 25k strong on Twitter and seem to be flirting with the 20k Telegram! Join us if you haven't already :)
Our journey for privacy is just getting started. It's been amazing to experience this acceleration as we near the Public sale date!
Thank you for the support and enthusiasm for the project!
Ok now, let's do this:
The Public Sale date is set: November 23rd, 2021!
The wait is over and the official date for the $ZKP public sale, November 23rd!
Pre-registrations for the Public Sale are now open
Please visit our website and Pre-register. You will receive early updates and will be the first to know when Registrations and KYC open up. We are a month away from the sale, so expect to receive relevant updates until then.
We now have a Community Bounty Campaign!
We are thrilled to announce the start of our Community Bounty Campaign powered by Coinamp. Complete challenges like following Panther's social media channels or referring your friends to receive rewards in $Amps, the platform's native token. The process is seamless and you are incentivized to help us grow.
Head over to Coinamp now and complete your challenges!
6 Incredible Partnerships since our last update
Our business development team has been on fire and managed to secure partnerships with some of the best L1 networks in the industry, cybersecurity industry giants and DeFi partners! The vision of building a private scalable infrastructure for DeFi is not possible if the layer 1s are not on board, but as you can see below, the heavyweights are on our side!
Kudelski Security
Panther partnered up with Kudelski Security, the leading provider of comprehensive cybersecurity solutions to large enterprise and public-sector clients around the world.
The partnership extends Kudelski's partner network into the blockchain ecosystem as Panther's privacy-preserving protocol accelerates their ability to bring data marketplace, data monetization, and DeFi enabled ecosystems more quickly to market and to offer more advanced service and build capabilities. To find out more details of the partnership check out the detailed announcement.
NEAR Protocol
Earlier this month we announced our partnership with one of the most exciting L1 blockchains, NEAR Protocol!
NEAR and Panther agree that privacy is an essential human right.
Panther has received a grant from NEAR to explore the development of open-source privacy infrastructure needed for a native Panther deployment on NEAR. This includes the deployment of Panther's privacy solutions on NEAR's EVM, Aurora. Check out the full announcement here.
Polygon
We are delighted to announce a strategic partnership with Polygon, the Layer-2 scaling solution often referred to as "the Ethereum's Internet of Blockchains."
Panther, which is building its MVP on Polygon, aims to bring interoperable privacy and compliance-friendly selective disclosure mechanisms to the Polygon network. Besides providing technical support, Polygon will help Panther collaborate with projects within its ecosystem in the development efforts of privacy features that empower end-users. It will also aid our mission in giving institutions and fintechs a clear path into private and compliant DeFi. Detailed announcement here.
Elrond
Panther also partnered up with Elrond, the internet-scale blockchain designed to bring a 1000x improvement in throughput and execution speed over existing decentralized networks.
Similarly to others, this partnership brings interoperable privacy and compliance-friendly selective disclosure mechanisms to the Elrond Network. By leveraging zkSNARKs technology, Panther Protocol can enable Elrond DeFi users to deposit EGLD, ESDT tokens and other assets into Panther vaults and mint fully collateralized private assets (zAssets) in return. These zAssets can then be used across DeFi applications. Full announcement here.
BUMPER
Another partnership we signed recently is with BUMPER, an innovative DeFi protocol that aims to protect users and traders against market crashes. We have entered into a partnership agreement that aims to benefit retail and institutional users alike and the benefits to both parties are manyfold. Detailed announcement here.
Firo
In our initial discovery calls with Firo it was clear from the start that we had found a like-minded collaborator; this is why we have entered into a research partnership with Firo. Firo, formerly known as Zcoin, has been developing cutting edge privacy technology since 2016, having created influential privacy protocols such as Lelantus and Lelantus Spark. We are thrilled to be doing poignant research together and exchange knowledge with such an accomplished team. Check out the announcement here.
Expert posts
For the ones that follow Panther this is not a surprise. We always strive to produce high quality and informative content for our community. Here are some of these pieces that we released recently.
zkSNARKs Through The Lens Of A Cypherpunk
If you are in the crypto community for some time now, chances are you have heard about the cypherpunk movement at least once. In this blog post we briefly explore the history of cypherpunks, their famous manifesto, the technology that was born from this movement and more through the lens of our own cypherpunk and CTO Anish Mohammed.
The Economics Of Privacy: An Overview of The Economic Consequences Of Total Transparency
In the past, we've written extensively about the importance of privacy in decentralized networks. But, has it occurred to you that the loss of privacy has a tangible, measurable impact? Take a deep dive with us and discover the extent of that impact in this blog post.
Privacy In the Age of Surveillance: a pipedream, or something worth fighting for?
Espionage and surveillance are as old as civilization itself. From the Ancient Roman times up to the Internet era, when small changes, either through policy and enforcement or built into the tools we use every day, compound over long periods to create all kinds of erosion of our privacy rights. In this blog post we explore these changes as well as the consequences of the radical transparency of public blockchains. Check it out here.
In other news
Panther Revamps Entire Website as We Prepare For November Public Sale
In other news… our website has received a makeover! Head over to https://pantherprotocol.io/ to check it out and let us know what you think!
Our quest for privacy — Panther development update #1
Our entire team has been working hard to build the foundational private scalable infrastructure for DeFi and Web3, but if one team has been working harder, that is our tech and product team.
On October 5th we released our first tech update, going in detail on the development of our MVP. Check it out now!
That was it for this update everyone!
The past few weeks we've had tremendous growth in all of our community channels, we now have a date for the public sale, we managed to close some very important partnerships with heavyweights of the industry, released a few more in depth articles, revamped our website and had our first Tech update! We couldn't be happier with the recent developments.
Even more exciting times ahead! Stay tuned!
Constantinos Antoniou
Head of Community
About Panther
Panther is a decentralized protocol that enables interoperable privacy in DeFi using zero-knowledge proofs.
Users can mint fully-collateralized, composable tokens called zAssets, which can be used to execute private, trusted DeFi transactions across multiple blockchains.
Panther helps investors protect their personal financial data and trading strategies, and provides financial institutions with a clear path to compliantly participate in DeFi.
Stay connected: Telegram | Twitter | LinkedIn | Website
Share this article on: