Urgent vote on recommendation to postpone TGE launch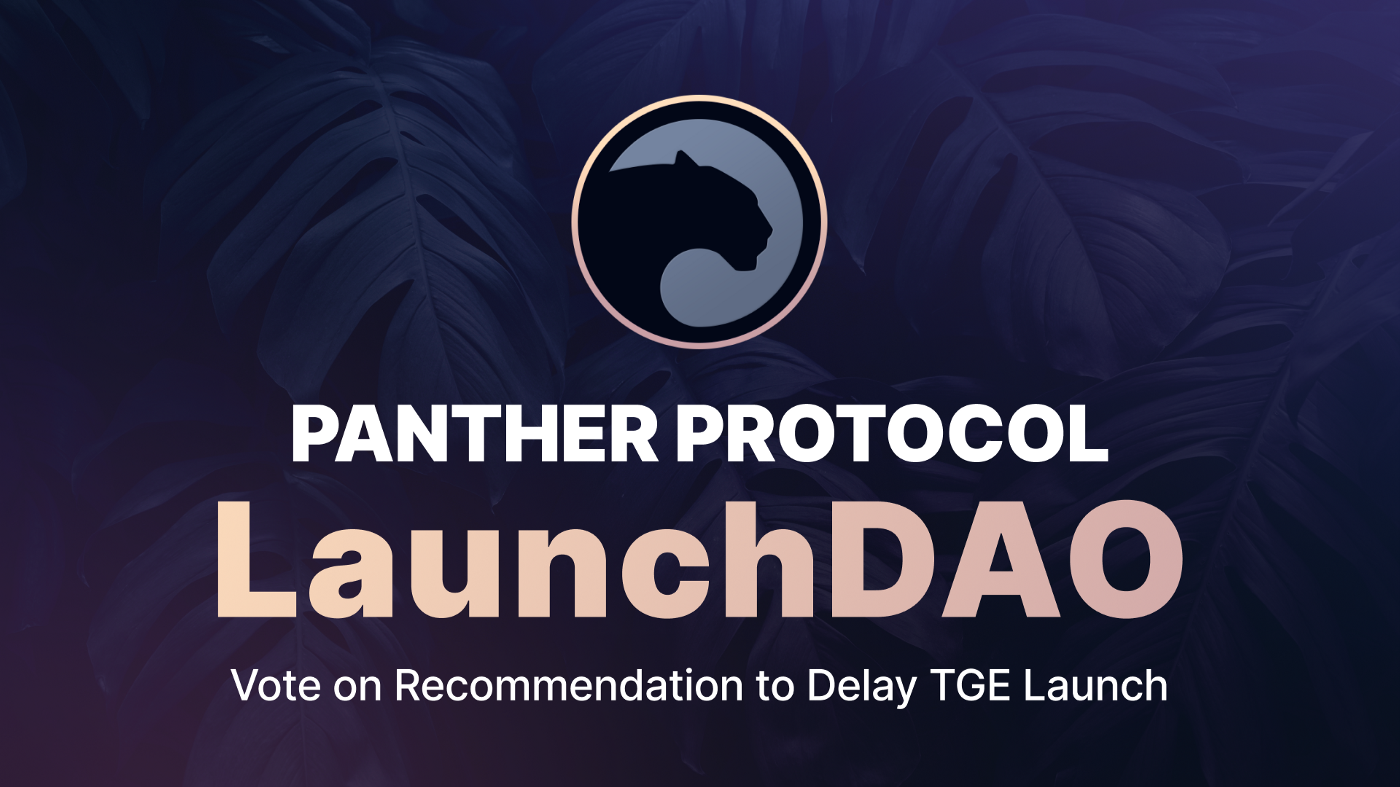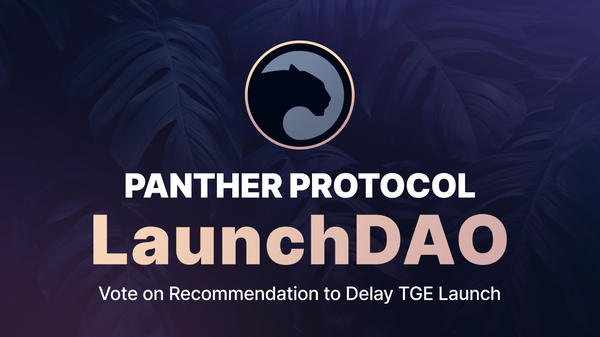 Table of Contents:
Dear Panthers,
2021 was a difficult and unpredictable year for most people around the world, and the core team at Panther Protocol was no exception.
Conducting a ground-breaking decentralised launch is a complex legal, financial, and technical challenge, so we greatly appreciate your patience as we have been working very hard to navigate uncharted waters.
This has always been a community project. Our aim has always been to keep Panthers at the center of everything we do, as demonstrated by the development of LaunchDAO to hand all power to you, our community.
To maximise the chances of a successful launch that results in the protocol being sustainable in the long term, we need to explain the challenges we currently face if the TGE (Token Generation Event) goes ahead as planned on January 4th.
No immediate CEX listings of the token as well as corresponding market makers at launch pose a high risk of negatively impacting the token's price.
Outstanding compliance checks will delay the release of tokens to a significant number of investors.
See below for more details on these points, and how to vote.
While our team's strong recommendation is to delay TGE for these reasons, we ultimately would like to give you, our loyal community, the opportunity to vote on whether it happens on the 4th (as originally planned) or is delayed to January 31st.
We fully understand and appreciate the disappointment and frustration that this delay, if approved by voters, would cause some community members. Even when delays are related to circumstances beyond our control, we consider ourselves accountable, and we must own the hard lessons learned through this process, and communicate better moving forward.
Compensation for the delay
Should this proposal to delay pass and to compensate for the delay, the previously planned 3-month $ZKP Staking Rewards Pool will be boosted by 33%, in lieu of the staking rewards which would have been available in between Jan 4th and the new TGE date.
Additionally, anyone who did not have a chance to claim $PreZKP yet will be given another chance to participate in LaunchDAO voting.
The issues identified and the reasons we're proposing to delay the TGE are the following:
1. CEX listing and market liquidity
Whilst we already have two CEX (centralised exchange) listings approved, the holiday season and the heavy compliance process required for exchange listings have both been delaying factors for these to come into effect. Therefore, whilst the process has been initiated and these listings are confirmed, they would not be ready ahead of a TGE on January 4th.
As seen with TGE events for several crypto projects in the past, the token price decreased massively upon launch when the proper market exchanges and liquidity was not secured in advance. A delay would give us time to make every effort to launch in the right way.
We aim to build a world in which decentralised infrastructure is sufficient for the industry to stand on its own. However, the current reality is far away from this, and centralised exchanges play a crucial role in maintaining a token economy's visibility and stability.
2. Compliance issues
The Panther launch is following Gibraltar VASP (Virtual Asset Service Provider) requirements for compliant token sales. Our audit was very recently completed and some unexpected compliance issues have been uncovered regarding the public and private sales. The net impact is that a significant number of investors would receive their tokens not upon the TGE (Token Generation Event) date, but later, after necessary follow-up auditing has been completed. We believe that inequality between investors would be unfair, negatively impact the token price, and therefore not be in the best interest of any of our community members.
Other unexpected challenges
Recently we have had a number of unfortunate headwinds that have made the final preparations for a strong launch on the 4th very difficult. Our CEO, CTO, and CFO all suffered from COVID, as did some other team members. Some other staff members had unexpected personal issues reducing their availability.
Please know that, through these challenges, we have done everything in our power to stay on top of our delivery dates. We are committed to our mission to bring the right privacy solution for DeFi, and we thank you for your continued support. As some of you may have noticed from our community channels, many team members have been working extremely long hours and cancelling planned holidays to make up for these delays. Inevitably, however, we have been set back by these issues.
A second LaunchDAO proposal
Based on the above factors, we believe that, while the launch described in the first LaunchDAO proposal is entirely suitable, executing it on January 4th carries significant risks to the protocol, the token price, and to the value of individual investments. We also strongly believe that these risks could be minimized by delaying the TGE to the end of January.
We're doing everything in our power to meet the above challenges as soon as possible, and we have a long term commitment to the mission of sovereignty and freedom. We believe that it is much better to launch slightly later than planned and do it correctly, than launch early and do it wrong. Providing privacy and trust to DeFi requires not rushing steps and triple-checking key variables.
The final say on this delay remains in the hands of the community, and we would like to ask you to vote on the next steps, by following the instructions at https://panther-protocol.gitbook.io/launchdao/guides/voting.
Technical details
If the majority of votes are in favour of proposal #2:
Signers of the DAO multi-sig wallet will act on behalf of the community to invoke the markProposalAsInvalid function on proposal #1, therefore it would not be executed.
A replacement proposal #3 will be submitted, very similar to proposal #1, but with TGE date at the end of January.
Kindest regards,
The Panther Protocol Team
About Panther
Panther is a decentralized protocol that enables interoperable privacy in DeFi using zero-knowledge proofs.
Users can mint fully-collateralized, composable tokens called zAssets, which can be used to execute private, trusted DeFi transactions across multiple blockchains.
Panther helps investors protect their personal financial data and trading strategies, and provides financial institutions with a clear path to compliantly participate in DeFi.
Stay connected: Telegram | Twitter | LinkedIn | Website
Share this article on: