We are debuting decentralized private launches with Panther LaunchDAO!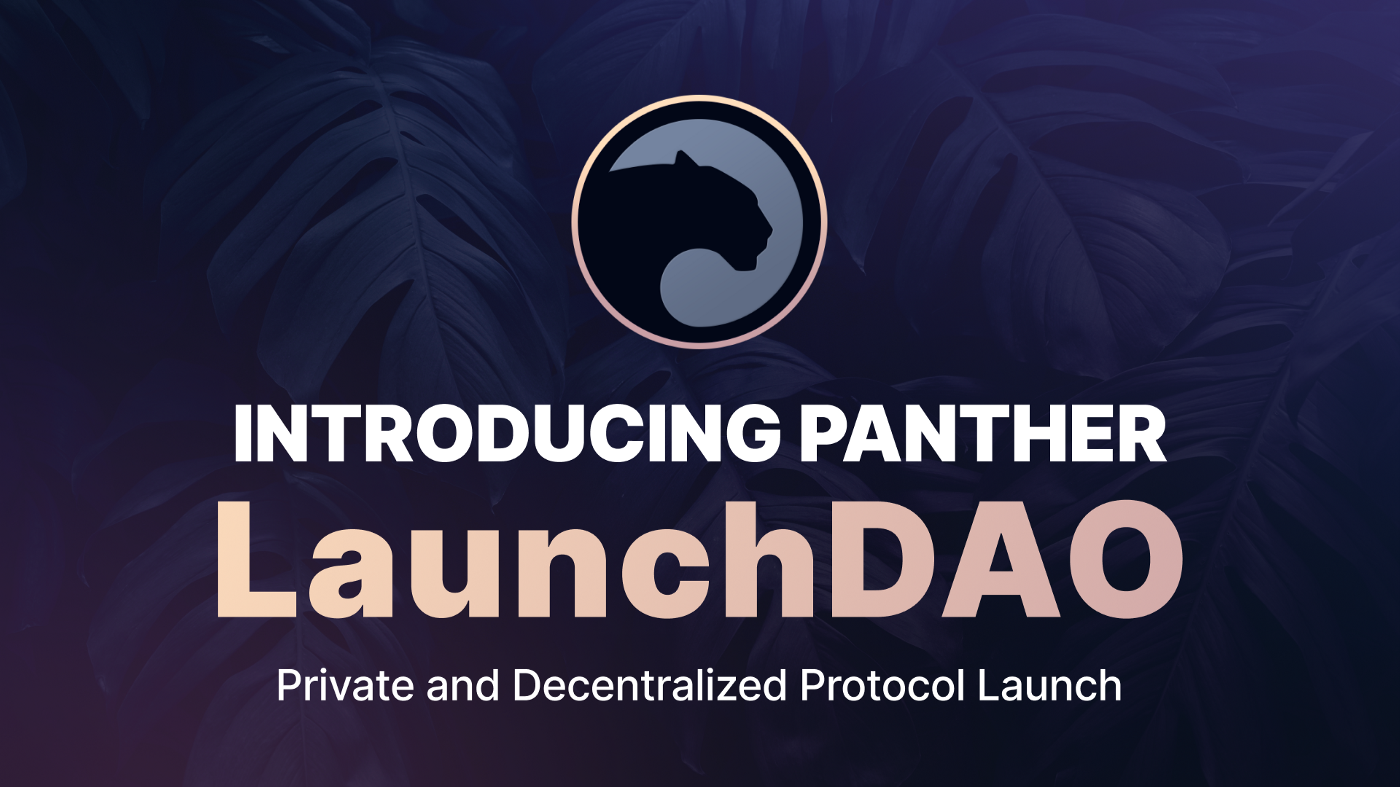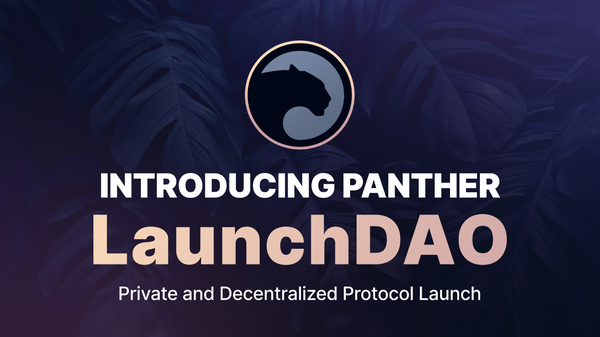 Table of Contents:
The Token Generation Event is closer than ever. And, as we shared earlier this week via an exclusive email, the first step towards it is LaunchDAO: The very first community-led, private, fully decentralized protocol launch.
With long-term success in mind and the utmost respect for the cypherpunk values, the team wants to initiate the project in a private, decentralized manner. LaunchDAO gives the community the keys to the kingdom to collectively launch the $ZKP token on the Ethereum network and kick off the smart contracts through a vote.
Additionally, you will be rewarded for your participation in launching Panther DAO with $ZKP tokens!
LaunchDAO is a crucial breakthrough for the industry. Panther is building the primitives upon which future projects will launch tokens and DAOs in the future, and we couldn't be prouder to present this to you.
What makes LaunchDAO so revolutionary?
LaunchDAO is the prototype of a generalized, private voting protocol, and will be used in far-reaching applications ranging from on-chain community governance matters to private, fair democratic elections that nonetheless verify user identities. These kinds of use cases require each action in the voting process to be conducted in a fraud-proof manner, which is, for the first time ever, achieved by LaunchDAO.
From a decentralized perspective, LaunchDAO represents the first time in crypto history a fully verified user base has been able to vote on the future existence or non-existence of a protocol. The Panther protocol will be deployed and launched privately and trustlessly by the LaunchDAO, or not, as the voters — the Panther protocol KYC'd Private and Public Sale participants — will decide. This act lifts any jurisdiction or actor-specific burden/liability for protocol launches off of the development team, which in turn safeguards and protects the protocol and its development.
LaunchDAO also represents the official debut of Panther ZK Reveals. ZK Reveals protect the identity of each voter and use zero-knowledge proofs to validate that they are both qualified to vote without leaking confidential information. Thanks to ZK Reveals, no one will be able to learn how you cast your vote… not even LaunchDAO itself.
By creating this system, Panther is taking the first step on its mission to help infuse DeFi in general with default privacy. We are also simultaneously advancing towards our goals of decentralization and protocol development, so we couldn't aim for a better output!
The Token Generation Event is on the horizon
As a valued member of the Panther community who has successfully completed KYC, you are being invited to participate in the exclusive Panther LaunchDAO. You will also be rewarded with $ZKP for voting on the launch of our token. These tokens will be sent to you in addition to your purchased allocation through the Private or Public Sale.
In a nutshell, here's how you register:
Register at LaunchDAO between December 20th and 24th. The registration process has to happen on a desktop device (Windows, macOS or Linux) on a browser that is compatible with Metamask.
Claim your $preZKP token. You can only do so through your Metamask wallet, so make sure you use the same one you used for your KYC registration. Your Metamask might prompt you to change networks to the Polygon (Matic) chain to interact with the LaunchDAO smart contracts. You will incur no gas fees through this process.
Wait for voting to start this December 27th-29th. Voting will be open for three days on a dedicated Snapshot.org link
TGE will happen this January 4th, should the community vote to launch the protocol.
Again, please note that to successfully vote using your $preZKP, you will need to make sure you use the same Metamask wallet you provided for the KYC process.
There will be no fees associated with registering. You will not need any assets in your wallet to pay for gas, since the process will construct signatures off-chain and send them to a Panther relayer in order to preserve your privacy.
ZKP rewards for LaunchDAO participants!
We have decided to incentivize the voters in LaunchDAO with 500,000 $ZKP tokens. There are 14,000 community members who have successfully performed KYC to participate in our private or public rounds.
The $ZKP Voting Rewards Formula is: 500,000 $ZKP / Number of Voters
So the rewards will range from 35 $ZKP (if all 14,000 KYC'd community members vote) and 25,000 $ZKP (if the minimum number of 20 votes take place). We encourage everyone to participate — the more registrants and voters, the higher the level of decentralization.
Stay tuned for more updates on the specific of each step along the way, including Voting opening. This process is an industry first-ever and, as such, we're making sure that every process is streamlined to achieve our goals.
Kindest regards,
The Panther Protocol Team
About Panther
Panther is a decentralized protocol that enables interoperable privacy in DeFi using zero-knowledge proofs.
Users can mint fully-collateralized, composable tokens called zAssets, which can be used to execute private, trusted DeFi transactions across multiple blockchains.
Panther helps investors protect their personal financial data and trading strategies, and provides financial institutions with a clear path to compliantly participate in DeFi.
Stay connected: Telegram | Twitter | LinkedIn | Website
Share this article on: