Here's the Panther Roadmap - our quest for private DeFi.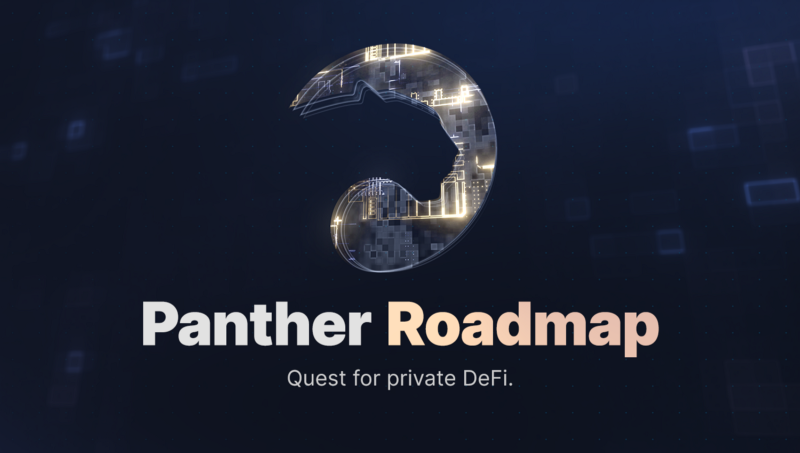 Table of Contents:
Panther Protocol is an ambitious project that seeks to create an end-to-end privacy protocol for digital assets and proposes a new asset class called zero-knowledge assets (zAssets), which are fully collateralized, privacy-enhancing assets that are interoperable and composable with DeFi infrastructure. Think of zAssets as private versions of the original assets: zBTC, zETH, zUSDT, etc…
Key to the success of Panther Protocol has been the early acquisition of leading technologists to join the team; where technical prowess has been coupled with disruptive thinking and in-depth knowledge of the DeFi space.
Panther Protocol's main goals are:
to provide a secure, private transaction ecosystem with a superior user experience,
to maintain composability with decentralized finance (DeFi) protocols,
to ensure privacy backed by a game-theoretic model,
to establish verifiable trust relationships between participants,
to develop a novel price discovery mechanism for privacy,
And lastly, to propose a new compliance model to the world, where zero-knowledge proofs and selective disclosures become the norm, instead of relying on the risky concentration of data and loss of privacy, that is subject to abuse, data breaches, and other risks.
Strap in and enjoy the ride. First, a little history
A strong founding team is the basis of any successful project.
While Panther was established in Q3 2020, it's relevant to note that the two founders, Oliver Gale (CEO) and Anish Mohammed (CTO) have been involved in crypto, fintech, security and cryptography for many years.
Anish has 20+ years in security and cryptography, is an early advisor to Ripple, reviewed the Ethereum orange paper, worked on several projects such as Ocean and Boson and is the co-founder of the UK Digital Currency Association.
Oliver on the other hand is a serial entrepreneur and CBDC pioneer with a decade of experience building fintech and blockchain projects and has been involved in policymaking discussions and thought leadership at the United Nations, ITU, MIT, Columbia University, the IMF and several central banks and governments.
In Q3 2020, Oliver and Anish started laying the groundwork for Panther.
Due to the founding team's credibility within the space, and the vision for privacy in DeFi, Panther received pre-seed funding from a variety of investors and VCs in the space very early on. This allowed the team to initiate formal research in the efficacy of zero-knowledge proofs and the provision of privacy.
The initial design of the protocol also began to take shape. The team also cleared the legal landscape to ensure the longevity of the project. It was also at this stage that Oliver and Anish decided to establish Panther Ventures Ltd in Midtown, Gibraltar, due to more crypto-friendly regulatory legislation.
Our grand vision was set: to create a foundational decentralized privacy metaprotocol that enables confidential, trusted transactions across all of DeFi. A privacy hub that connects all of the layer 1 blockchains and is composable with the entire decentralized finance ecosystem. From this desire to change the world, Panther was born.
In Q4 2020, the project initiated Project Setup phase I
Our focus shifted towards:
defining a core team,
founding the company in Midtown, Gibraltar,
researching and writing the Litepaper,
establishing token economics,
Defining the initial specs of the protocol development.
The team was expanded to include other seasoned professionals:
Vadim Konstantinov, with 30 years experience in space vehicle engineering, finance and fintech and since 2014 active in Blockchain projects.
Dr. Arnaud Yau joined with 20 plus years across academic research, financial services, defence R&D and hardware security tokens. Dr Yau also is very experienced in blockchain technology and smart contract security.
Ramadan Ameen joined as Head of Ops and Finance with a starred career in the US Airforce and five years at Blackrock working front, middle and back-office with institutional relationships across the spectrum.
Together the team was gaining traction and published the Lite Paper in Q4/2020.
It was in this quarter that we have defined that the Panther token ($ZKP) would become a finite supply, privacy-preserving governance token that represents a right to vote on governance proposals on the Panther Protocol.
$ZKP will be used in several instances including to reward Privacy Miners for providing zAsset transactions to the Panther Pools, which could be viewed as a specialized form of liquidity mining. In the early stages of development on the Ethereum platform, $ZKP will be used to pay for protocol fees, compensate miners, fund the DAO and reward Trust Providers for providing attestations about users. Tokenomics and token functionality can develop and change over time in harmony with the project and community but there will only ever be 1,000,000,000 $ZKPs.
In Q1 2021, the project initiated Project Setup phase II
The funding rounds continued apace, with the seed round closing northwards of $3.8million. As ideas crystalized, crypto-economic simulations were trialled to allow for an ideal functioning of the protocol and more partnerships were sought and secured through MOUs as Panther found like-minded thinkers in the privacy space, such as Liquality, Ashlar and Sentinel. More details about these partnerships and many more will continue to be published in our Medium.
The architecture of the protocol advanced and clarity continued to improve. Previously, privacy-native cryptocurrencies had been touted as a solution to single-chain cloaking, but they were not composable with the DeFi ecosystem, limiting their utility.
Likewise, emerging privacy protocols were not designed with regulatory compliance in mind. Both attempts at offering privacy solutions are unlikely to encourage institutional investors from experimenting in this space.
Into this sweet spot of privacy, compliance friendliness, and DeFi composability we positioned Panther, with mainstream adoption in mind, not just for our Protocol, but to the entire DeFi space.
In addition, to continue the expansion of the team, Panther strengthened its capabilities with the onboarding of two advisors: Dr. Akaki Mamageishvili, Game Theory Advisor, a Theoretical computer scientist focused on mechanism design and collaborating on the game-theoretic pricing model for privacy and other crypto-economic aspects of our design, and Marketing advisor Bruno Ahualli, a Serial Entrepreneur with 20+ years in digital, who led marketing at Boson Protocol since its inception.
The Present and the Future of Panther
In Q2 2021, the project initiated Project Setup phase III
As interest and funding poured in, Panther closed its Private I and Private II token sale rounds, totalling $8m raised through incredible 140+ investors, in an effort to make Panther a community-driven project from day one.
This successful series of fundraising events allowed us to accelerate hiring efforts on all fronts. Panther started attracting greater attention inside the crypto community and outside of it too.
This culminated in the arrival of customer-facing technologists such as Adam Spiers, with 25 years in open source development, and Saif Akhtar, an expert in enterprise Blockchain excellence in the mobility space, joined as Senior Architect and Head of Product respectively.
Panther went from a core circle of committed technologists to a larger, broader, more fluent batch of collaborators, including marketing, business development, sales, PR, and partnership leaders. Heading up the strategic communications, veteran technologist and award-winning journalist and broadcaster, Jillian Godsil joined the team. An experienced chair and communicator, Jillian has been named many times in the top 100 blockchain people globally. The design was also a key part of the new company with experienced UX/UI designer Chris Folta coming on board as creative director bringing his unique and powerful design features.
To name a few, Andrew Zapotochnyi, former CEO of Blockgeeks, a leading education player in Blockchain, joined to lead marketing, and Tee Ganbold, a Technology Executive with broad experience both as an operator and investor in frontier technology companies such as Fabric Ventures, ConsenSys, Intrepid Capital Partners, and Clear AI, joined as Head of Ecosystem Growth.
Currently, the project is experiencing triple-digit monthly growth on all of its social media channels — a testament to the interest in (and need for) privacy in DeFi. During this quarter, Panther will also increase the publishing efforts of its code and documentation on Github, and the first public white paper will be released.
Q3 2021 — Beta Phase: Transactional Privacy & Disclosure
The future of privacy in DeFi begins in Q3 2021.
Our development is focused on:
• Ethereum as a first peerchain for Panther
• PoC for Panther L1 & L2
• zAssets minting & burning
• zAssets mixing
• Privacy relayers
• $ZKP Token on Ethereum (ERC20)
• Voluntary disclosure of transactions
• Initial DAO setup
It's also during Q3 that we intend to do our IDO and Public Sale.
While Ethereum was the first platform to be addressed by the team, we know it to be only the first of many so we have coined the term peerchain to indicate the rising number of layer 1s we will integrate with and infuse with interoperable, composable privacy.
Gaining achievable traction is vital so Ethereum was the first blockchain to be addressed for obvious reasons — it's the king of smart contracts and (still is) the center of the universe for DeFi.
The concept of zAssets is unique in its application in Panther and is defined as: zAssets are private minted cryptoassets that are derivatives of other, typically non-private, cryptoassets such as ERC-20 tokens and similar.
In Panther Protocol, a zAsset is pegged 1:1 to the underlying cryptoasset which is locked as collateral in Panther Vaults, and the latter may be redeemed by burning the minted zAsset.
Panther Protocol provides users with a customizable level of privacy at the transaction level. In other words, users may want a certain transaction to be fully private, or they may want to selectively disclose more information about their identity or transaction due to regulations or requirements of the financial application they are interacting with.
But note, all of these settings are determined by the user. The user is in complete control of their privacy and their data. Between fully public and fully private, there will be different levels of disclosures available.
To explain: Zero-Knowledge Disclosures will allow users to prove to the verifier that the transaction happened in accordance with a certain rules engine, without actually disclosing any data from the transaction itself. It also allows the user to prove certain elements of their identity without revealing others. Users will be also able to provide complete details about their transactions, when requested by the counterparty, but again, at their complete discretion. This was a crucial step forward for the Panther team.
To quote our CEO, Oliver Gale:
"We believe that this is the perfect middle ground between privacy and compliance. If we advance society to a level where compliance is verified through zero-knowledge proofs, Panther will have fixed one of the largest challenges of the privacy problem. The ultimate goal of the protocol is to provide users with freedom and sovereignty."
Q4 2021 — Trust / Compliance Phase I
With the acceleration of our growth, more workstreams can be parallelized.
In Q4 2021, we will focus on:
Trust / Compliance Phase I
• Trust provider technology
• Voluntary disclosure of statements
• Service provider technology
Decentralization Phase I
• DAO (Quadratic voting)
• Addition of a Second peerchain
Prototype Defi integration
Zero-knowledge proofs have widely been accepted as a format to accept proofs without having to disclose unnecessarily or indeed any details.
Putting such technology into practice has been the headache of most advocates. In Q4, begin the execution of a roadmap that is notably innovative and challenging, but a pursuit that can change the world.
It's during Q4 that we intend to add Service Providers and Trust Providers to our architecture. The former are entities that wish to use Panther to allow private (zAsset) transactions with their customers (Panther users) whilst being able to trust those users, while the Trust Providers are entities that can provide verifiable statements (attestations) about users which allow service providers to increase their trust in those users.
To read more about these groundbreaking implementations please make sure to read our whitepaper, which will be released in the coming days.
For many of DeFi use cases, Panther could facilitate either full disclosure of the signed statements or zero-knowledge proofs of the statements. The approach is to always empower the user to select between full privacy, zero-knowledge disclosures and full disclosures. We believe this is the missing link between user control and becoming future proof, from a regulations standpoint.
Panther allows users to voluntarily generate and share disclosure statements with whichever third parties they choose, in order to prove details of their interactions with Panther Protocol, and other statements about themselves which may be required in order to interact with counterparties.
Another important development for Q4 2021: the DAO will be instituted using quadratic voting, a process whereby collective decision-making procedure involves individuals allocating votes to express the degree of their preferences, rather than just the direction of their preferences. By doing so, quadratic voting helps enable users to address issues of voting paradox and majority rule.
In 2022, the initial vision gets delivered, but it's just the beginning…
Here we reach the stage of forward-thinking, stitching together the ideas that became reality in the late stages of the Global lockdown. The powering ahead of the strong technically savvy and financially erudite team is balanced by a desire to be as transparent as possible.
In the same way, privacy is upheld through integrity, so too is a protocol aiming to provide such privacy. Only by peering into the cracks can the substance be seen.
The ultimate desire is for the protocol to achieve true decentralization and in each step to demonstrate how governance consensus has been reached.
The Roadmap is a living document with aspirations and actualities listed for each new period. In tandem with the published White Paper, this directional document will help flag strategic direction and outline milestones in progress and in hand.
The soon to be released whitepaper aims to weave together the topics of DeFi, privacy, trust, compliance, economics, game theory, and privacy-enhancing technology (such as zero-knowledge proofs) into a coherent thesis that motivates and informs the design of Panther Protocol.
In our whitepaper, we will dive into Panther's architecture, technical design, governance, and tokenomics, and finally, conclude with a reflection on where Panther is now and where it will take us in the future.
We hope that you enjoyed reading our Roadmap article, and welcome you to become a part of our community, to know where the project is heading. We believe the whitepaper will be a very enjoyable read for the crypto enthusiasts of the world who believe in the importance of privacy, freedom and sovereignty.
With a fair wind at our back, we can achieve anything and everything and we hope you stay for the ride.
About Panther
Panther is a decentralized protocol that enables interoperable privacy in DeFi using zero-knowledge proofs.
Users can mint fully-collateralized, composable tokens called zAssets, which can be used to execute private, trusted DeFi transactions across multiple blockchains.
Panther helps investors protect their personal financial data and trading strategies, and provides financial institutions with a clear path to compliantly participate in DeFi.
Stay connected: Telegram | Twitter | LinkedIn | Website
Share this article on: