Monthly Update: October 2022
October is gone! This month saw us inaugurate the Panther Discussion Forum, conduct final internal testing for Advanced Staking deployment, and much more. Here's our full recollection.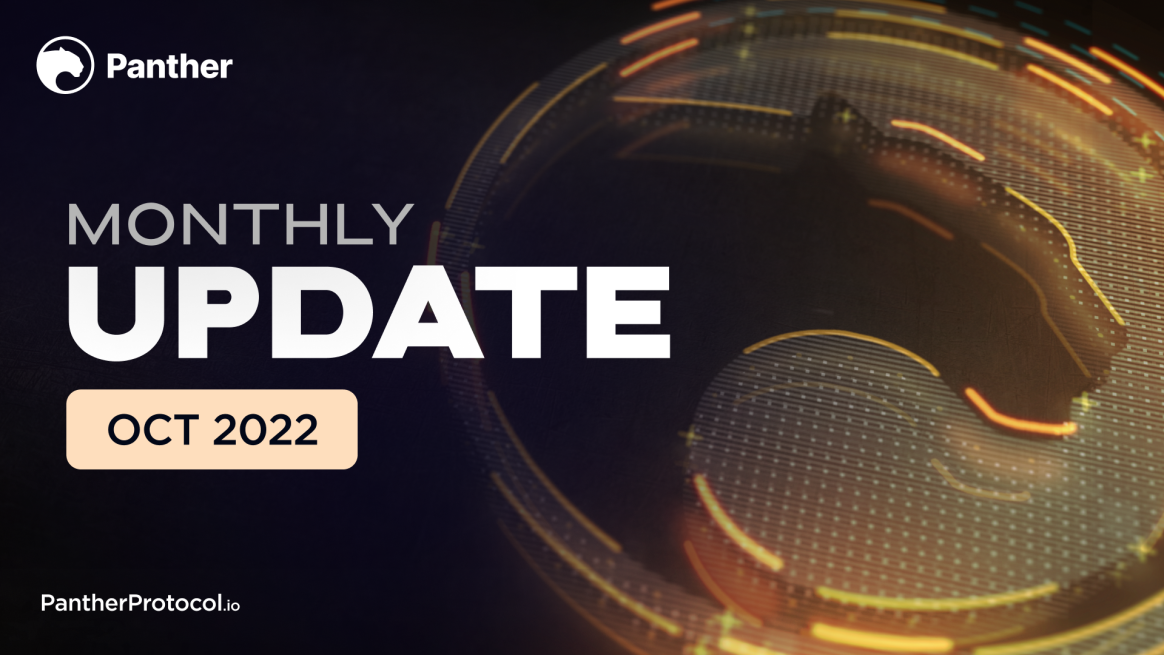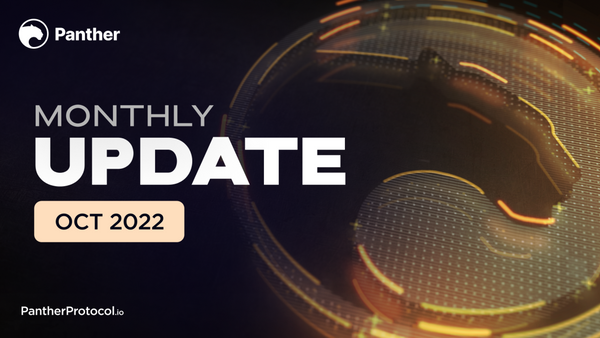 Table of Contents:
Tech and Product
Advanced Staking
Week after week, we've published updates on the state of Advanced Staking development and testing. Currently, we're defining the remaining operational steps for its release, a topic we'll touch on in our upcoming AMA.

Besides this, deployment scripts and readme are being reviewed. Minor reviews of the UI are also underway. We'll soon publish a detailed guide about this milestone for our protocol!

Panther's v1 release
This month, the development contributors have outlined and estimated resources for the remaining tasks involved in this release. This will help us better project and prepare for this milestone. A crucial ongoing step is finalizing all the zero-knowledge circuits needed, based on the possible user flows.

Work has also started on a project preliminarily called zTrade. This functionality will enable v1 users to swap assets within Multi-Asset Shielded Pools.

Our DeFi integration project is moving forwards as well. We have completed our DeFi Adaptor product definition, with its implementation to begin this month. A new Blockchain Architect will also join in early November to lead the cross-chain project.
Community
Panther Discussion Forum
On October 4th, we released Panther's Official Discussion Forum, a space for all of our community to engage in the discussions that will decide Panther's future.

Access it now and play your part in steering our trajectory!

To facilitate community-led decision-making for the Panther ecosystem, independent moderators manage the Discussion Forum. Please fill out the application form if you are up for the task.
Leading Privacy Alliance
The Leading Privacy Alliance (LPA) is an initiative that brings together Web3 firms and organizations with the common objective of increasing privacy in crypto and beyond.

"Our ultimate goal is to raise awareness about the current state of privacy, implement solutions to these problems, and educate users and projects about the fundamental role of privacy in the technology we build and use."

The initiative was launched on October 9th, just before Devcon Bogota, where Panther became one of its very first members. Adam Spiers, our Senior Architect, spoke on the stage during the inaugural event, outlining why Panther decided to join this movement.

Events
Devcon Bogotá
This October 11th-14th, contributors of Panther attended DEVCON Bogotá, in Colombia! DEVCON always involves attracts the very best in the industry, and there were lots of discussions about partnerships, protocol-building, and the future of Ethereum with other blockchain developers.

We also got the opportunity to chat with Panther backers and believers and distribute some Panther swag!

World Ethical Data Forum
Panther also participated in and sponsored the World Ethical Data Forum. The WEDF is an event spanning multiple industries in tech, with discussions around the numerous outstanding issues surrounding the future of data.

Panther in the media
In his first standalone article for Forbes Business Council, Oliver Gale points out how the Web is changing towards a new open paradigm, the impact of these changes in users, and how businesses can adapt.

Oliver also authored a guest post for VentureBeat on how zk-proofs will guarantee compliance for DeFi adoption. Oliver says,

"More than ever, protocols need to implement a rigorous approach to compliance. Regulators, on the other hand, must keep the focus on the appropriate actors in the Web3 space, as overreaching destroys the economic value otherwise available."

For a change of pace, the Bloomberg Crypto podcast invited Oliver to talk about the crypto nomad lifestyle. Is it feasible to be a crypto nomad during a bear market? You can listen to this cheerful episode on Spotify or Apple Podcasts!
Hirings
Several positions remain open on our Angel.co page. If you believe that you or someone you know might be a good fit for these, make sure to apply! Here's the full list:

Panther Academy
We've published two Panther Academy articles in October. On Threshold Cryptography: An Overview, we look closely at one of the most secure cryptographic techniques recently making waves on blockchain applications. Understanding Distributed Validator Technology (DVT) puts one of threshold cryptography's most compelling uses in the spotlight.

Our "What is a zkEVM?" piece published on August 30th was featured in CoinMarketCap Community Spotlight earlier this month. Our work educating the public on zero-knowledge and blockchain continues to pay off and receive recognition everywhere!
November Calendar
We're having a good old Telegram AMA on Wednesday, November 9th, featuring Panther's Co-Founders Oliver Gale and Anish Mohammed, along with Head of Product Saif Akhtar. You're all invited to tune in at 3 PM CET to talk about the latest developments in the Panther ecosystem!
About Panther
Panther is a decentralized protocol that enables interoperable privacy in DeFi using zero-knowledge proofs.
Users can mint fully-collateralized, composable tokens called zAssets, which can be used to execute private, trusted DeFi transactions across multiple blockchains.
Panther helps investors protect their personal financial data and trading strategies, and provides financial institutions with a clear path to compliantly participate in DeFi.
Stay connected: Telegram | Twitter | LinkedIn | Website
Share this article on: