Monthly Update: September 2023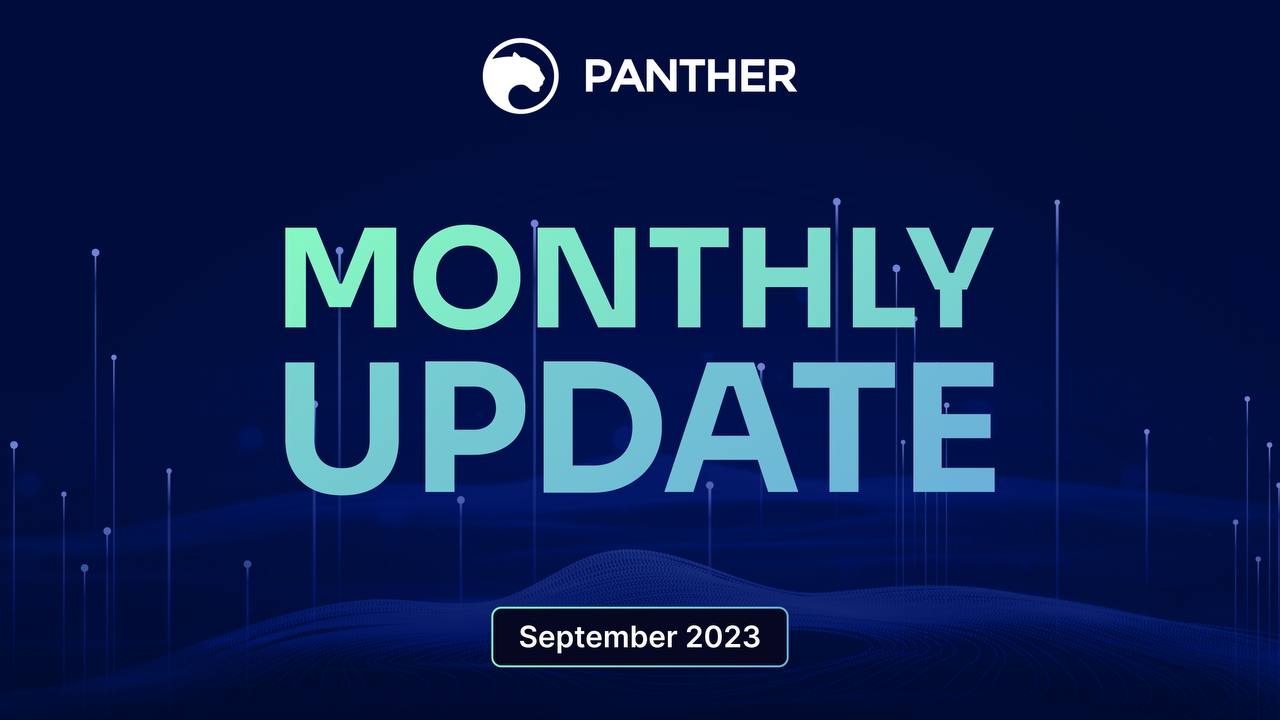 Table of Contents:
Dear Panthers,
It's the end of the month again! Here's a round-up of everything that went down this September.
Tech Updates
v1 Testnet update
Stage 2 of our v1 Testnet is still in the making. This Stage is predominantly about converting Panther Reward Points to $zZKP. The introduction of an additional feature ("vouchers") will enable users to test this conversion while remaining in a testnet environment, an addition that slightly differs from this Stage's original design. The function is still undergoing internal testing.
Concurrently, Stage 3 work has already started and is in progress. This Stage will be centered around depositing assets into Shielded Pools.
We're excited to get Panther v1 in your hands. Look out for more updates on the Testnet launch in the coming weeks!
Update to the Stage 1 Testnet's url
As we progress on the above, we have updated the link for Stage 1 on our Testnet information repository. The new version contains a few tweaks and upgrades.
To access it, go to: https://docs.pantherprotocol.io/docs/product-and-technological-components/product-versions/v1-testnet/testnet-stages
Comparing Panther's approach to 'Privacy Pools'
The recent Privacy Pools paper struck a chord with the Web3 community. It's clear that preserving users' privacy in a compliant way is crucial for the mass adoption of decentralized technologies.
After carefully reviewing the paper by Vitalik Buterin, Ameen Soleimani, Mat Nadler, Chainalysis' J. Illum, and Fabien Schär, we wrote an article comparing Panther's solutions to 'Privacy Pools'.
Both protocols attempt to exclude bad actors from a privacy-preserving system based on disclosures that can be legally adopted. However, although there are clear similarities, there are also key differences in how we tackle this challenge.
Read our in-depth analysis:
https://blog.pantherprotocol.io/panther-protocol-privacy-pools-approaches-compared/
Integrating PureFi as Panther's first accredited compliance integration
Although PureFi's integration into v1 had already been approved by the Panther DAO, this month we formalized it with an announcement. With this, PureFi joins Panther in enabling compliant DeFi privacy.
Privacy integrations enable Panther to:
Improve its decentralization
Apply compliance at a protocol level
Provide on-chain support for ZK-compatible attestations & signatures
These integrations also prioritize neutrality. Through our team's collaboration with compliance providers like PureFi Protocol, they will be able to issue zero-knowledge proofs for Panther users that submit their data and achieve passing AML scores, ensuring Panther remains uninformed of user data.
Integrating third-party compliance tools like PureFi underscores Panther's dedication to shaping a DeFi ecosystem where privacy tools are normalized and malicious actors are diligently screened out.
Ecosystem
Panel with PureFi
We hosted a meeting with PureFi Protocol to discuss our upcoming v1 integration.
Panther's CEO Oliver Gale, CTO Anish Mohammed, and Head of Product Saif Akhtar joined PureFi's CEO Slava Demchuk, CTO Mykhailo Tiutin, and COO Vasily Vidmanov to break down the complexities of the integration and answer all your questions.
This was a great opportunity to showcase how Panther and PureFi are working together to make privacy-preserving DeFi a no-brainer.
You can listen back to this Twitter Spaces at:
Events
ETHMilan
Panther Protocol participated in ETHMilan, which took place last week on October 5-6. ETHMilan stands as the largest Web3 Conference in Italy, and we are proud to have played a part in this monumental event.
ETHMilan showcased the forefront of Web3 innovations, highlighting tracks such as scaling Ethereum, Decentralized Finance, privacy, and DAO Governance.
Our Co-Founder Anish Mohammed shared the stage as a speaker alongside other Web3 pioneers like HOPR Association & Polygon Labs.
ETHMilan is a celebration of the decentralized future, emphasizing the importance of ethical tools that safeguard freedom, sovereignty, and privacy in the Web3 space.
Panther Protocol aligns with this ethos, leveraging technology for financial sovereignty.
We thank everyone that has joined us at this pivotal event, becoming a part of the movement toward a more private and decentralized future.
ETHVietnam
In the same vein, we are excited to share that co-founder Anish Mohammed will also be one of the speakers at ETHVietnam: the biggest blockchain event series in Southeast Asia.
The ETHVietnam community assembles to contribute to the global blockchain ecosystem, and we are happy to be a part of it. The conference will take place from October 24th to 26th in Vietnam's capital city Hanoi.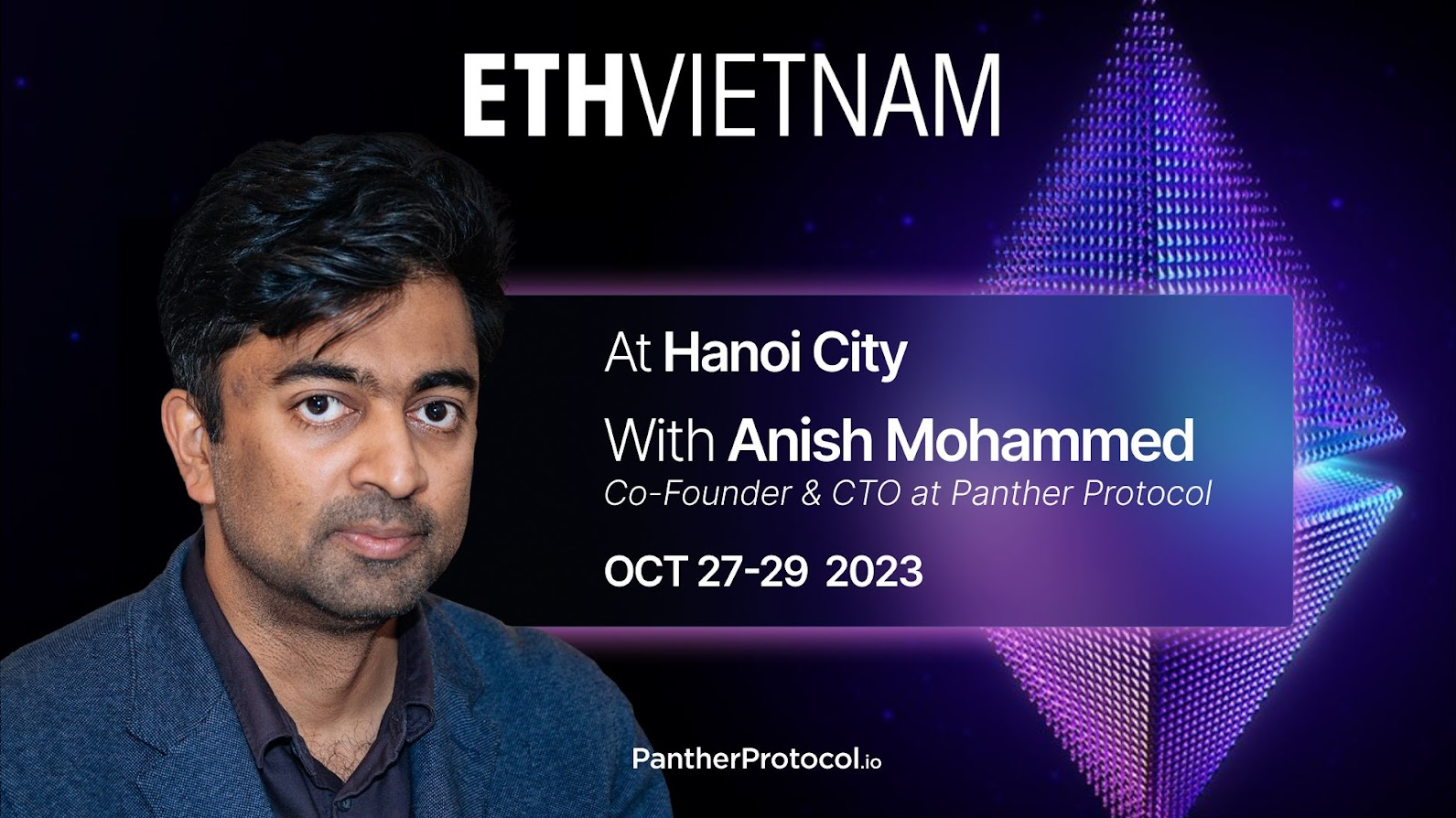 Media
Data Privacy Podcast
This month, Co-Founder Anish Mohammed went on the Data Privacy Podcast to discuss DeFi and data privacy.
Check out his conversation with Joe Dehner from the Frost Brown Todd law firm here: https://frostbrowntodd.com/data-privacy-detective-podcast/
ZK Roundtable
Our Co-Founder Anish also joined a special ZK Roundtable hosted by blockchain research and advisory firm House of Chimera, diving deep into Zero Knowledge alongside other industry experts.
Listen to the discussion at: https://x.com/i/spaces/1nAKErEnYevGL
AI's Impact on Crypto panel discussion
Anish shared his insights on the AI Impact on Crypto panel session. Hosted by Pontem Network, this panel explored the dynamic potential of crypto and AI.
Listen to the discussion: https://x.com/i/spaces/1djGXlVAAeVGZ
About Panther
Panther is a cross-protocol layer that uses zero-knowledge technology to build DeFi solutions that meet regulatory requirements and satisfy users' on-chain data privacy needs. The goal of Panther is to allow seamless access to DeFi and create a cross-chain-supported architecture that serves different use cases. Panther's zero-knowledge primitives are also generalizable to KYC, selective disclosures between trusted parties, private ID, voting, and data verification services.
Website · One-pager · Lite Paper · Twitter · Telegram · Discord
Share this article on: