Panther Protocol Joins Forces with PureFi to Enable Compliance in PriFi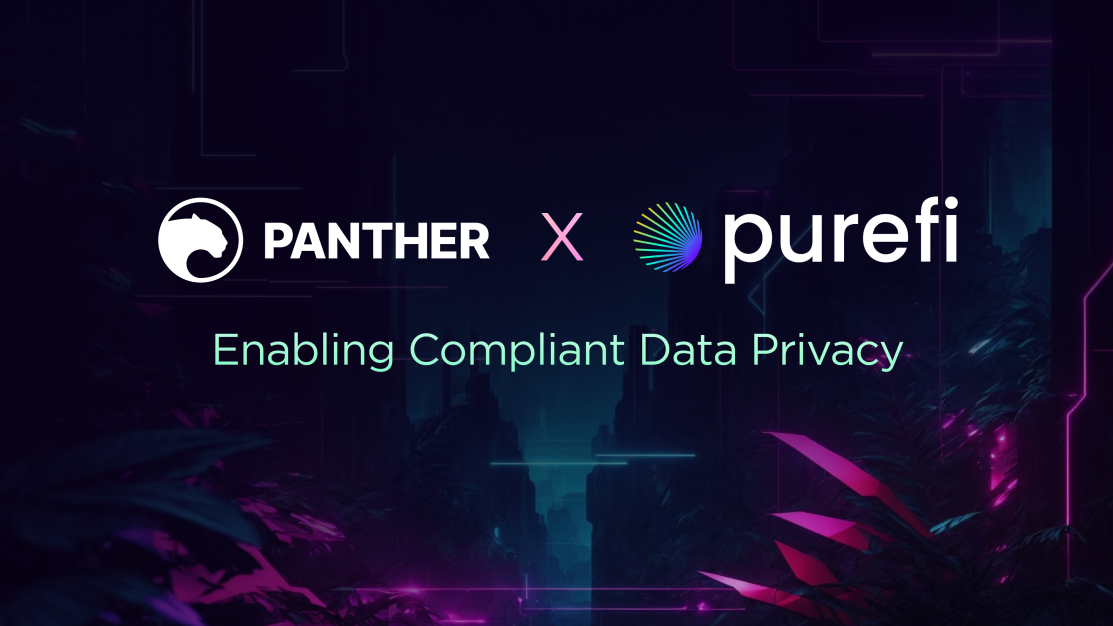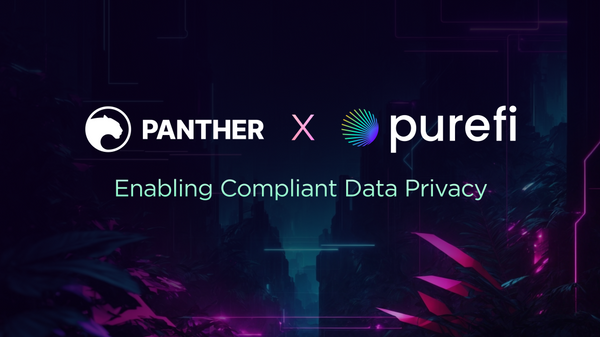 Table of Contents:
Protecting users from total transparency is crucial for addressing one of the main hurdles facing DeFi adoption: data privacy.
In a system where blockchain transparency can be maliciously exploited, alpha decay and surveillance are inevitable, making the current state of decentralized finance incompatible with traditional services. As such, addressing our networks' inherent concerns can only be done with robust controls and proactive strategies in place to prevent the misuse of decentralized tools.
To this end, and in an ecosystem milestone, Panther Protocol and its DAO are debuting a suite of zero-knowledge compliance solutions. This initial release integrates PureFi's services to create a path to compliance and data privacy in DeFi.
Panther Protocol's approach to compliance
Panther Protocol's goal is to create a cross-chain architecture that enables seamless access to DeFi while preserving the privacy of users' data and activity. The protocol leverages the security and liquidity of existing networks while integrating zero-knowledge technology for users to have full control over their data. The protocol's v1 also integrates these features into a solution that DeFi enthusiasts can use to access their favorite protocols.
In a first-of-its-kind approach that complements its decentralized structure, Panther introduces an innovative method to manage compliance risks. Panther integrates third-party compliance providers, operating autonomously from the protocol, to authenticate users, offering them a unique set of credentials after users complete a series of verifications. These credentials then serve the dual purposes of:
Crafting zero-knowledge proofs directly within their browsers.
Seamlessly integrating with blockchain-based DIDs and similar platforms.
Due to the flexibility of this design, Panther users can access the protocol without being bound to a single compliance provider, being able to choose from a variety of them. Once verified, users can then present these credentials as an irrefutable attestation to their authenticity, granting them unhindered access to the protocol. As a result, Panther can retain its neutrality while giving users a path to complying with regulations.
Integrating PureFi

In the process of selecting a compliance vendor suitable for Panther's compliance flow and willing to support the proposed architecture, the Panther DAO elected PureFi.
PureFi has gained recognition in the Web3 space by pioneering the use of technologies such as decentralized verifiable credentials. The protocol's goal is to become a one-stop decentralized compliance solution that onboards institutional money to DeFi. PureFi also actively participated in the Panther DAO's discussions surrounding compliance integrations.
For Panther's v1 release, the integration will fulfill the following functions (with all zero-knowledge capabilities built by the Panther team and PureFi in charge of compliance procedures):
Capturing users' data (email, name, birth date, and nationality) upon their first attempt to access the protocol.
Issuing a signed zk-friendly attestation of the user sharing their data, tied to the user's wallet (which the user can use as a "Master" account to identify themselves).
Running KYT checks (aka "wallet screening") to analyze AML/CTF risks of a deposit/withdrawal, both on the receiver's and sender's end, and issuing zk-friendly KYT attestations upon passing.
Maintaining an on-chain list of valid cryptographic keys (i.e., certificates) of compliance providers, including the EdDSA public key available on Polygon.
Escrowing the compliance provider's backup keys with a reliable 3rd party, e.g., a law firm, to be used in case PureFi goes offline.
Importantly, the integration is designed to be compatible with any compliance provider or multiple of them simultaneously.
In Summary
Zero-knowledge, decentralized compliance, and self-sovereign identity solutions create a technology stack that, for the first time ever, opens a seamless path to compliance while protecting users' privacy. Panther and PureFi are proud to announce a collaboration that will set the foundation for greater adoption of these solutions and Decentralized Finance as a whole.
Panther's compliance integrations can already be tested by ZK technology and DeFi enthusiasts at Panther's Testnet Stage 1, released earlier this month. To test, read Panther's official Stage 1 announcement. Testers can go through the verification flow, create Panther Accounts, and get an exclusive look at Panther's v1!
About PureFi Protocol
PureFi Protocol allows dApps to fully comply with local and global regulations while preserving decentralization and user anonymity.
Developed by AMLBot in partnership with Hacken Foundation to provide a full-cycle solution for crypto asset analytics and AML/KYC procedures for the Web3 infrastructure.
Website | Dashboard | Whitepaper | TG Chat | TG ANN | Medium | Twitter
About Panther
Panther is a cross-protocol layer that uses zero-knowledge technology to build DeFi solutions that meet regulatory requirements and satisfy users' on-chain data privacy needs. The goal of Panther is to allow seamless access to DeFi and create a cross-chain-supported architecture that serves different use cases. Panther's zero-knowledge primitives are also generalizable to KYC, selective disclosures between trusted parties, private ID, voting, and data verification services.
Website · One-pager · Lite Paper · Twitter · Telegram · Discord
Share this article on: