Testnet Stage 1: User onboarding is now LIVE! Here's how to test.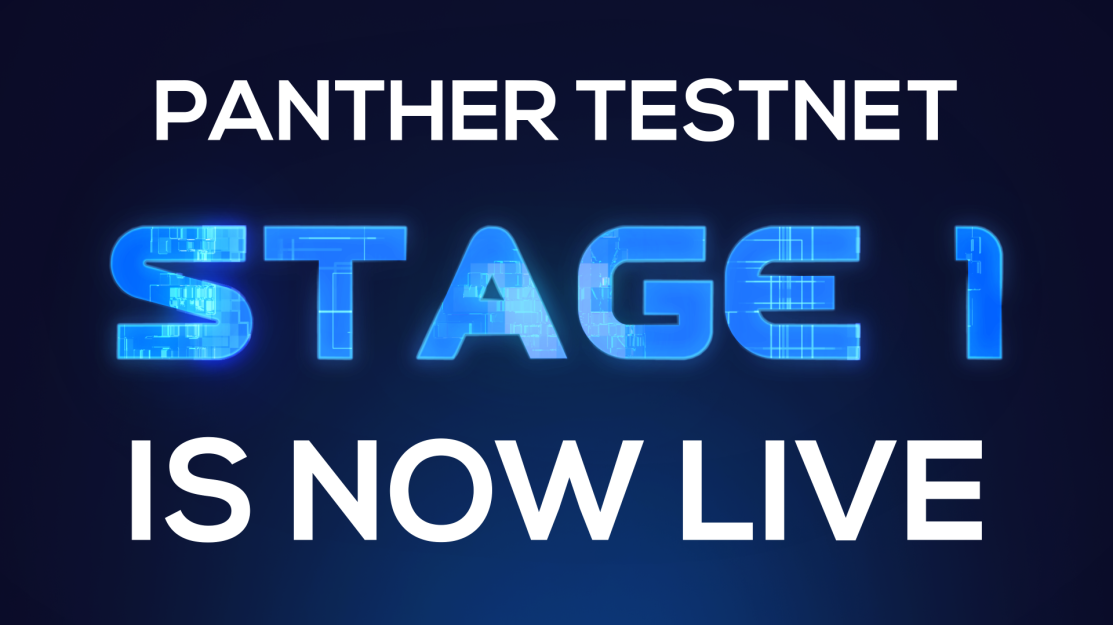 Table of Contents:
Panther community,
After a very successful Stage 0, today we are debuting Stage 1 of Panther's Testnet. At this Stage, you'll test two of Panther's very anticipated innovations: third-party compliance integrations and zero-knowledge accounts.
Stage 1 is public and will have dedicated rewards. It will work only on desktop, not mobile devices. Differently from Stage 0, users will be rewarded for completing the product flow. However, we encourage the community to try to find and submit bugs, as well as to provide feedback. This process ensures that the Testnet returns a bug-free protocol, ultimately improving the protocol and its users' experience.
Let's dive deep into Stage 1:
(Note: For this Stage, the Panther Miner used in Stage 0 will be shut off for two days. We'll put out an announcement when it is back to activity).
Why Stage 1 matters
At this stage, you'll be testing two features that allow Panther to combine privacy-preserving DeFi access with compliance capabilities:
Third-party compliance integrations
Panther has built a system that retains neutrality by plugging directly into compliance providers and integrating them into the application's flow. These systems can capture certain types of user data and issue a zero-knowledge proof attesting that users have been verified without the protocol learning any information from them.
The Panther DAO has been commissioned to select a compliance vendor that aligns with its interests, a discussion taking place in Panther's forum. For the sake of this Testing exercise, an integration has been built that uses PureFi's system. PureFi is a multi-vendor compliance provider that has demonstrated interest in partnering with Panther through the DAO discussions.
Registering using these integrations is a multi-step process that connects a user's Panther Account with the verification performed by PureFi.
It consists of:

a. Creating a Panther Account by connecting your wallet (e.g., Metamask).
b. Undergoing a basic verification on PureFi's site (opened in a pop-up tab).
c. Completing the verification process in the Panther dApp by providing the created proof of verification. This process involves downloading files on your browser (around 30MB), which can sometimes take 2-3 minutes (depending on IPFS' responsivity at the time. In case of trouble, reloading may help.)
The above activates the user's Panther account created in step (a) above, and issues account creation rewards to the user.
Panther Accounts
Within Panther, users are identified through their Panther Account (which has a corresponding zAddress), a concept similar to a bank account in that it englobes all of a user's transactions within a single reference point. Accounts attest to users' compliance verification while retaining zero-knowledge properties. In other words, they prove that a user has passed verification (as well as the type of verification passed), but they do not store any private information about users.
We posted an article further expanding on the rationale behind both of these components, as well as Panther's compliance focus. Check it out here!
Testing and providing feedback
As we mentioned, Testnet rewards are automated, and as such, the Testnet itself will reward users for going through the Account creation flow. However, the goal for the Testnet is to debug and enhance the protocol before v1's launch.
Our expectation is that users submit bugs and share ideas to enhance end-to-end functioning, interaction and usage of wallets, UI/UX flows, and let us know about any component that doesn't look or feel as expected. We have created the following spreadsheet containing all the details that users can test, which includes functional and visual components. Note that every testing case is numbered to facilitate the process of providing feedback.
Spotting and fixing any possible bugs within the Testnet will make the first version of the protocol more sustainable in the middle term while allowing users to receive their earned rewards.
How to test
Users can visit the Testnet link for Stage 1 found in the info repository on our docs to test the onboarding functionality. This involves creating a Panther Account, undergoing a simple verification process (name and email required, ID NOT required) with PureFi, and activating their Account. We recommend that you test along with reviewing the testing spreadsheet so that you can keep track of everything you need to test.
To share feedback, testers will be using a dedicated form as the only accepted procedure. The steps mentioned in the form's description are needed to make this interaction both efficient and productive.
Users will be rewarded with 100 $tzZKP (test $zZKP) sent to their wallet as soon as they complete the onboarding process and successfully activate their Panther account. tZKP tokens will be used to interact with the protocol during later stages. Interactions with the protocol also accrue rewards for users in the form of tPRP, which will be used in the second stage. As such, testers will receive 500 tPRP.
Remember that, to test, you will need to use the Mumbai Polygon Testnet. To use this network, you may also use a faucet (such as this one) to obtain test MATIC to pay for transactions.
Important note (do not skip this!)
It's possible that, during testing, you might encounter a set of RPC errors derived from the Mumbai testnet network itself. These errors are due to infrastructural challenges and outside Panther's control.

If at some point (such as while logging in or trying to switch networks) you encounter an error that prevents you from signing transactions (which might even cause your wallet extension to crash needing a browser or PC restart), please:
Visit https://chainlist.org/chain/80001/ to see a list of Mumbai network working nodes.
Identify a working node. Note that, since this is a Testnet product, privacy is non-essential.
Access your wallet's Network settings, and edit the Mumbai network to use the working RPC's server address.
If needed, change the Chain ID to "80001".
Re-start the product flow.
If the problem persists even after trying a new valid RPC, please use the official form to fill out a bug report.
Thank you for testing!

The Panther community has done a great job testing Stage 0. We're sure this will be a constant as we progress through the different stages of our Testnet leading up to v1.
We're looking forward to receiving your feedback. If you have any further questions, please reach out through our official channels below!
About Panther
Panther is a cross-protocol layer that uses zero-knowledge technology to build DeFi solutions that meet regulatory requirements and satisfy users' on-chain data privacy needs. The goal of Panther is to allow seamless access to DeFi and create a cross-chain-supported architecture that serves different use cases. Panther's zero-knowledge primitives are also generalizable to KYC, selective disclosures between trusted parties, private ID, voting, and data verification services.
Website · One-pager · Lite Paper · Twitter · Telegram · Discord
Share this article on: