Round 3 of Incentivized Advanced Staking Testing starts on July 7th!
We're beginning a new round of testing, and you can earn incentives by participating! We have also slightly tweaked our reporting dynamics, so read the full text before you submit anything.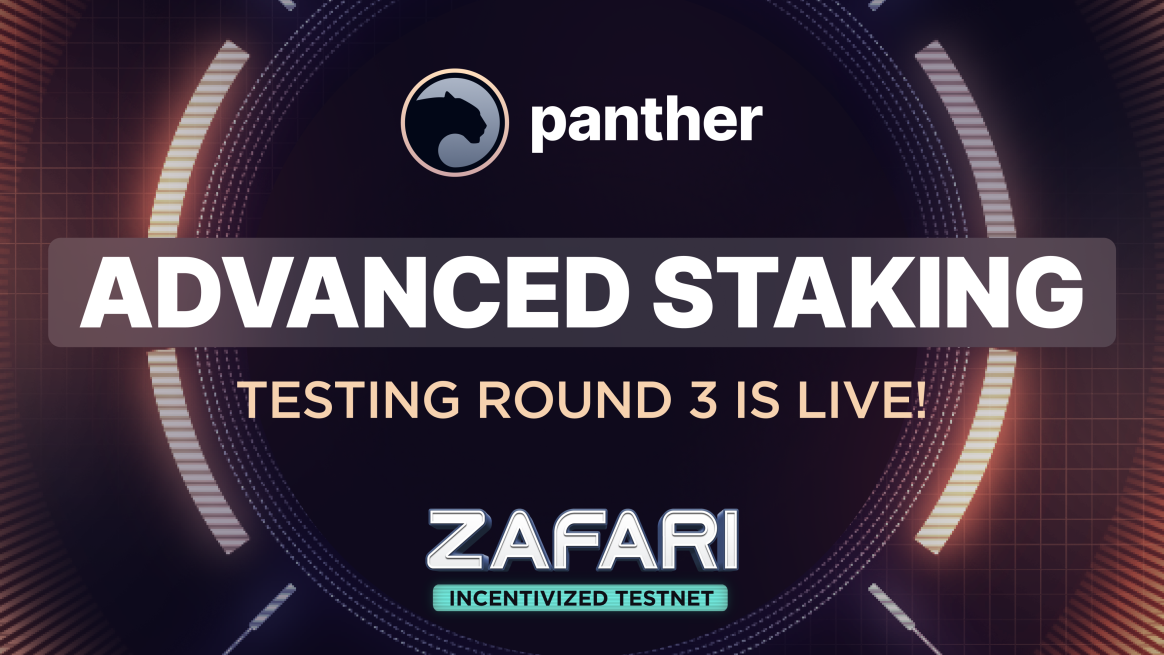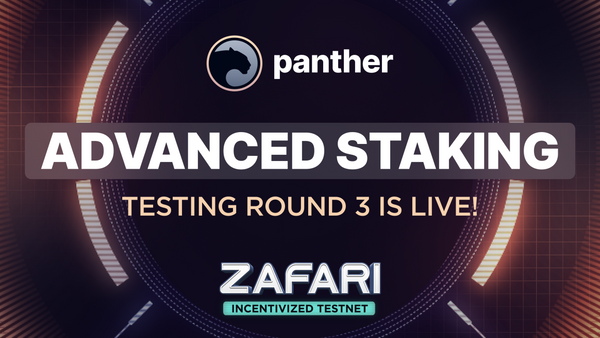 Table of Contents:
Dear community,

We're happy to announce that our Zafari incentivized Testnet is resuming its activities with the third wave of Advanced Staking testing!

Please read all the details below carefully to learn more about what is being tested and how to participate.
How does Wave 3 of testing work?

In this testing round, users will stake test $ZKP tokens (i.e., tokens with no value) to earn:
Test $zZKP rewards, which are computed in a Multi-Asset Shielded Pool (MASP).
10,000 test Panther Reward Points (PRPs) per stake, which can be redeemed for test $zZKP once the protocol's v1 launches.
By holding onto their test $zZKP in the MASP, users can also continue to accrue additional test PRPs.
This new test environment will feature an Early Redemption functionality which allows users to withdraw their test $zZKP rewards early by forfeiting test PRP rewards. Withdrawing ahead of time means that users give up any possible additional test PRPs accrued through holding test $zZKP in the MASP.
$zZKP in the MASP will start accruing rewards in PRP as soon as the stake is created. They will continue to do so even in the period before upgrading to v1, which implements full shielded pool functionalities. This wave of testing also features updated contracts and reward management mechanics (implementing smart contracts), as expected.
Note that PRPs will only be created as the protocol's v1 launches. Rewards issued to users will be computed taking into consideration their staking date.
Wave 3 of testing will proceed as follows:
Staking will become available on July 7th, 14:00 UTC.
The staking period will end on July 9th, 14:00 UTC.
Unstaking of test $ZKP principal will become available on July 10th, 14:00 UTC.
test zZKP rewards will also become available for redemption on July 10th, 14:00 UTC.
Reporting a bug
Make sure you read the instructions below, as well as our section on Unaccepted submissions before participating.

To report and be eligible for rewards, do the following once you think you've stumbled into a bug:
Ensure that the Console tab is selected.
Type -/zkp-staking/ into the Filter box to filter out all the failed to load source map warnings.Make sure all logging levels are enabled, including Verbose:

Scroll to the bottom to locate the more detailed errors.
Make sure the window is a decent size, so that it captures a good amount of detail from the errors.
Take one or more screenshots of the window to capture any log messages which might be relevant to the problem in question.
Make sure to include this information in the bug report form found here.

Unaccepted submissions
Avoid grouping multiple bugs into a single report. Please generate multiple reports for any number of issues you find.
Note that the previous rounds of testing have helped identify several unresolved bugs. Submissions reporting them will therefore not be accepted. All submissions also now need to provide proof of the bugs they're reporting via an image or video.
These include:
White screen upon opening the zAssets page.
Pending transactions in MetaMask.
Faucet: transaction failed - None 200, status code '404' (mobile version).
Transaction error: code 32603 + code 404.
Transaction error: Cannot find event in receipt. No StakeCreated event found for this transaction.
Available balance incorrect comma in total balance (balance card).
Double tapping Stake/Unstake buttons produces 2 transactions per one stake.
zAssets page not viewable if connected to networks other than the Polygon Mumbai Testnet.
zAsset link not showing on the navigation bar when  connected to networks other than the Polygon Mumbai Testnet.
Incorrect rounding of staked amounts.
Footer line showing at incorrect locations.
White screens when using Safari (browser).
MATIC balance not auto-refreshing.
Progress bar on top of staking tab needs real data.
Auto translator enabled.
Unstaking tab and balance card data showing differences in total rewards.
Moving forward

From the Panther team, we'd like to thank you again for your enthusiasm in previous testing rounds. Your feedback has been incredibly helpful in building towards v1 of our protocol and the launch of MASPs.

Advanced Staking is a critical intermediate step between Panther's current state and the release of MASPs. Thanks to it, we can test the dynamics behind creating zAssets and computing rewards in a real-world setting.

We're looking forward to receiving your input!

About Panther
Panther is a decentralized protocol that enables interoperable privacy in DeFi using zero-knowledge proofs.
Users can mint fully-collateralized, composable tokens called zAssets, which can be used to execute private, trusted DeFi transactions across multiple blockchains.
Panther helps investors protect their personal financial data and trading strategies, and provides financial institutions with a clear path to compliantly participate in DeFi.
Stay connected: Telegram | Twitter | LinkedIn | Website
Share this article on: