Panther joins ZPrize to support zero-knowledge development
Leading Web3 organizations like Ethereum, Polygon, Mina Protocol, and Panther have partnered to support ZPrize in advancing ZK technologies.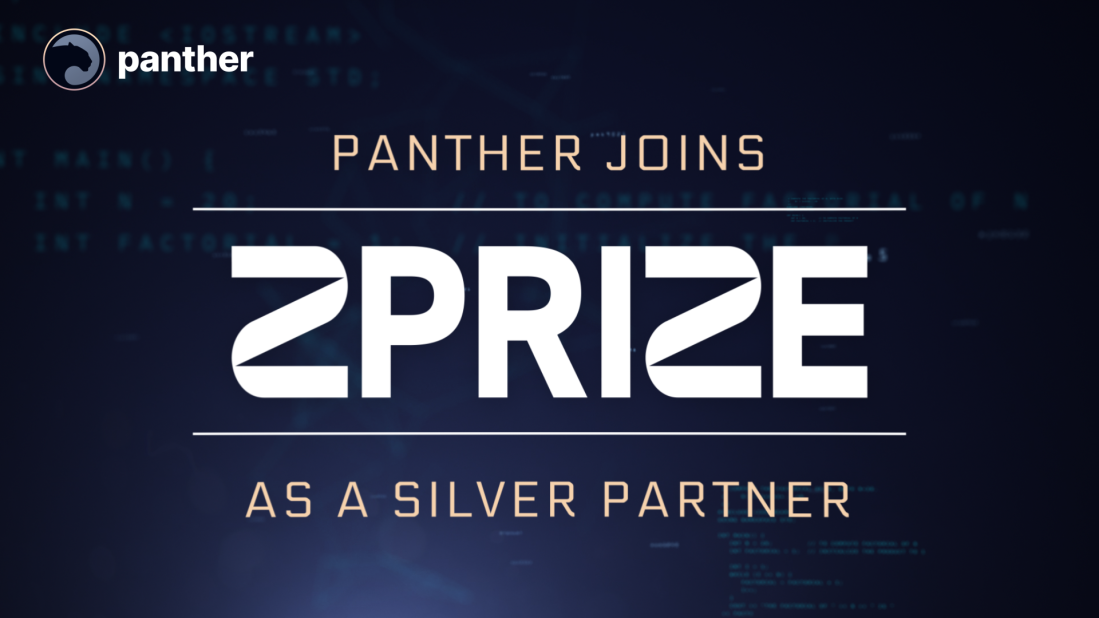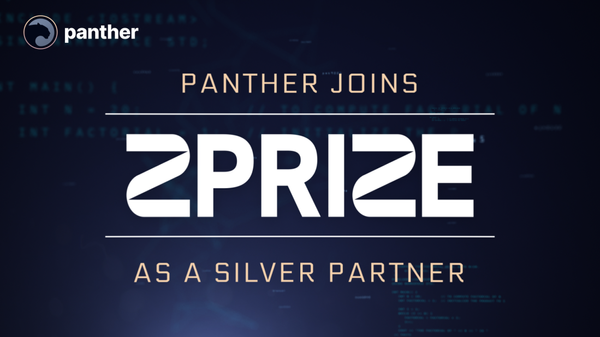 Table of Contents:
TL;DR: ZPrize's goal's to help develop the zero-knowledge industry, which strongly resonates with Panther's heart and soul. We're joining forces to empower open-source ZK development!
Although the innovations in the zero-knowledge field have brought unprecedented advancements to online privacy and blockchain scalability, there is still much to do to continue its development. Challenges such as hyper-specialization, a lack of funding and incentives, and its relative novelty stand in the way of realizing its full potential.
However, this development is crucial for true user privacy to be reached in a Web3 context. Within the industry, the direction of the most pressing challenges is well-known; they just need to be addressed and tackled correctly due to their difficulty and innovation hurdles.
Joining Polygon, Ethereum, Polkadot, Mina protocol, and several other industry leaders
40+ leading Web3 organizations, including Aleo, Anoma, the Ethereum Foundation, Mina Protocol, Polkadot Pioneers Prize and Panther, To help solve these issues and allow the zero-knowledge industry to move forward, have partnered to organize the ZPrize competition.
ZPrize will grant more than $7M in prizes to research teams for their winning submissions on 12 zero-knowledge problem categories. These $7M will be divided into several individual prizes, awarded to those that engineer new algorithms and techniques that achieve performance metrics unmatched by the best zero-knowledge systems deployed in the blockchain industry today. These include solutions to accelerate zero-knowledge proofs (ZKPs) in mobile hardware, multiscalar multiplication on GPUs and FPGAs, and other possible relevant breakthroughs for ZKPs.
As a Silver Partner, Panther will be responsible for architecting challenges and contributing to grants awarded to teams. The first of these challenges, architected by Panther, is the following:
Accelerating the Poseidon hash function
Published for the first time in 2019, the Poseidon cryptographic hashing algorithm is remarkably suitable for zero-knowledge applications, especially inside zkSNARKs. This challenge aims to reward the team that submits the Poseidon implementation with the fewest constraints or the lowest cost.
Poseidon is considered a state-of-the-art hash function for zkSNARKs due to its reduced use of constraints. Further improvements in its efficiency equate to less use of resources when generating and verifying zero-knowledge proofs, lower gas costs for on-chain implementations, and entirely new possibilities for zero-knowledge applications in mobile and embedded devices. Participants in this challenge have to build an open-source implementation that meets a set of requirements to earn a prize worth USD 155,000.
Panther's CTO, Anish Mohammed, expressed his enthusiasm about this challenge and the ZPrize initiative. In his words:
"The zero-knowledge field represents our best collective bet on a future in which users can be in control of their own data. This alone should be sufficient to get people excited about ZPrize, but the fact that so many different projects in the blockchain space are joining forces to support this showcases every strength of the crypto ecosystem as opposed to the traditional finance and tech worlds."
Panther will continue to contribute to ZPrize as well as conduct open-source zero-knowledge technology research within its team.
About ZPrize
ZPrize is a collaborative effort by 40+ partners in the blockchain industry and the broader tech space — names such as AMD, Polygon, Algorand, and Panther. It is an XPrize-inspired competition with the goal of significantly advancing the field of zero-knowledge cryptography.
ZPrize will award select teams of researchers with more than $7M in prizes for their winning submissions on 12 distinct zero-knowledge problem categories. Researchers will submit solutions for accelerating ZKPs in mobile hardware, multiscalar multiplication on GPUs and FPGAs, and other possible relevant breakthroughs for ZKPs.
Each prize has its Prize Sponsor, responsible for contributing the largest share and deciding on the category's prize winner. Other ZPrize partners donate towards prizes and the organization of the event. AMD and CoreWeave have also pledged to contribute as technology providers, offering FPGAs and GPUs to competing teams.
For more information, head to https://www.zprize.io/.
About Panther
Panther is a decentralized protocol that enables interoperable privacy in DeFi using zero-knowledge proofs.
Users can mint fully-collateralized, composable tokens called zAssets, which can be used to execute private, trusted DeFi transactions across multiple blockchains.
Panther helps investors protect their personal financial data and trading strategies, and provides financial institutions with a clear path to compliantly participate in DeFi.
Stay connected: Telegram | Twitter | LinkedIn | Website
Share this article on: