How to get involved in Panther's community: You can help DeFi privacy!
You can be an active part of the Panther community in more ways than you think. Let's look at Panther's DAO participation and other strategies.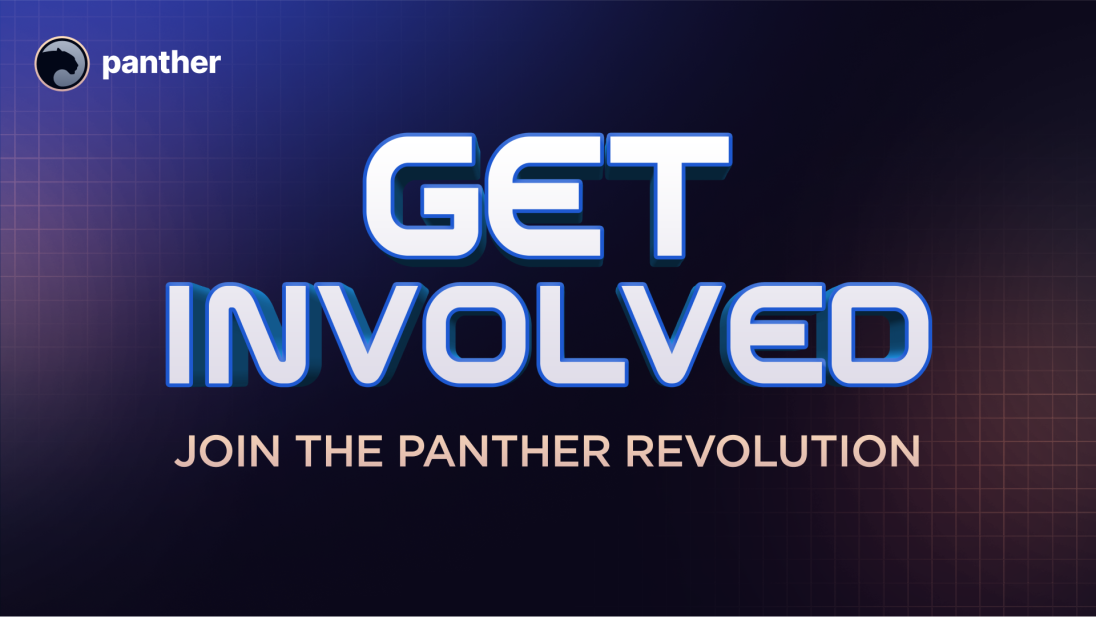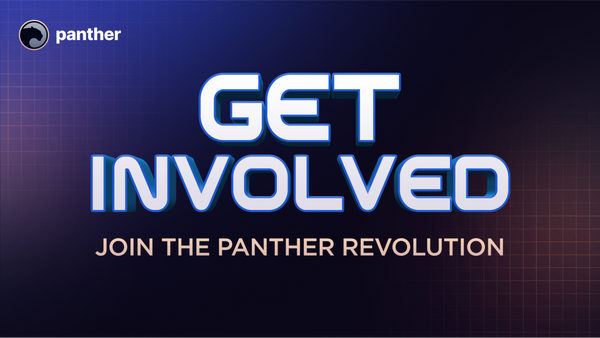 Table of Contents:
At Panther, we are lucky to have community members always eager to participate in bringing privacy to DeFi.
Different aspects of our mission require distinct but coordinated efforts and, within them, plenty of roles arise for our community to fill. Each role has its duties and rewards, which creates a crucial balance that we strive to maintain. We attempt to make all roles equally enticing. It's up to you to decide which one interests you the most.
Let's examine a few strategies for you to get involved in Panther right now or in the future and help us enable privacy and trust in DeFi:
Strategy #1: Vote on DAO proposals
The Panther DAO, not our team, has the final say on all major decisions in Panther. As such, all $ZKP holders can vote on DAO proposals conducted through Snapshot.org.
DAO proposals range from definitions on our roadmap (e.g., launch Staking or deploy to Polygon) to bug fixes and launch timing. We request community before every move, so voting is the best way for you to take an active role in the future of Panther.
Your $ZKP must be staked to count towards voting power, regardless of the network (Ethereum or Polygon). We always announce new DAO proposals on Panther's blog and through social media.
Strategy #2: Become a member of our community
Panther frequently relies on our community members on Discord, Telegram, and Twitter to get feedback on many of our initiatives and help disseminate the word about what Panther is building. In exchange for that, we make sure our community members are always in the loop regarding our more recent releases, undertakings, and marketing activities.
Our policy of full transparency is conducted through these official channels. We invite you to join them in order to become a full-fledged member of the Panther community:
We have also established a number of local Panther communities through our Ambassadors in order to reach users, investors, and believers outside the anglosphere. The local communities currently live are:
Strategy #3: Providing liquidity in Uniswap
Liquidity is very important in a DEX setting.
High liquidity allows investors to trade quickly, smoothly, and with less slippage. Liquidity providers earn fees from trades executed through liquidity pools. When a project has plenty of liquidity, volatility is better absorbed, making its price movements less abrupt.
Although anyone can create a Uniswap pool for any pair of assets, most of the time, it's best to join existing pools that already enjoy some liquidity. There are currently four $ZKP liquidity pools live: a ETH-ZKP pool (in the Ethereum Mainnet), and USDT-ZKP, USDC-ZKP, and MATIC-ZKP pools (in Polygon).
All of them are Uniswap v3 pools, meaning you must select a price range in which to concentrate your liquidity. You will earn fees for trades only when $ZKP is within your selected price range, and the narrower it is, the faster you will accumulate fees.
How to provide liquidity for $ZKP in Uniswap
To become a liquidity provider and earn fees in Uniswap, follow the steps below. Note that we only recommend for advanced users to do this, as you need to be aware of impermanent loss, know what you're doing, and be prepared for the possibility of financial losses.
To provide liquidity in Uniswap:
1. Go to Uniswap's dApp and connect your wallet to the correct network.
2. Select the "Pool" tab, and click on the "New Position" button. Alternatively, follow one of the links above to the pool to which you want to provide liquidity.
3. Select the token pair you want to provide liquidity to. In this case, we selected $USDT/$ZKP. You might need to manually add $ZKP as a custom token to your Uniswap interface if you've never traded it in the decentralized exchange.
4. The "Edit" button (highlighted in yellow) in the screenshot below allows you to select a fee tier to deposit liquidity into. While you can choose a higher fee tier, users prefer to trade in pools with lower fees and more liquidity. For this reason, most users choose to adhere to the default option.
5. As explained above, the fields highlighted in red are the bounds of the price range into which you will concentrate your liquidity. Highlighted in green is the button to provide liquidity at a full price range (zero to infinity). This is not recommended, however, as fee income will accumulate very slowly. You might want to set a wide but finite range to optimize your participation in the pool without worrying about $ZKP's price range.
6. At last, type in how much $ZKP you want to provide. You will need to the pairing asset ($USDT in the image) in an amount that equals the same value. Uniswap will calculate the exact quantity you need to enter after you input your $ZKP amount.
7. You might need to approve your Metamask to spend $ZKP and your pairing asset if you have never used them in Uniswap. If you don't see the "Approve" buttons, just skip this step.
8. Click "Preview" and "Add" to finish adding liquidity.
Strategy #4: Participate in product testing (Panther Zafari)
Panther Zafari is the name of Panther's Incentivized Testnet. It debuted on May 19th, 2022, inviting our community to join the team's efforts to test $ZKP Advanced Staking in the Mumbai Polygon Testnet, with rewards amounting to a total of 100,000 $ZKP.
Testing happens in the Polygon's and Ethereum's Testnets, with instructions in each test round's announcement. Test $ZKP tokens are provided through a faucet when necessary.
The first, second, and third testing rounds for Advanced Staking are currently closed for new participants. Later Zafari rounds and testing of other features will be made public through our blog, so keep a close eye to avoid missing the next Zafari announcement!
Strategy #5: Become a partner
Strategic partnerships are essential for a nascent project's success in the blockchain industry. Although competition is a major force that drives innovation, cooperation can be even more impactful in this space.
Panther is always on the lookout for partnerships that contribute toward our goals for privacy in DeFi. If you're involved with another project in the blockchain space and you believe we can mutually benefit from joining forces, you can reach out to our team through partnerships@pantherprotocol.io. We're also always looking forward to hearing from:
Other members of the PriFi scene.
Projects wanting to infuse their protocols with privacy.
Infrastructure/data protocols.
Builders looking to use Panther's primitives (see our section on upcoming SDKs/APIs for more about this!)
Strategy #6: Apply to be a Panther Ambassador
Panther Ambassadors are leaders all over the world who play a pivotal role in disseminating Panther amongst broader audiences. Thanks to them, the Panther community can continue to grow and provide feedback to improve our products, systems, and procedures.
Besides our team, Panther Ambassadors are the first to access product previews and exclusive events. Ambassadors work independently but can count on our team's support as necessary for their endeavors.
Here are some examples of activities a Panther Ambassador can perform:
Creating and moderating local communities
Organizing local events and meetups
Translating or creating Panther content, including but not limited to:
Twitter threads
Blog posts
Videos
Memes (yes, please)
Infographics
Podcasts
Assisting with the promotion and moderation of social media accounts. In fact, as of July 2022, we made a move to allow notable Panther Ambassadors to help moderate our Discord and Telegram channels, as opposed to a third-party firm. This has had the side effect of drastically increasing moderation quality and moderator knowledge!
Connect us with other players in the space for potential partnerships and collaborations.
Offer input to the Panther team on certain strategic decisions.
How are Panther Ambassadors compensated?
At the moment, for a few hours a month, Ambassadors may receive a monthly compensation varying on account of one's cost of living and the extent of their contributions, among other factors. This program is designed to help motivated and driven ambassadors thrive as they increasingly support Panther.
Ambassadors can be reimbursed for pre-approved expenses incurred while representing Panther. They are also qualified to receive exclusive Panther swag you'll receive for personal use and distribution.
How does one become a Panther Ambassador?
While Panther Ambassadors are still very much a part of our community, we are currently not actively looking for them. However, if you have a proposal for us, feel free to message the Panther team through our official Discord and Telegram.
A lot more is coming
Panther is building a whole infrastructure to enable privacy and trust in DeFi and Web3. This is done through a complex ecosystem of products and services and, as such, in the future, you will be able to participate in Panther in many more ways. Some of them will be:
Providing liquidity to Multi-Asset Shielded Pools
By using Panther's privacy solutions, you contribute to Panther's privacy set and assist in making shielded transactions even harder to track. Depositing assets into MASPs is a straightforward way to participate and strengthen the privacy offered by the protocol. Here is how it works:
After locking their assets into a vault, users receive fully-collateralized zAssets with which to privately transact through Panther's Multi-Asset Shielded Pools. As the number of transactions within a pool increases, it becomes increasingly harder to uncover the sender of any transaction. MASPs will reward those that add tokens even if they don't make shielded transactions, as locking their assets also contributes to shielding.
MASPs are a part of Panther's v1, which will be released sometime in 2022.
Advanced Staking
Currently, users are testing Advanced Staking, which is a mechanism that will help the Panther team test the way MASPs accrue and control rewards. Advanced Staking introduces the first zAsset, $zZKP. For this very reason, Advanced Staking requires a great deal of the infrastructure necessary for MASPs to be ready and deployed.
Our team has come to call Advanced Staking by the nickname "Panther v0.5," a succinct way to describe what this feature means on Panther's roadmap. The release of Advanced Staking is a huge milestone and just a few weeks away, so stay tuned!
Building on top of Panther
Panther is building public goods for a future where privacy is the default throughout in DeFi. By interacting with our smart contracts, developers can build more complex systems that rely on Panther as a basic building block. We commit to making this as easy as possible by releasing comprehensive and easy-to-understand documentation on our smart contracts.
Our robust DeFi privacy suite relies on a number of state-of-the-art cryptographic primitives not widely available in a ready-to-use form. Our team intends to make them available through SDKs (software development kits) for developers to build privacy-oriented applications and dApps.
Interact with the Panther DAO
Since our launch, Panther has made decentralization one of our highest priorities and a key principle. The Panther DAO regularly conducts votes to approve the deployment of Panther's new developments. As time passes, the responsibilities of the Panther Foundation and Stellium will be progressively passed over to the Panther DAO.
We are currently setting up the stage for users to get more actively involved in Panther's governance and contribute to it more broadly.
Become a Service/Trust Provider
Some of Panther's features rely on the participation of Service Providers and Trust Providers. Service Providers are entities offering applications that interact with zAssets or Panther Reveals. Trust Providers are entities capable of providing attestations (verifiable statements) in the form of Panther Reveals, revealing the least possible (or none at all) underlying information. Through these attestations, Service Providers can build trust with their users.
As these features become commonplace, the Panther team will open the door for more and more Trust and Service Providers to join the ecosystem.
Ask not what Panther can do for you…
At the end of the day, Panther can only go as far as its community takes it.
On our end, our job is to build the best system possible that aligns all incentives for Panther to compete with other centralized and decentralized alternatives. Our ultimate goal is to build an ecosystem that supports users contributing, building, and improving their privacy without the need to be told so.
By joining early, you get to be one of the very first to reap the benefits of participating in a larger mission.
We hope to see you around our communities very soon!
About Panther
Panther is a decentralized protocol that enables interoperable privacy in DeFi using zero-knowledge proofs.
Users can mint fully-collateralized, composable tokens called zAssets, which can be used to execute private, trusted DeFi transactions across multiple blockchains.
Panther helps investors protect their personal financial data and trading strategies, and provides financial institutions with a clear path to compliantly participate in DeFi.
Stay connected: Telegram | Twitter | LinkedIn | Website
Share this article on: